6680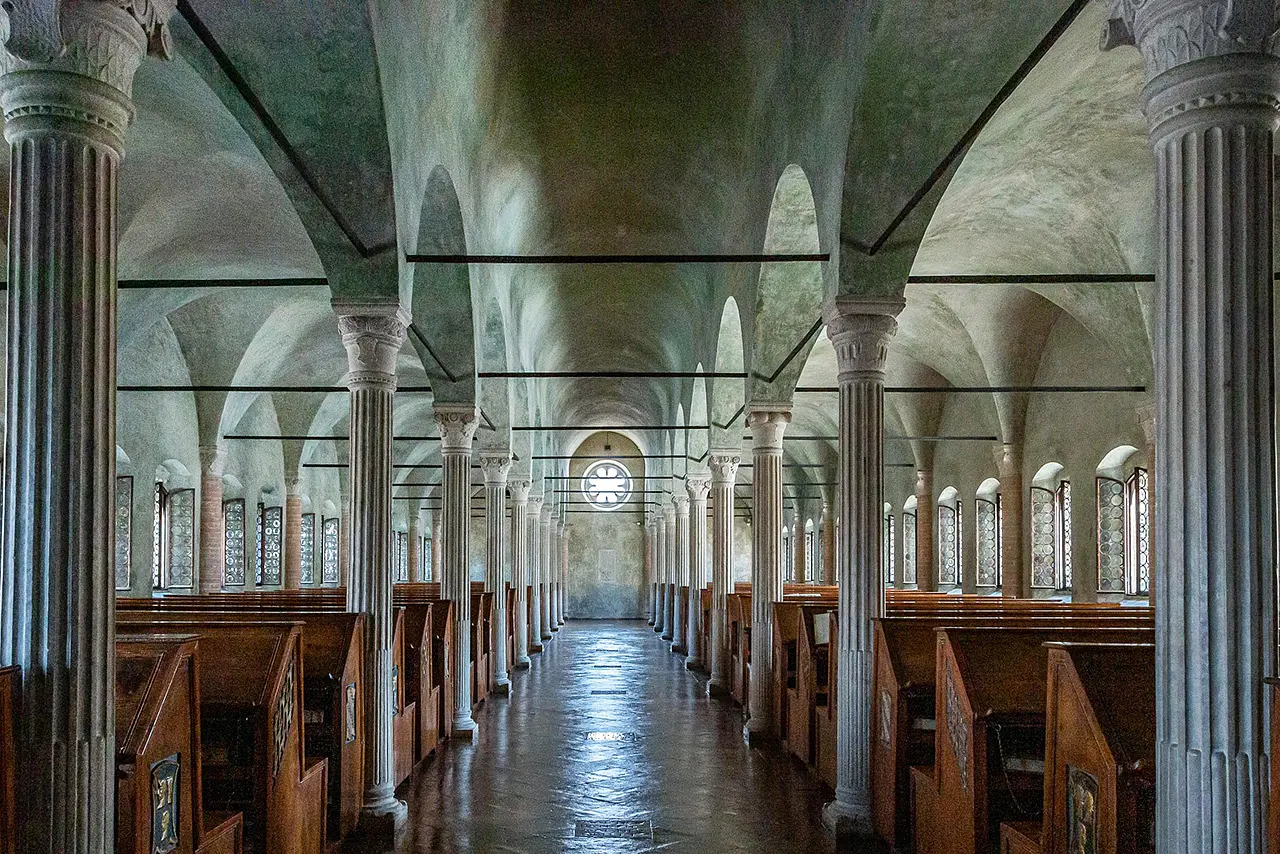 Nuti's Classroom
A temple of knowledge that looks like a cathedral


Automatically translated page.
What it is and where it is
Through a coffered walnut portal we glimpse a wide hall, studded with tall, slender columns supporting the vaulted ceiling. At the back, on the wall in front of us, a rose window stands out alone, flooding the space with light. Neat rows of wooden pews occupy the spaces between the columns.... We would expect holy hymns and scents of incense, except. This is not a church, but the Aula del Nuti, the most atmospheric room in Cesena's ancient Malatestian Library.
Why it is special
The Aula del Nuti is named after its builder, Matteo Nuti, and enchants with its grandeur. Although it has a basilica plan and is located within a convent complex, this great hall was born precisely with the intention of being a library, so much so that its spatial orientation and the presence of many windows are specially designed to make the most of every hour of light, reducing the use of candles and, consequently, the risk of fire. Perhaps it is also thanks to this stratagem that the very rich and ancient collection and its location have been preserved intact over time. This achievement earned the Malatesta Library its inclusion by UNESCO in the Memory of the World Register in 2005, the first in Italy to be awarded this recognition.
Not to be missed
Since the hall is not a church, the pews inside it are not used for prayer either. Rather, they are "plutei," wooden furniture typical of ancient libraries, combining the function of a closet and a lectern, or reading desk. These in particular still hold many old volumes that are literally chained there. Moving through this environment creates great fascination, and the feeling of being in an authentic temple of knowledge.
A bit of history
The Nuti Hall is the oldest nucleus of the Malatesta Library, a bequest from Domenico Malatesta, Lord of Cesena, to his city. Its construction began in 1447 under the leadership of Matteo Nuti. Inaugurated in 1454, it was soon given joint management to the City Council and the Franciscan friars. In the late 1700s, during Napoleonic rule, the convent was used as quarters for French troops and the entire collection was moved to the Church of San FIlippo. The whitewashed Nuti Hall became a dormitory for the soldiers. As early as 1801, however, the city undertook to restore the library, which we admire today in its original spaces.
Curiosity
Come to think of it, it makes a certain impression to think that books are chained to the plutei: this stems from the fact that the Malatesta Library was created to be a "public" library, that is, open to consultation by scholars and scholars. This is precisely why the Malatestiana Library is called the first civic library in Italy.
Collections
Discover places and related research
The Map thanks:
Collections
Discover places and related research