2049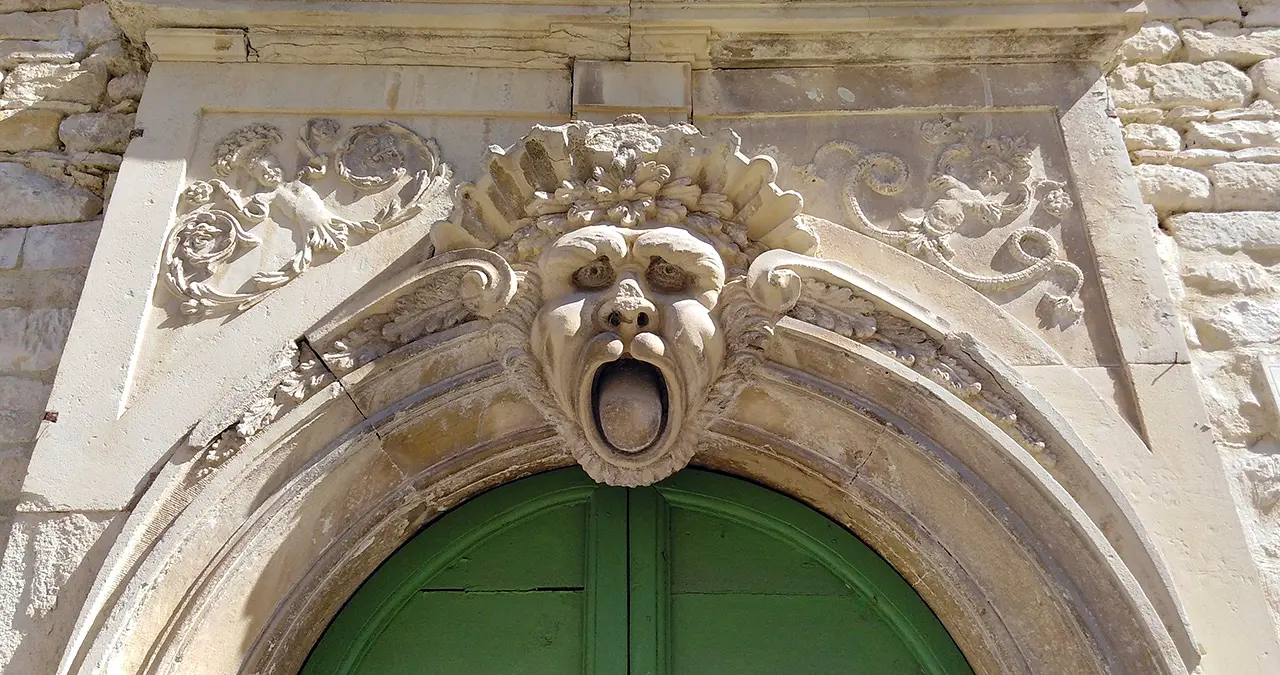 The art of the stonemasons of St. Hippolytus
Between sandstone monsters and plaster puppets


Automatically translated page.
The art of stone
You cannot understand the magic of St. Hippolytus unless you leave your car and walk down Raphael Street and then to the bell tower. If you do, you will find that your eyes will often get distracted, lingering in front of the portal of a palace, following sinuous moldings and volutes that turn into monstrous masks, discovering small religious sculptures on houses and shrines along the narrow streets outside the town. It is a veritable open-air museum that winds along Raphael Street, and within the historic center, before reaching the beautiful, richly decorated church altars.
Far from being prissy, this continuous movement on the facades of buildings is evidence of an ancient art rooted in the souls of the Santippolitans. Such was the skill of the local stonemasons that their work flowed like a flooding river out of their workshops and onto the buildings of the historic center. Some of the sandstone works that enrich the streets of the center and hamlets, however, are by contemporary artists from around the world, created during "Sculpting in the Square," a prestigious international sculpture symposium held annually in July from 2000 to 2016.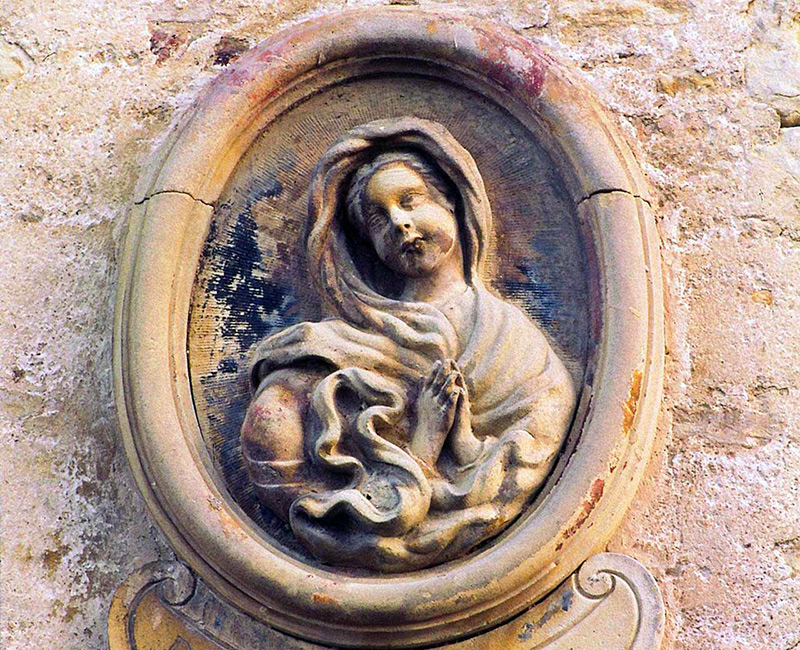 Praying Madonna (1793), Palazzo Guerra
The pride of a great little hamlet
It is no accident that the hamlet is still called "the village of stonemasons." In the territory of Sant'Ippolito, in fact, there were sandstone quarries of a beautiful yellow and blue color. The area also boasted the presence of chalk quarries with skilled masters in its workmanship, so good that a legend was born that for women seeking husbands, it was enough to make a "pilgrimage" to Sant'Ippolito to have a husband tailor-made for them, the so-called pupo di gesso.
The abundance of raw materials encouraged the emergence of a dense network of highly skilled artisan workshops. A local historian, Augusto Vernarecci, in a writing from 1900, narrates that "to the forgetfulness, to which the inhabitants would have been inevitably condemned by the smallness of the place, they escaped by giving themselves, from a remote age to the working of the cutting stones, possessed in copy in the surroundings, and later to the inlaying of marbles." Over the centuries, local workers acquired skills, esteem and prestige, so much so that they were sought after throughout Marche and Umbria.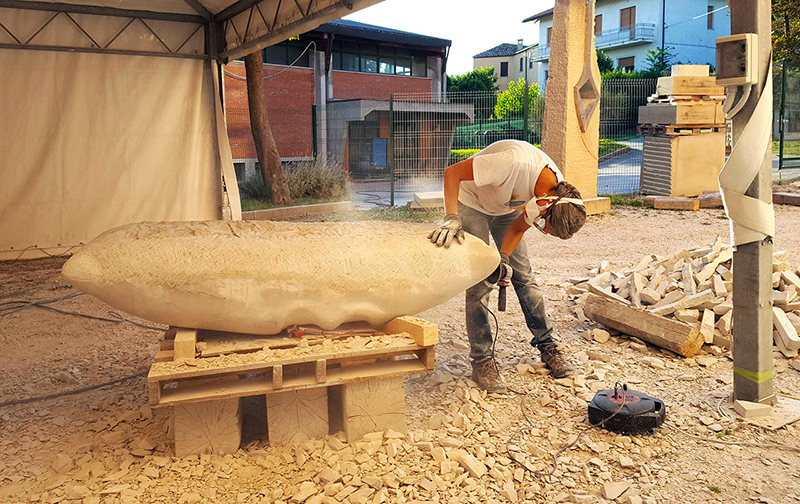 Sculptor at work
A day as a stonemason
Wandering the streets of the village is certainly a good way to admire its beauty, but why not make it more interesting? For example, you can get your hands in the dough by participating in the sandstone sculpting course organized annually by the Pro Loco, visit a stonemason's workshop, or, why not, go on a treasure hunt to the ancient and modern sandstone works scattered throughout the streets of Sant'Ippolito capital and its hamlets, with first stop at MUTAS, a museum of the territory and the art of stonemasons dedicated to master Rossi.
To make travel arrangements
Collections
Discover places and related research
The Map thanks:
Collections
Discover places and related research