8913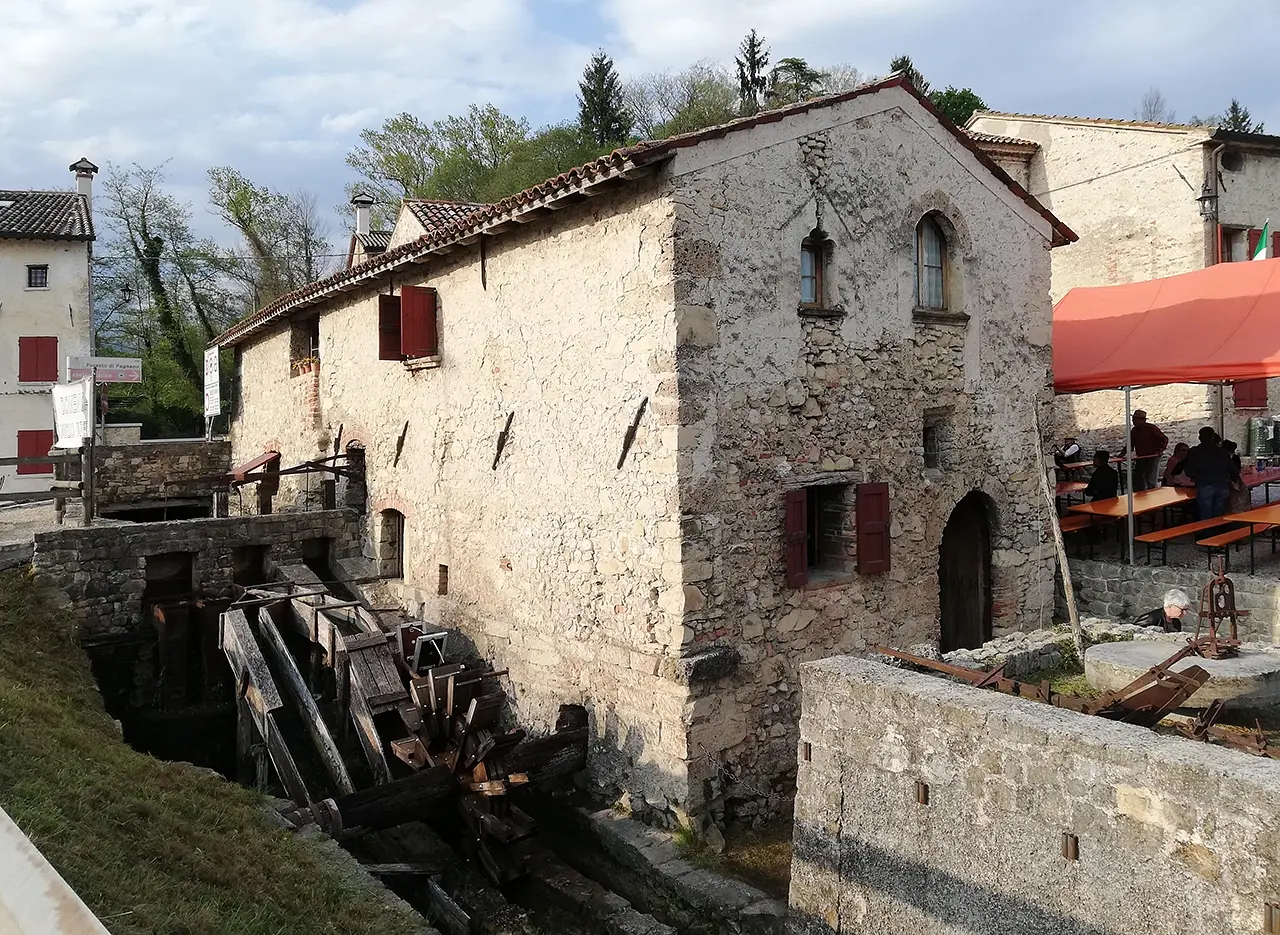 The ancient mallet of Pagnano
Without water, no fire is made

Automatically translated page.
What it is and where it is
We are at the foot of Asolo, one of the most beautiful villages in Italy, and before us, on the side of the road, stands what is perhaps the oldest mallet in Europe: 1468, reveals a stone on the wall. A sluice is raised, water rushes over the blades of the wheel, the wheel turns. Behind a small window large black contraptions awaken in the smoke-blackened workshop. And lo and behold, with a roar the mallet comes alive and thunders rhythmically down upon the red-hot iron. The magic is accomplished.
Why it is special
The mallet is a work of high engineering, not only because of the sophisticated hydraulic system that drives the heavy hammer (still in perfect working order), but also because of a rare example of a "hydroeolic trumpet," an ingenious "blowing machine" that uses water to generate compressed air and propel it toward the forge, replacing bellows and thus alleviating human fatigue. Traces of this invention can be found among the hydraulic machines designed by Leonardo.
Not to be missed
Not only is the forge a treasure chest of history, but the entire blacksmith's house, with its bedroom and kitchen, has become a small ethnographic museum that preserves furniture and objects from our past as farmers and artisans, run with passion by the Magnar e Lavorar de na Volta association.
A bit of history
The mallet of Pagnano-except for a phase in which it abandoned iron to become a "cloth follo"-remained in operation until 1979! Superb swords were forged here that had nothing to envy to those of Toledo: the Veneto sword smiths were renowned even beyond the borders. And when they were not swords, they were hoes and agricultural implements that artisans forged with equal skill.
Curiosity
When we arrive one Sunday afternoon, we find a great bustle: men in vests and felt hats beating hot irons and telling young and old how a sword is made; women in long dark skirts and handkerchiefs on their heads kneading, slicing, cooking; a man playing an accordion... And a blacksmith with white curls and blue eyes, who tells us in great detail about the time Leonardo, on his prototype helicopter...
To make travel arrangements
The Map thanks: