340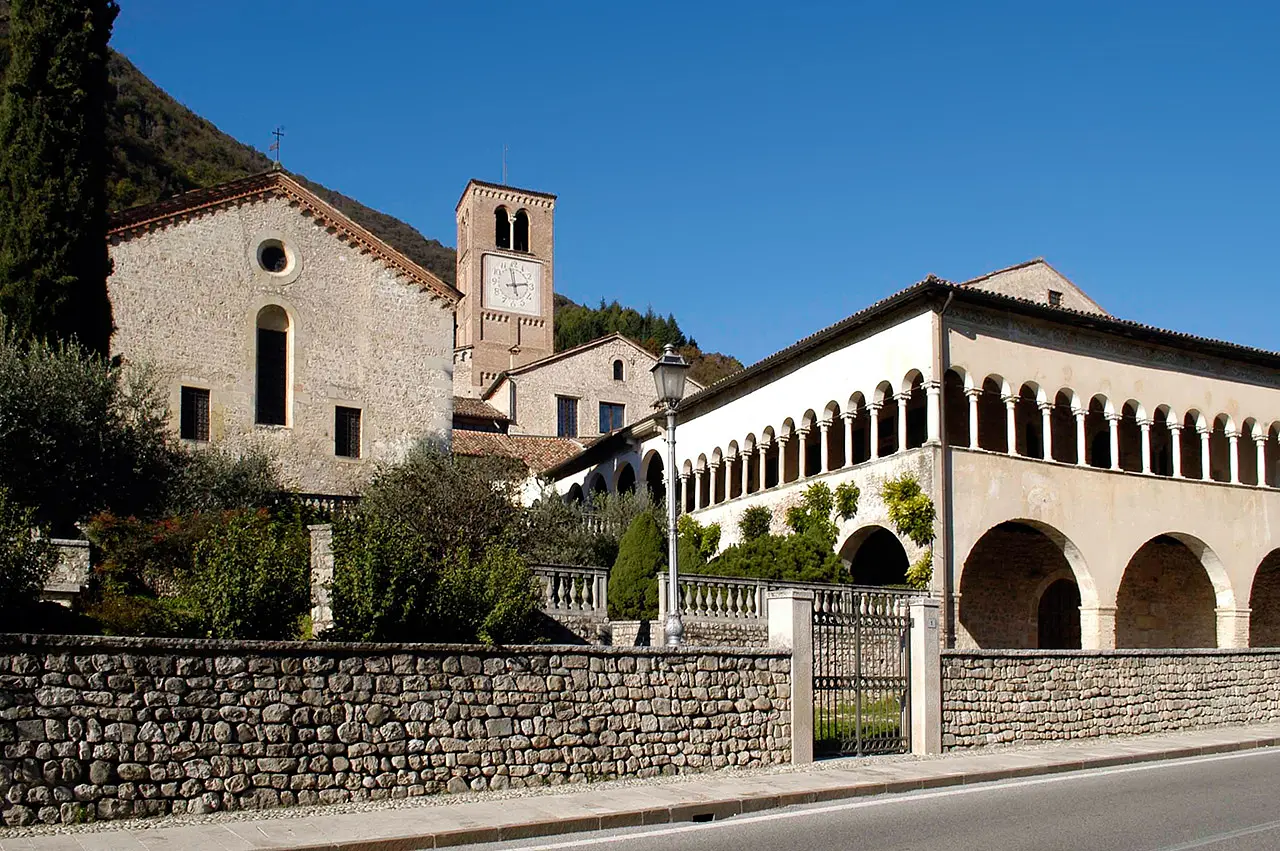 The Abbey of Follina, a treasure chest of art and faith
Beauty and peace that only music can describe



Automatically translated page.
What it is and where it is
The picturesque Valmareno is traversed by the Soligo River, which descends from Lake Revine, channeling between the Belluno Pre-Alps and the hills of Alto Trevigiano: at its outlet in the 12th century a Benedictine settlement was founded around which the town of Follina developed. The abbey complex includes the Gothic-style basilica of Santa Maria, with its square-plan bell tower, still Romanesque, and the adjacent cloister punctuated by elegant paired columns.
Why it is special
TheAbbey of Follina is an exceptionally evocative place because of its ambient setting, the perfect state of preservation of the buildings and the richness of their decorative decorations. A pilgrimage destination, for centuries at the center of the history of its territory, it is now officiated by a small community of the order of the Servants of Mary, but it is also a place open to the world, as in the case of the now traditional concert held every summer by violinist Uto Ughi.
Not to be missed
In the half-light of the basilica, a spectacular Gothic wooden frame stands out at the high altar, in the center of which is a very ancient sculpture, Our Lady of the Sacred Chalice, which has always been an object of veneration and pilgrimage. The Virgin is enthroned and on her knees she holds the Child who, standing, blesses with his right hand and with the other draws from a chalice: an unusual subject, harking back to the legend of the Grail and adding to the charm of the place.
A bit of history
In the Middle Ages the Benedictine monks took on the difficult mission of redeeming the lands most reluctant to agriculture by developing a true vocation for hydraulic systems: sometimes it was a matter of reclaiming marshy areas, introducing crops such as rice that require skillful water control; at other times it was a matter of regulating rivers to harness hydraulic power for productive purposes, very often textiles, as in the case of Follina.
Curiosities
Sometimes the name of a locality anticipates something of its history and economic vocation. In the case of Follina it refers to a particular processing of wool, fulling, or felting by mechanical beating to make the fabric compact and therefore warmer. And to move the hammers that beat the cloth in the Middle Ages required machines moved by hydraulic power: in the case of Follina, by the waters of the Soligo.
To make travel arrangements
Collections
Discover places and related research
The Map thanks:
Collections
Discover places and related research