333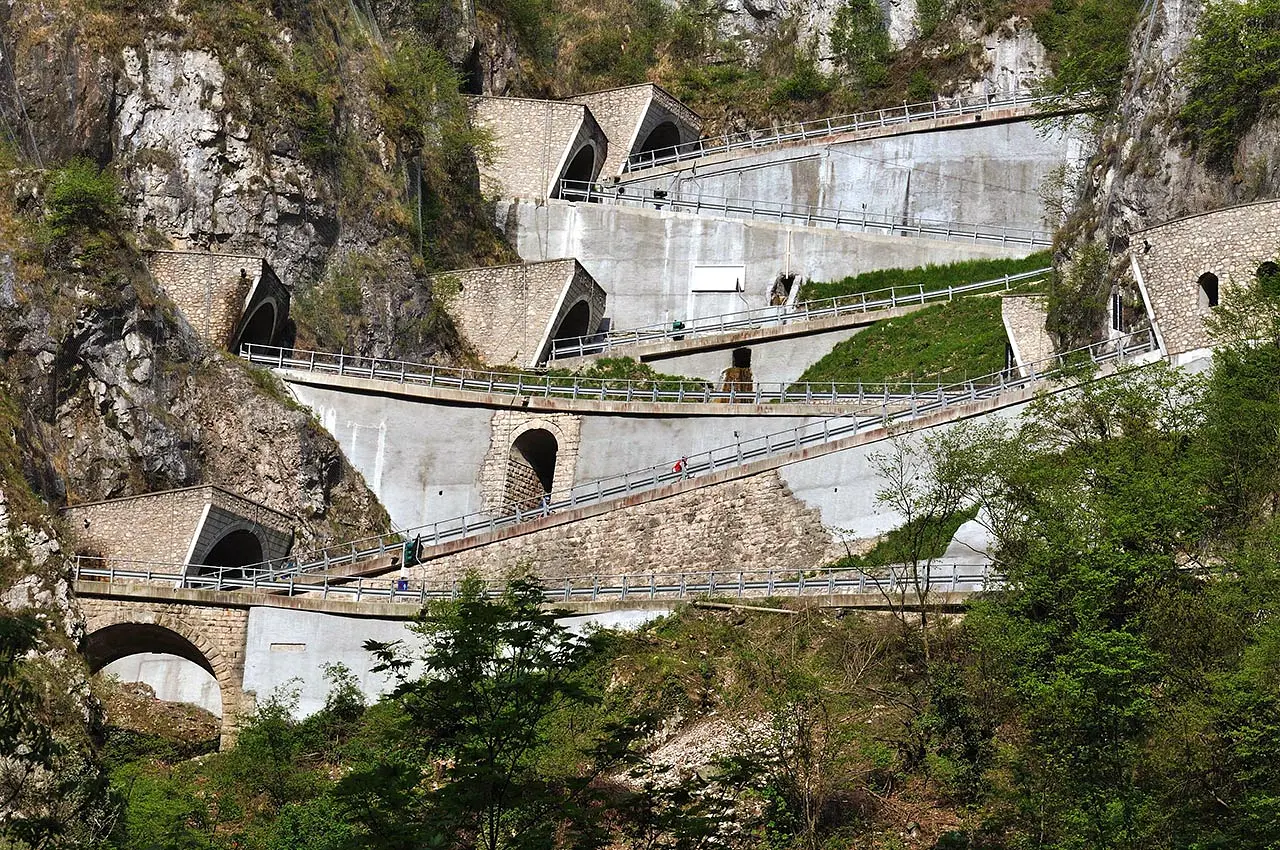 The Boldo Pass and the Hundred Days Road
Dizzying tunnels and hairpin bends to the most daring pass in the Treviso foothills of the Alps.


Automatically translated page.
What it is and where it is
From Conegliano, the Boldo Pass Road (SP 635) first climbs between soft hilly ridges and then soars with spectacular hairpin bends toward the main pass of the Belluno Prealps. The Boldo Pass connects the two sides of the Belluno Prealps, namely the Soligo Valley and the middle Piave Valley. It ascends from Tovena, a picturesque hamlet of Cison Valmarino, and reaches Sant'Antonio Tortal, a hamlet of Trichiana, after climbing 706 meters above sea level in a landscape of pastures and forests.
Why it is special
The pass, which has been frequented since Roman times, was of great importance from the Middle Ages onward for somatic traffic between the Adriatic region and Cadore. Today's road traces only part of the ancient route and has been at the center of a curious affair: long invoked to make the passage between the Upper Trevigiano and Lower Bellunese easier, it would be completed during World War I in just over three months for contingent strategic reasons, hence the appellation of the Hundred Days Road.
Not to be missed
Nowadays, the ascent to the Boldo Pass from the Treviso side is one of the classics of Venetian bicycle touring, but it is a thrill to ride it by car as well: 6 1/2 kilometers with 18 vertiginous hairpin bends, five daring helical tunnels with alternating one-way directions, and an average gradient of 7.5 percent. Boldo Pass is then the starting point for the ascent to the Loff bivouac (m 1100) along a very scenic trail, with views ranging from Valmareno to the Belluno Dolomites.
A bit of history
Plans to make the Boldo Pass carriageable date back to the mid-19th century, but work would not start until 1914. Shortly thereafter World War I broke out, which in 1917 saw the Austrians push as far as Conegliano. As the front moved to the Piave River, therefore, it would be the imperial engineers who would hastily carry out the work. This is the background of the Hundred Days Road, an appellation that nevertheless sounds less epic because of the use of forced labor by local prisoners and women.
Trivia
Dating back to Roman times, the custom of providing mountain passes with a structure to guard the place and assist wayfarers. This also happens at the end of the Boldo Pass climb, where there stands, documented since 1470, the Osteria della Muda, so-called because the 'moulting' of horses was provided there. Today the stop is essentially a gastronomic one, with an interesting menu passing between the Treviso and Belluno areas.
To make travel arrangements
Collections
Discover places and related research
The Map thanks:
Collections
Discover places and related research