799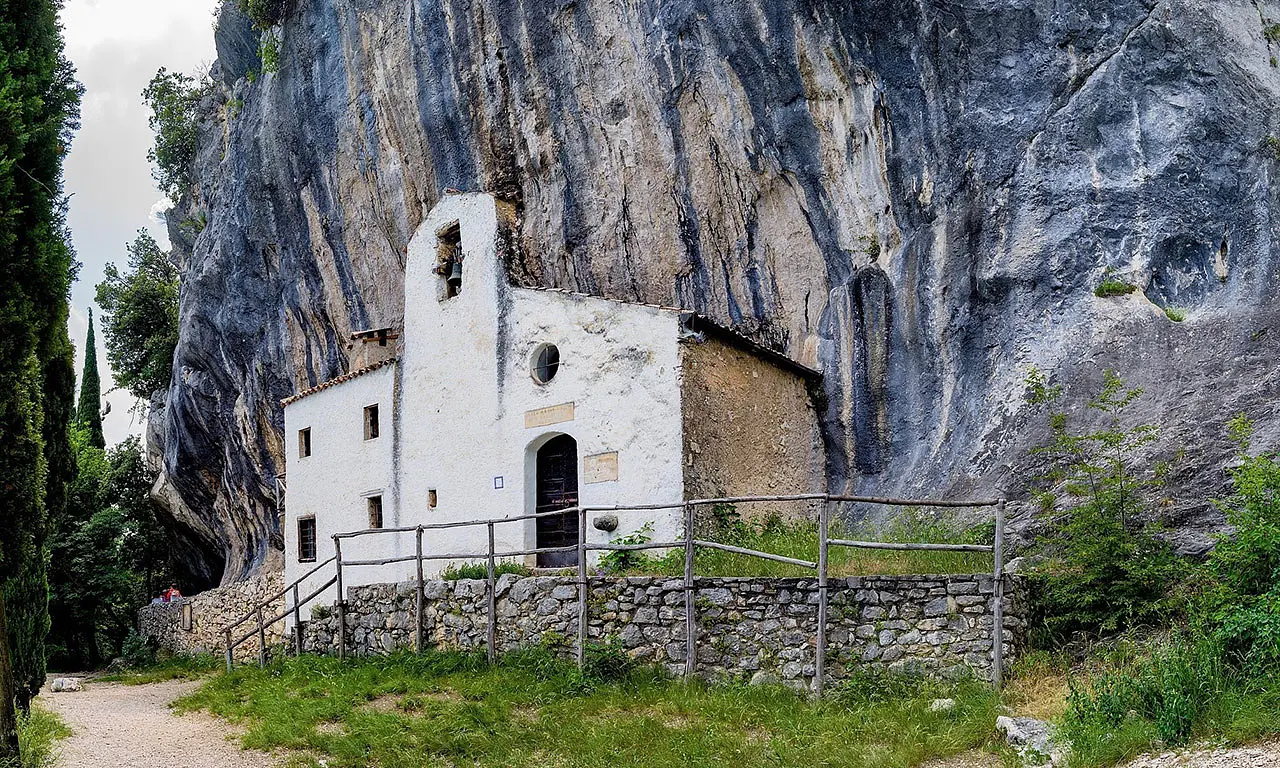 The lake beyond the valley: the hermitage of Saint Valentine
Unforgettable views are worth some giddiness: day trekking in the mountains of Upper Garda.


Automatically translated page.
What it is and where it is
The hermitage of San Valentino is located inland from Gargnano, upstream from the hamlet of Sasso, a name that speaks volumes about the impervious nature of this part of the Garda Riviera, in the presence of Mount Comer (m 1279). After a sometimes vertiginous climb, the whitewashed little church suddenly appears leaning against an overhanging cliff, toward which a row of cypress trees rises. Stepping through the portal, one discovers minimal but highly atmospheric rooms that hark back to the solitary prayer life of its ancient inhabitants.
Why it is special
The hermitage is located at 772 meters above sea level, that is, in an exceptionally panoramic position on Lake Garda with the town of Gargnano appearing between the steep slopes of the San Martino valley and the long snow-capped ridge of Mount Baldo in the background. The ascent is a succession of emotions, moving from the penumbra of the forest to the sunnier slopes of Mediterranean influence. For naturalists, turning their eyes to the sky are the swoops of the peregrine falcon and the gliding flight of the short-toed eagle.
Not to be missed
The destination of the hike is a place of popular faith that invites recollection, but nothing prevents admiration of the creation that frames it: a preview of Mediterranean nature, which on the sunniest slopes presents itself with a sparse forest of hornbeams, hornbeams and downy oaks, interspersed with shrubs. The most representative of these is the scotanus (Cotinus coggygria), recognizable by its yellowish pyramidal flowers and purple-brown fruits, but especially by the bright color the leaves take on in autumn; a plant of economic interest, once used in tanning and dyeing.
A bit of history
Legend has it that the little church of San Valentino was erected around 1650 by survivors of the plague of Manzoni's memory, which twenty years earlier had devastated Lombardy, reaping 400 victims in Gargnano as well. Those who found refuge in this valley to escape the contagion later decided to build an ex voto chapel, which in the centuries to come would be frequented by people eager for spiritual retreat.
Trivia
At the altar of the church is a naïf painting of a Madonna and Child, venerated by two figures in whom St. Valentine, the titular of the place, and the author of the painting are wanted to be recognized. This was a certain Geremia Paladini from Cassone di Brenzone, the last of the hermits, who from 1849 to 1865, the year of his death, settled in the building perhaps also to escape compulsory conscription under Austrian rule. A profile image of him is also preserved inside the small church, as he was seen passing from village to village, with bag and stick, for questing.
To make travel arrangements
Collections
Discover places and related research
The Map thanks:
Collections
Discover places and related research