8461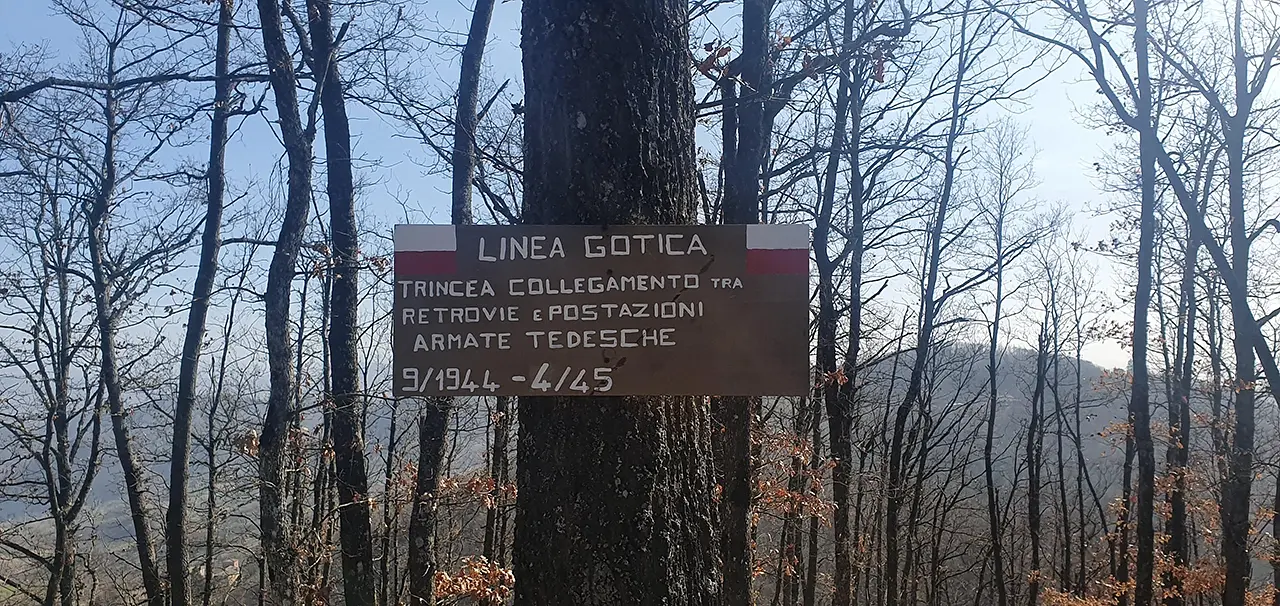 Automatically translated page.
A territory that speaks of its history
Around Castel d'Aiano there is a trek that leads to immerse oneself in the woods of the Bolognese Apennines, touching the main points of interest of the last retreat of the Gothic Line (Green Line II). It was on these ridges that the German troops, in the summer of 1944, built emplacements, entrenched camps and defensive strongholds and where, between March and April 1945, the American "mountaineers" (alpini) of the 10th Mountain Division sustained the fighting for the liberation of the territory.
Details of the trail
Today's walk is a moment of peace: 7.50 km long to be covered in about three hours, through forests and farmland. Adding to such beauty is the pleasure (and sometimes the challenge) of being on a mostly unpaved surface: paths and mule tracks, mainly, and when necessary, small provincial roads with little traffic.
However, ours is not a merry outing, but an opportunity to engage with the not-too-distant history of these places: remnants of German defensive artifacts, some restored and made usable for visitors, traces of battles represented by the memorial stones and crosses of the fallen assist us in a secular pilgrimage to the places that inspired the constituents of 1948; we will see defensive fortifications and places where the destruction of the war left indelible scars, we will tell stories of Resistance and explain how the experience of fascist dictatorship laid the foundations for the birth of the Italian Republic.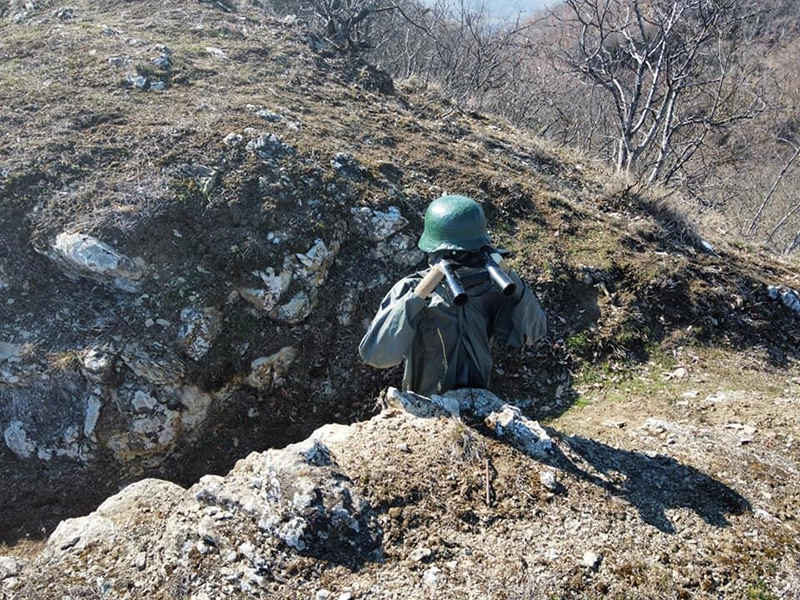 Dummy dressed as a soldier helps to better understand what life in the trenches was like
It is important to point out that the trail is indicated by a Yellow marker. From the town square of Castel d'Aiano, take the direction indicated by trail markers 201 and 192 to reach the Madonnina locality, from where the summit of Monte della Spe is reached. Also known as Monte Madonnina, it was occupied first by the German army, then by the American army, which modified for its own use the structures left by the enemies and which left from here for the "final leap" towards the Po. Following on trail marker 192/A and 190 we reach the locality Serra Sarzana from where we follow trail 160 passing by the ancient Jussi Tower, which for just a moment distracts us from war memories, to Riodomello. From here following trail marker 188/A we reach the summit of "quota 913," then following trail 188 in the direction of Cà del Gatto and Obrina, crossing the provincial road, after about 300 meters we follow trail 186 in the direction of Castel d'Aiano. Our journey ends here, at the same point from which we started, but not everything is as before: now we are different, more aware of what has been, keepers of the secrets of these lands
To make travel arrangements
Collections
Discover places and related research
The Map thanks:
Collections
Discover places and related research