2861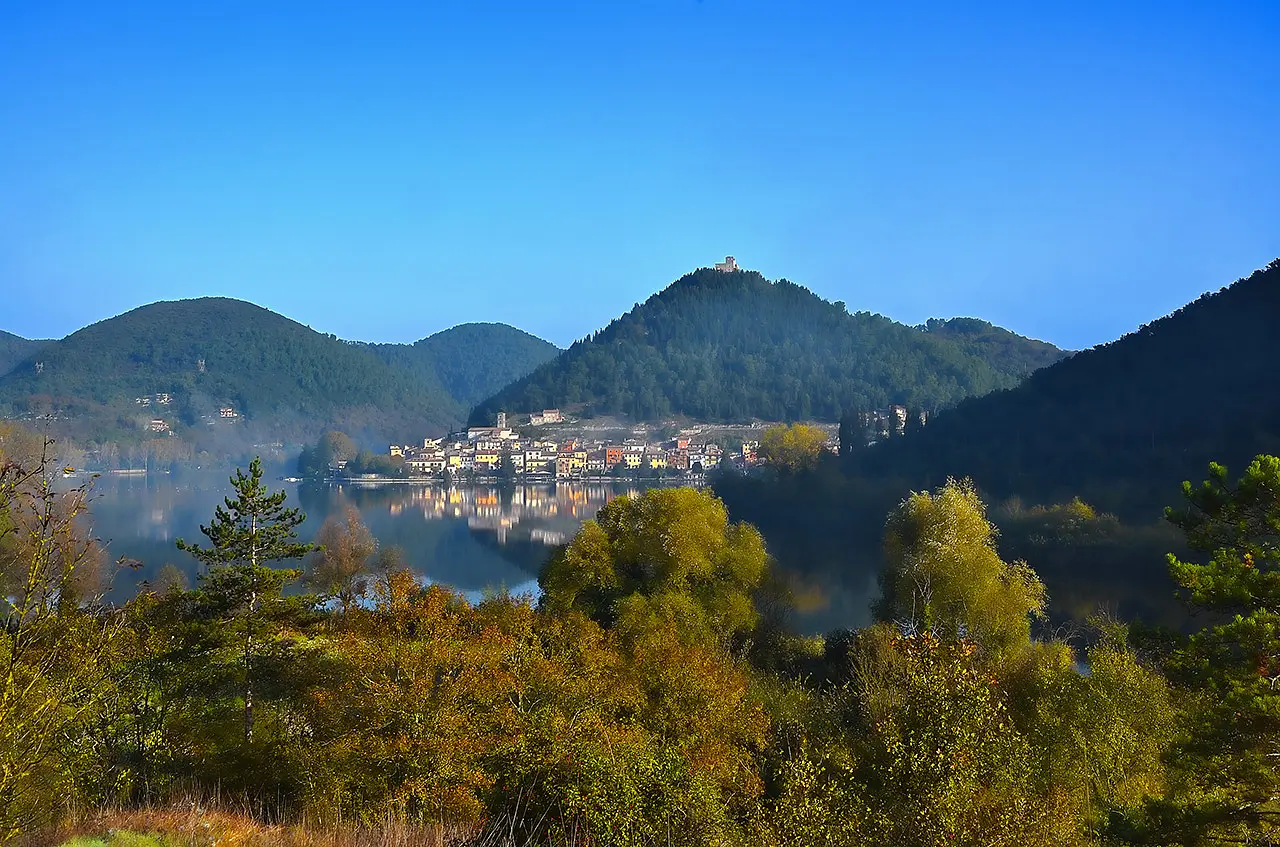 The village, the fortress and the lake
Piediluco, an enchanted corner in the province of Terni


Automatically translated page.
What it is and where it is
In the southernmost part of Umbria, toward the border with Lazio, lies a place that offers landscapes so gentle and peaceful that they seem to have come straight out of a storybook. A large expanse of water, the second largest in the region, gathers serenely at the foot of the surrounding mountains, dressing in their green, undulating reflections. It is Lake Piediluco, a fresh basin that lovingly welcomes all those who want to experience it: from the most peaceful, fond of walks or refreshing sleeps on the beach, to the most sporty, devoted to cycling or kayaking.
Why it is special
One mountain stands out from all the others surrounding the lake. Its silhouette resembles the regular outline of a pyramid, but it is covered by a thick forest, spread over almost its entire surface. Almost, because between the mountain and the lake, just abutting the shore, is a small village, Piediluco. Narrow cobblestone streets wind between old-fashioned but well-plastered houses, a few 16th-century buildings and medieval churches, which saw the passage of the Fraticello d'Assisi. Well, yes, lake and village share the same name, and both owe it to the high ground above them: Monte Lugo, a word that in Latin indicated a "sacred forest."
Not to be missed
The forest that covers Monte Luco is truly enchanting: dense and cool, it is crisscrossed by many routes that can be tackled on foot or by bicycle to be completely enveloped in nature. The beauty of the trees, combined with the placid, rarefied, almost dreamlike atmospheres that the lake gives at dawn or dusk, really make one think of the work of a supernatural spirit. But as we climb up the paths, we leave the lake behind, reaching the top of the mountain. And here, the magic takes us back in time, to the Middle Ages, while gaping at the ruins of the ancient Piediluco Fortress.
A bit of history
Some archaeological excavations date the first settlements in the area to the Bronze Age. Some documents testify to the presence of a castrum on the top of the mountain and a curtem on the shore of the lake as early as the beginning of the year 1000. Over the centuries, many illustrious people passed through this area. Among the first we must count St. Francis of Assisi, while others arrived much later: accomplice the proximity of the Marmore Falls, in fact, the lake and the village of Piediluco were part of the Grand Tour of the European nobility so much in vogue since the seventeenth century.
Curiosities
The Piediluco area is also home to a 19th-century villa, Villalago. With its neoclassical-style appearance, it was chosen as a film set on more than one occasion, for example, for the film "The Fall of the Gods" by Luchino Visconti.
Collections
Discover places and related research
The Map thanks:
Collections
Discover places and related research