2946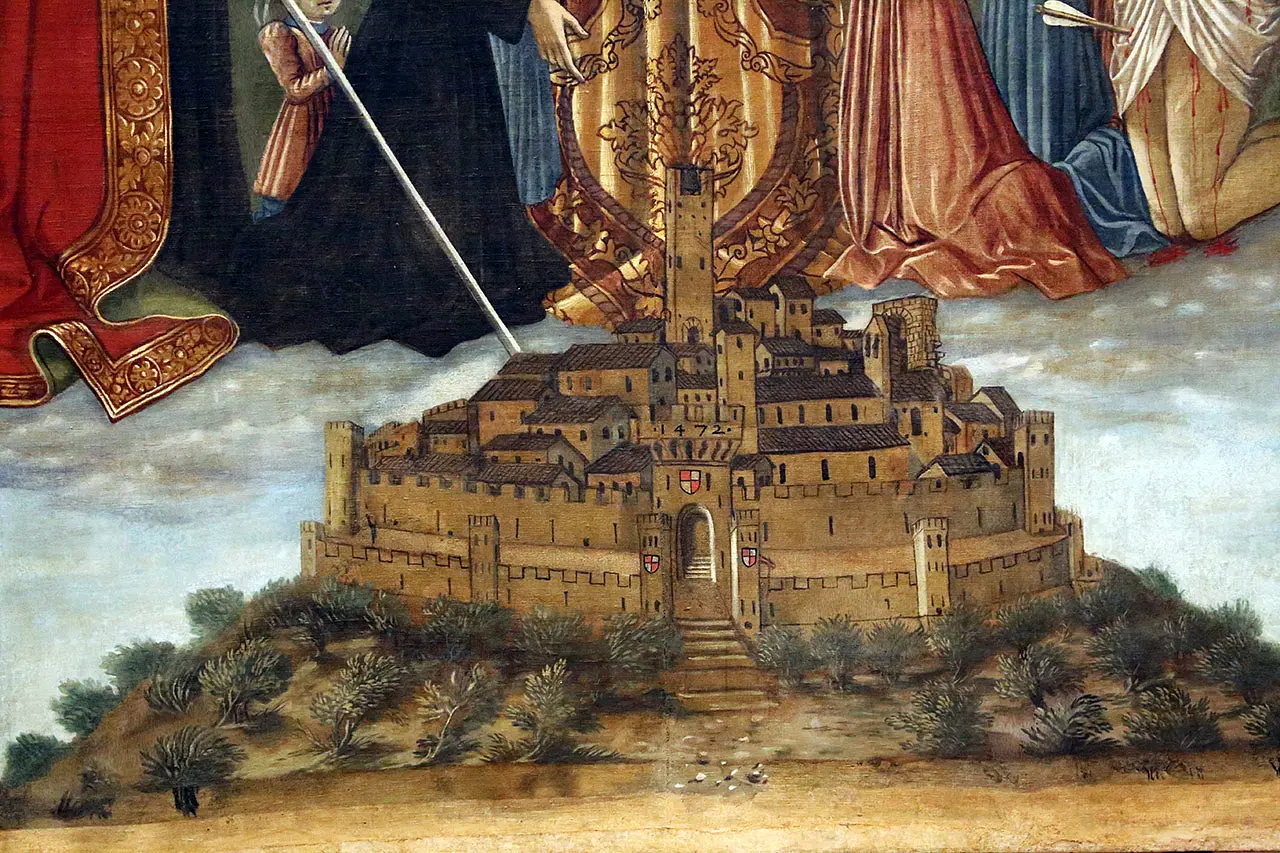 The treasures of the church of St. Mary of the Assumption
The Gonfalone and the Pala di Corciano, two gems of the borough's spirituality
Automatically translated page.
What it is and where it is
A short distance from Corciano's main square, Piazza Coragino, is the church dedicated to Santa Maria Assunta. The building has an elegant pink and white stone façade on the outside, while inside it has a single-nave structure with a raised chancel, central apse and several altars each embellished with outstanding works of art. The apparently simple appearance of the interior becomes a muffled casket for two precious treasures that are fundamental to the spirituality and history of the village.
Why it is special
In fact, the entire nave seems dedicated to accommodate the imposing altarpiece that decorates the high altar, made by Perugino in 1513 and depicting "The Assumption of the Virgin." And it is precisely the Virgin, serene and detached, who dominates the upper part of the composition, surrounded by angels and cherubs, while below, a host of figures greet her and accompany her with their gaze in her glory. Bridging the human and divine is the wide valley of the landscape, enveloped in an airy, almost intangible atmosphere.
Not to be missed
Another undisputed masterpiece is the "Banner of the Plague." Made in 1472 by Benedetto di Bonfigli, it depicts the merciful Madonna protecting the city's inhabitants under her cloak. The entire work consists of a set of striking details in the faces of the characters depicted, their robes and the landscape. This very one occupies the lower part of the painting and is an accurate representation of the town of Corciano as it was at the time. The town and its people are protected by the cloak of the Virgin, as soft in the hood that frames her face as she is impenetrable to the adversities of fate.
A bit of history
The church dates back to the 13th century and was originally Gothic in style then completely transformed in 1870 into neoclassical forms designed by architect Lardoni of Perugia. On that occasion the bell tower was also added, upgrading the ancient town tower, made of stone and with a quadrangular plan, which according to tradition had belonged to the rich feudal lords of Corciano: the Della Corgna and Montemelini families.
Trivia
In the bell tower of the church is kept the Leona. It is not an animal, nor a poor maiden locked up at the top of the tower, rather the Great Bell of Corciano, cast in 1882 and named in honor of Pope Leo XIII.
Collections
Discover places and related research
The Map thanks:
Collections
Discover places and related research