1585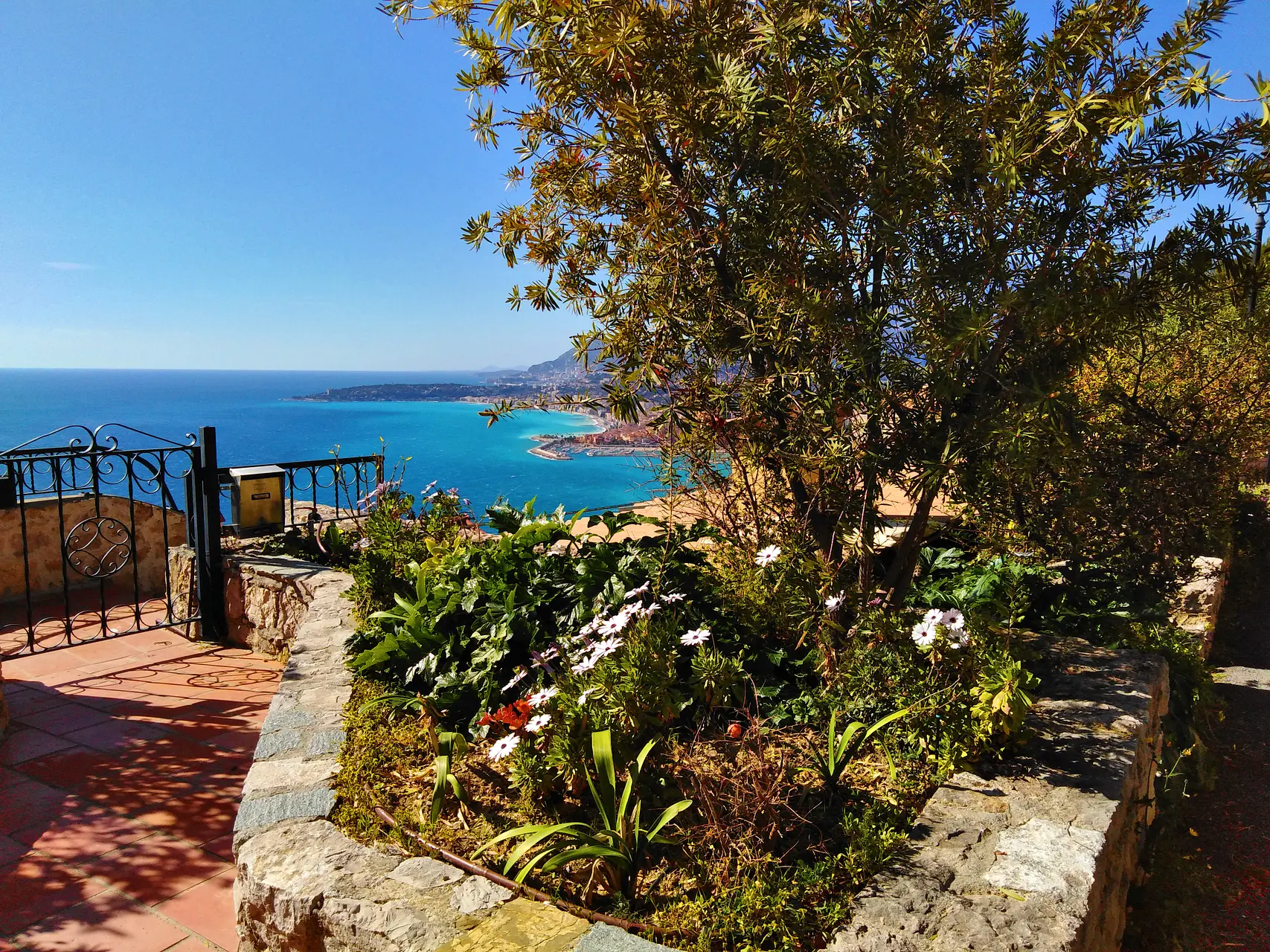 Upper Grimaldi is "Not just beach"
Where History and spirits enjoy the sea



Automatically translated page.
What it is and where it is
A few hundred meters before we reach the French border we find the signs that make us surge toward the mountain. The road is narrow and we have to leave the van before entering the village, consisting of a single street that crosses it from east to west, almost as if it were a stone ship lying between the green terraces of the hillside. Beyond the parapet, looking south, the endless horizon. But there is more that catches our attention....
Why it is special
Just past the first archway into the village, overlooked by a small group of stone grape cluster houses, we see a white masonry structure, on the road, cantilevering outward: it is the communal bakery. There is a figurative representation on the outside wall, and I read aloud the scirtta that says "Mutual Aid Workers Society, Grimaldi, founded 1885." A gentleman notices our interest and approaches. "Nice, isn't it? Yeah, because Grimaldi is not just beach, in fact ... there is a lot of history here," he says happily.
Not to be missed
Upper Grimaldi is a terrace by the sea does the most privileged in the surroundings, totally exposed to the sun from sunrise to sunset. But that's not all it is. Sure, within walking distance we have the beach and the Balzi Rossi Museum, but, as the old man we met told us, there is much more here. "The must-attend event is "Not just the beach": five weekly gatherings where we rediscover the excellence of the area, with artists, expert musicians... And we eat!" he points out.
A bit of history
The historical account made by the Grimaldi Mutual Aid Workers' Society notes that at the turn of the nineteenth and twentieth centuries, as happened to many other places on the Riviera di Ponente, the village became a "crossroads of privileged people out of the ordinary." It was during this period that the society, founded in 1885, became, after the church, perhaps the most important public reference in Grimaldi, still firmly present in the area and an integral part of the landscape, both symbolic and actual.
Curiosities
Of all of them, the most famous guest figure in the small community of Grimaldi is undoubtedly the Russian sexologist Serge Voronoff. A controversial figure, surrounded by an aura of mystery. Convinced that he could rejuvenate men-through the transplantation of monkey testicles inside their scrotum-he was disbarred from the scientific community. Since then, his restless spirit is said to haunt the Grimaldi mansion where he lived and where the cages in which he kept monkeys locked for his experiments are still visible.
To make travel arrangements
Collections
Discover places and related research
The Map thanks:
Collections
Discover places and related research