5191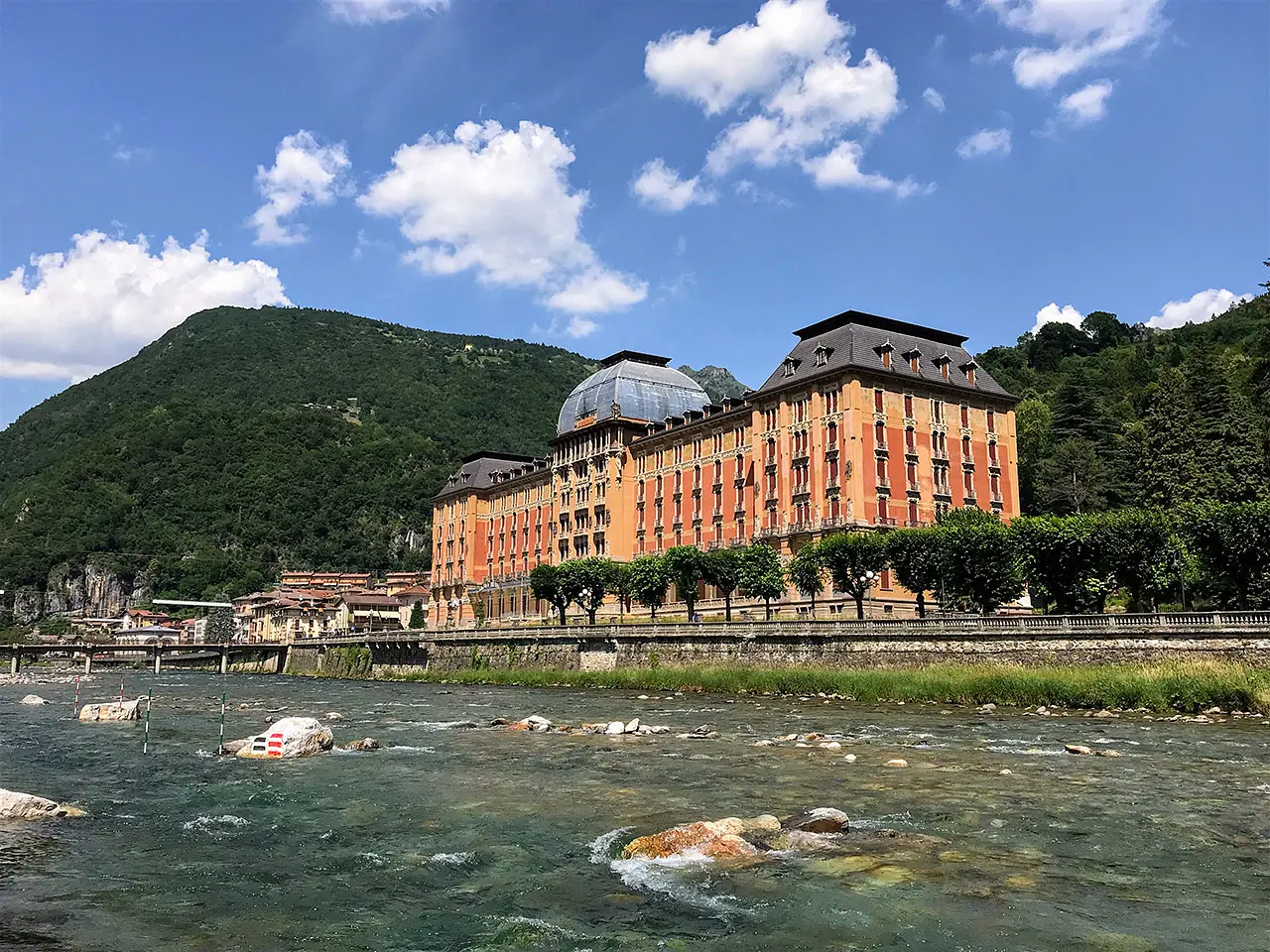 Grand Hotel of San Pellegrino Terme
Art Nouveau in the Brembana Valley


Automatically translated page.
What it is and where it is
This wonderful hotel is located in San Pellegrino Terme, a town in the Brembana Valley. It was inaugurated in 1904 thanks to the work of architect Squadrelli, in collaboration with engineer Luigi Mazzocchi: it constitutes the first of the great interventions in the village wishing to embrace the Art Nouveau style, the first sign of the ambitions of the local population and an expression of luxury. It closed its doors in the late 1970s, but thanks to renovations and community efforts, it is occasionally reopening to curious visitors.
Why it is special
Consolidation of the structure allowed the 1900s Art Nouveau frescoes to be unearthed (while also retaining the original parquet flooring of the time) and also the 1920s Art Deco-style frescoes on the second floor. The restoration work therefore favored the preservation of its original essence, with its large stained-glass windows, decorations and floral motifs, rooms decorated with stucco and chandeliers, to which is added the grand main hall with a Carrara marble staircase.
Not to be missed
Occasional guided tours of the renovated and secured second floor are organized inside the structure: an exciting experience that allows adults and children alike to take a dip into the past. No one can resist looking up at the wonderful ornate ceilings and, especially, the ancient chandelier in the main lobby.
A bit of history
Great names in politics, culture and sports stayed here: some examples are Queen Elena, Prince Umberto, nobles from the family of the Czar of Russia and King Faruk of Egypt, composer Pietro Mascagni, Nobel laureates Eugenio Montale and Salvatore Quasimodo, Luigi Cadorna, Tommaso di Lampedusa and Federico Fellini. The luxurious rooms, large restaurant and state-of-the-art facilities made it an elite residence: Queen Margherita of Savoy herself in the twentieth century called it "one of the best hotels of the time."
Trivia
This structure formed, together with the Casino and the San Pellegrino Spa, the "triangle of perdition," from which the Church advised to stay away (which also allows us to understand why the Parish Church of the City of San Pellegrino is located far from these great revolutionary works).
To make travel arrangements
The Map thanks: