616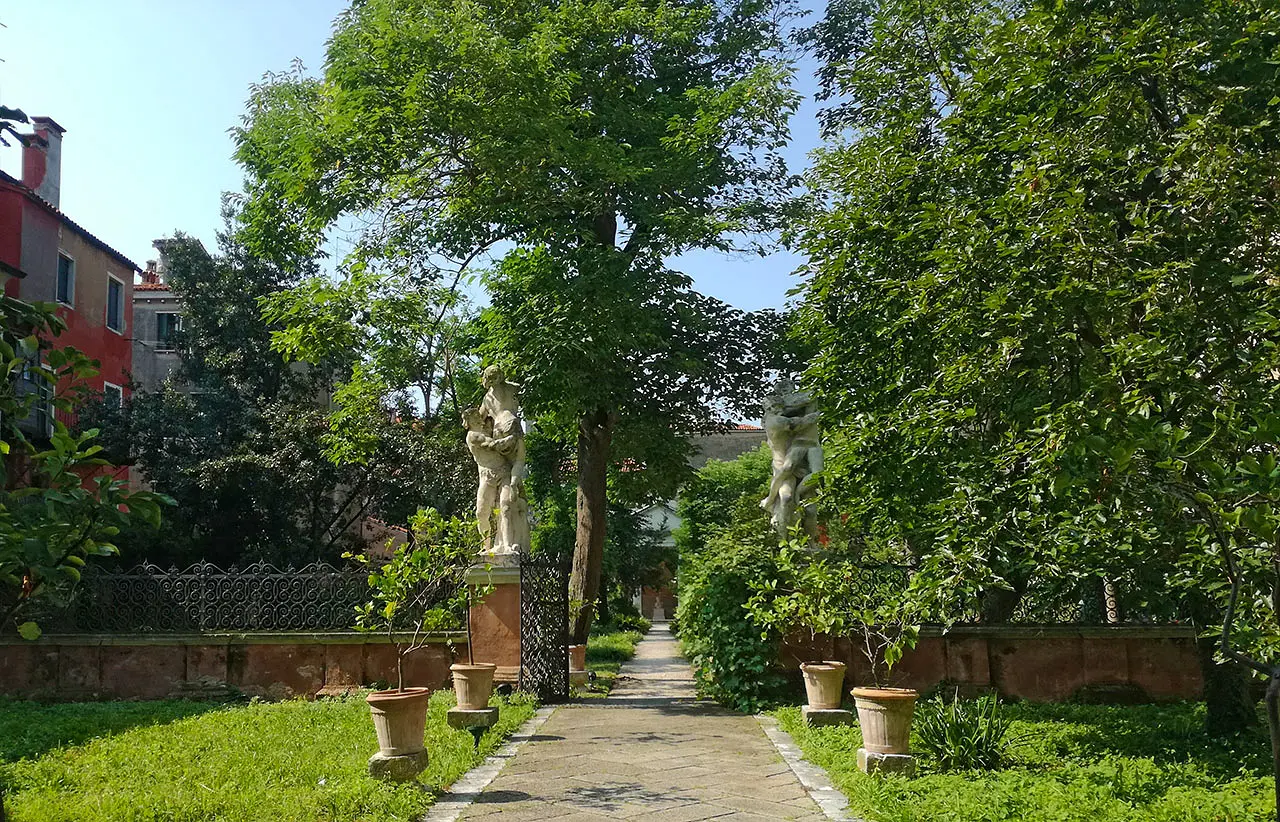 Historical garden of Palazzo Soranzo Cappello
A corner of green among the stones of Venice


Automatically translated page.
What it is and where it is
Having landed on the island already tired of walking the usual routes, I went to Palazzo Soranzo-Cappello, Santa Croce 770 and took advantage of the first reopening of the garden to give myself a breather and figure out what the plan was for the day. At the entrance I was given an information sheet and a booklet of nature-themed poems: already I felt more alive! Then entering the courtyard proper, I was speechless at the sight of so much greenery and the sculptures it frames.
Not to be missed
This garden is not only an oasis of greenery, but also a place of art. The Soranzo family, the historic owners of the palace, commissioned the execution of the exterior sculptural apparatus from Clement Molli, who created the statues of Julius Caesar and the first eleven Roman emperors as condottieri: they still greet visitors to the monumental court from their niches. Standing out between the court and the garden are two sculptural groups depicting, according to some, the Rape of the Sabine Women or, according to others, the Labors of Hercules. These are attributed to Orazio Marinali.
A bit of history
The building of the palace is to be placed between the late 1500s and early 1600s; the earliest evidence of the current layout of the garden is represented instead by an engraving by Vincenzo Coronelli dated 1709. It was acquired by the Soranzo family in the 17th century. The ornamental complex is generally dated to the early 1760s, to celebrate the 1658 wedding of Lorenzo Soranzo and Elisabetta Badoer. The small temple at the end of the garden, on the other hand, seems to date from the mid-18th century.
Trivia
This garden is the setting for two literary classics, D'Annunzio's Il Fuoco and Henry James's The Aspern Carteggio. "The robes, the naked face, the hopes, the gaze were similar to the plants in that garden, to the air, to the stars, to the silence. It became apparent that hidden harmony in which nature has blended and concealed differences and diversities."
To make travel arrangements
Collections
Discover places and related research
The Map thanks:
Collections
Discover places and related research