764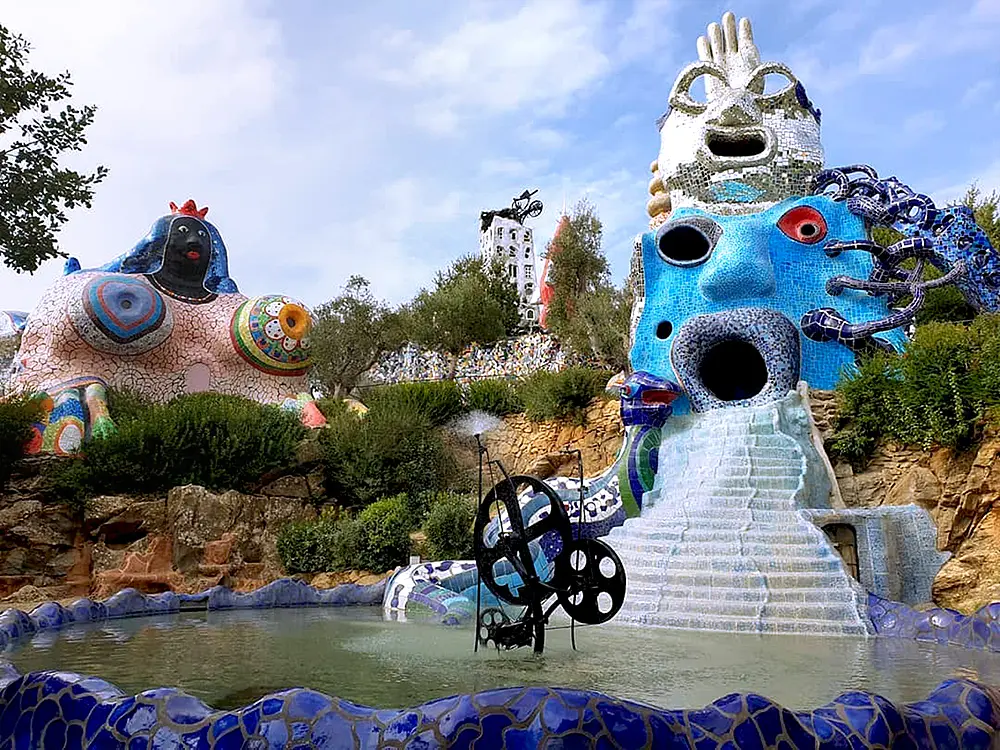 Tarot Garden
A place that makes the eyes and heart rejoice - Niki


Automatically translated page.
What it is and where it is
Along the Aurelia state highway, as soon as you leave Lazio and enter Tuscany, you catch a glimpse of a sparkle from the top of a hill: it is a blue and azure sculpture, dazzling and almost jarring against the surrounding landscape. The Tarot Garden is a park designed by artist Niki de Saint Phalle, with 22 statues inspired by the major arcana of the tarot. The works are made of steel and concrete and covered with colored glass, mirrors and ceramics. Imposing, flamboyant, shapely, sometimes deliberately contrasting with the surrounding nature, the figures are dense with esoteric and symbolic meanings.
Why it is special
Some of the statues are complemented by mécaniques, self-propelled assemblages of mechanical iron elements made by sculptor JeanTinguely, Niki's husband, with whom she made the Parisian fountain in Stravinsky Square next to the Centre Pompidou. The path inside the park, left free by the artist's will, is meant to be an initiatory journey in which the visitor is confronted with unconscious fears, very much related to the symbolism of femininity and motherhood, in close relationship with the strength of the natural surroundings.
Not to be missed
The Tarot Garden was a veritable laboratory of design, ideas, experiments and encounters, an open-air construction site that lasted more than 20 years and was never fully completed. At Niki's behest, in fact, work stopped with his death, and so one statue remained unfinished. Inside the garden you can visit the artist's house, in which Niki lived while working on the project with total devotion, a riot of shapes, mirrors and mosaics that looks like something out of a storybook.
A bit of history
An artistic and multifaceted personality, writer, sculptor, and painter, the outspoken American Niki de Saint Phalle was known as an exponent of Nouveau Réalisme, and for her work in polymateric assemblages. At age 25, the artist was fascinated by a visit to Gaudí's Parc Guell and the Garden of Bomarzo, and decided to design her own park. Niki worked in Capalbio from 1978 until her death in 2002 with an international team of well-known names in contemporary art, thanks to the two hectares of land made available by the Caracciolo family.
Trivia
Many of Niki's works, spread all over the world, can be found in transit places, train stations, squares. Niki was known for her "Nanas, " statues of shapely, colorful women whose bodies are often physically traversable. I recently discovered that the artist has also created a park, in California, in some ways a sibling of the Capalbio garden: it is " Queen Califia's Magical Circle," and it is located in Escondido. This time there are nine statues, on a five-hectare plot, and they are inspired by American roots history.
To make travel arrangements
Collections
Discover places and related research
The Map thanks:
Collections
Discover places and related research