1581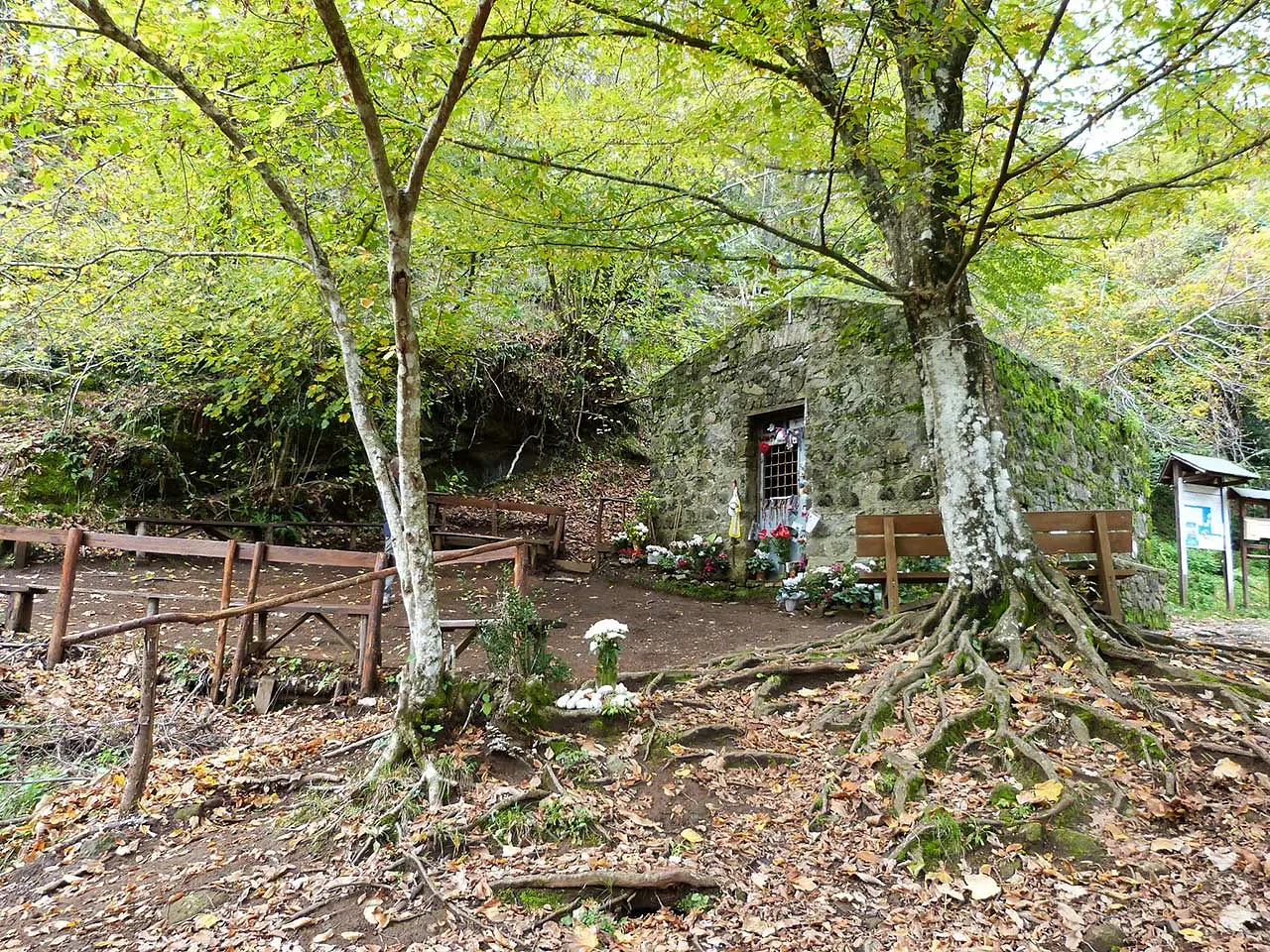 Source Donzella
A clearing that connects earth and sky


Automatically translated page.
What it is and where it is
A short downhill path joins a dirt road to a gathered clearing. Here, a cross adorned with rosaries welcomes the visitor. A little further on, a small building contains the spring. It was turned into a chapel after the account of Our Lady's apparitions. A fountain with a pretty name, Fonte Donzella, and a small heart-shaped nymphaeum complete the scene. A very special place to stop, refresh yourself, admire nature and breathe in a magical atmosphere.
Why it is special
The beauty of the pond, the roaring of the spring water and the surrounding greenery would already be enough to delight the visitor after the beautiful walk to reach the Maiden. But the mystical atmosphere the place is imbued with and the sacredness of the place, evidenced by rosaries, votive offerings and crucifixes, make it truly unique.
Not to be missed
If you look out the gate of the small chapel, especially in the summer months, you can't help but feel a breeze of fresh, pure air coming from behind the altar. Surely these are currents due to the flow of spring water inside the little church, but the feeling is really that it is a prodigy, a miraculous and exciting breath that intoxicates those who experience it and gives a mystical experience even to the least believers!
A bit of history
It is popular belief that Our Lady appears near the spring of Donzella water. To have the vision for the first time was a housewife from Velletri, who during a trip to Mount Artemisio allegedly saw the divine figure dressed in white urging her to drink from its regenerating spring. Since that time hundreds of pilgrims have traveled to Mount Artemisio and it is said that every first of the month there are apparitions. On this occasion pilgrims drink from the spring, despite the fact that the water turns out to be undrinkable.
Curiosity
Also underscoring the uniqueness of the place is a legend that has much older origins and that would attribute the grooves visible on the walls of the narrow path leading to the spring to the horns of the devil, incarnated in a huge bull, defeated in a confrontation with a brave inhabitant of the surroundings.
To make travel arrangements
Collections
Discover places and related research
The Map thanks:
Collections
Discover places and related research