5835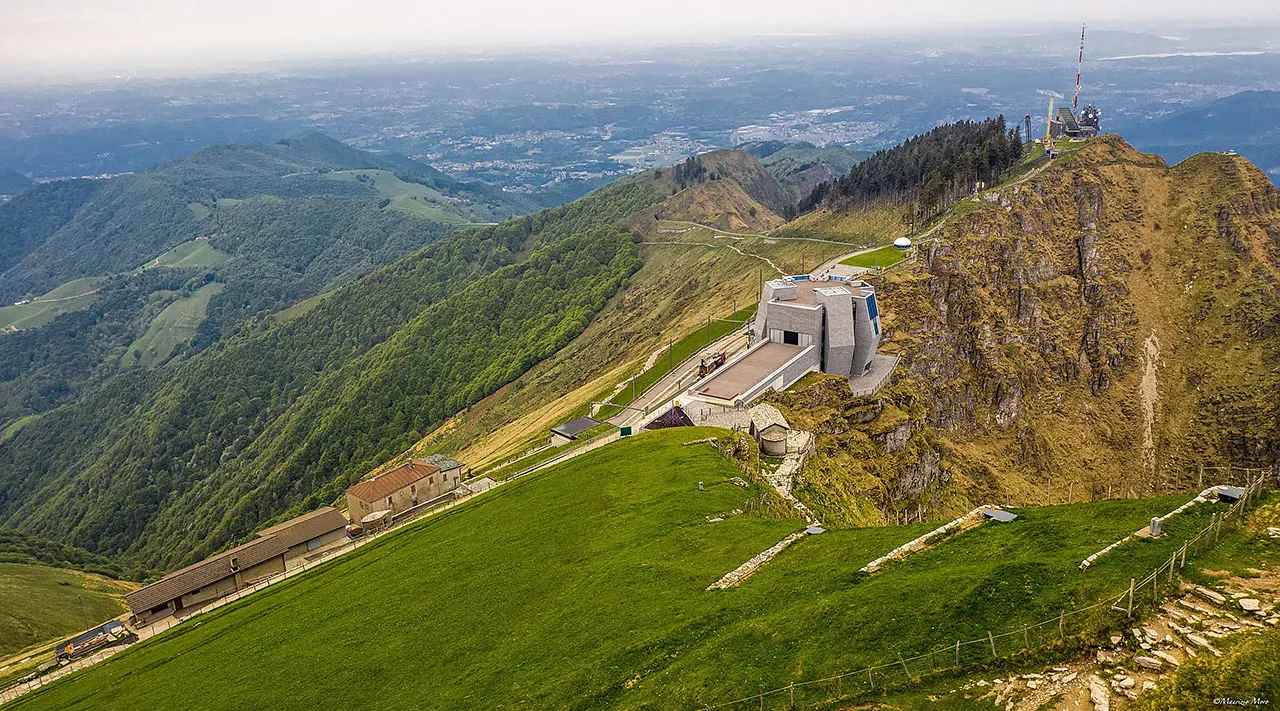 Stone Flower - Monte Generoso
The symbol of Monte Generoso bears the signature of architect Mario Botta
Automatically translated page.
What it is and where it is
We are on the Swiss-Italian border, at a spectacular vantage point, at an elevation of 1,704 meters on Mount Generoso. Here, on April 8, 2017, the Fiore di Pietra was inaugurated, an imposing structure that stands out against the landscape of the Lugano Pre-Alps, signed by Ticino architect Mario Botta.
Why it is special
The modern aesthetic of this structure stands out from the classic lines to which high mountain architecture has accustomed us. But what makes it special is, above all, its role as a junction between two very different geological conformations, straddling which it is built: on one side the dry meadows of the valley that descend toward the Po Valley and Milan, and on the other the sheer rocky cliffs overlooking Lake Lugano and the opposite rise toward the chain of the Alps. Breathtaking scenery from which one can admire the Alpine chain of Gran Paradiso, Monte Rosa, the Matterhorn, Jungfrau and the Gotthard massif.
Not to be missed
To reach the top of Monte Generoso, one can use a cogwheel train that departs from Capolago (CH) and traverses 9 kilometers immersed in nature. However, it is always good to keep your eyes and ears open in search of those special occasions when the route can also be traveled with a steam train from 1890, a real journey into the past.
A bit of history
Monte Generoso is a cherished place linked to the childhood memories of architect Mario Botta, who used to climb to the summit as a boy to watch the sunrise. Perhaps, it was to honor those good times that he wanted to design a work that would give greater prominence to this area. The spot he chose for his "flower" is the same spot where the Albergo Vetta, built in 1970 and demolished in 2014 after the rocks below failed. The inauguration year, 2017, is also somehow linked to the past: it is exactly 150 years after the opening of the first hotel built here.
Trivia
The building has an octagonal base surrounded by a group of five-story towers characterized by a slight outward overhang in the central part, which falls into the upper part of the structure. The arrangement of the individual elements resembles that of the petals of a flower, hence the name "Stone Flower." The towers are connected by large glass surfaces from which there are unparalleled views. On the east side, the flower corolla structure of the building gives way to a large terrace that follows the ridge of the mountain.
To make travel arrangements
Collections
Discover places and related research
The Map thanks:
Collections
Discover places and related research