8914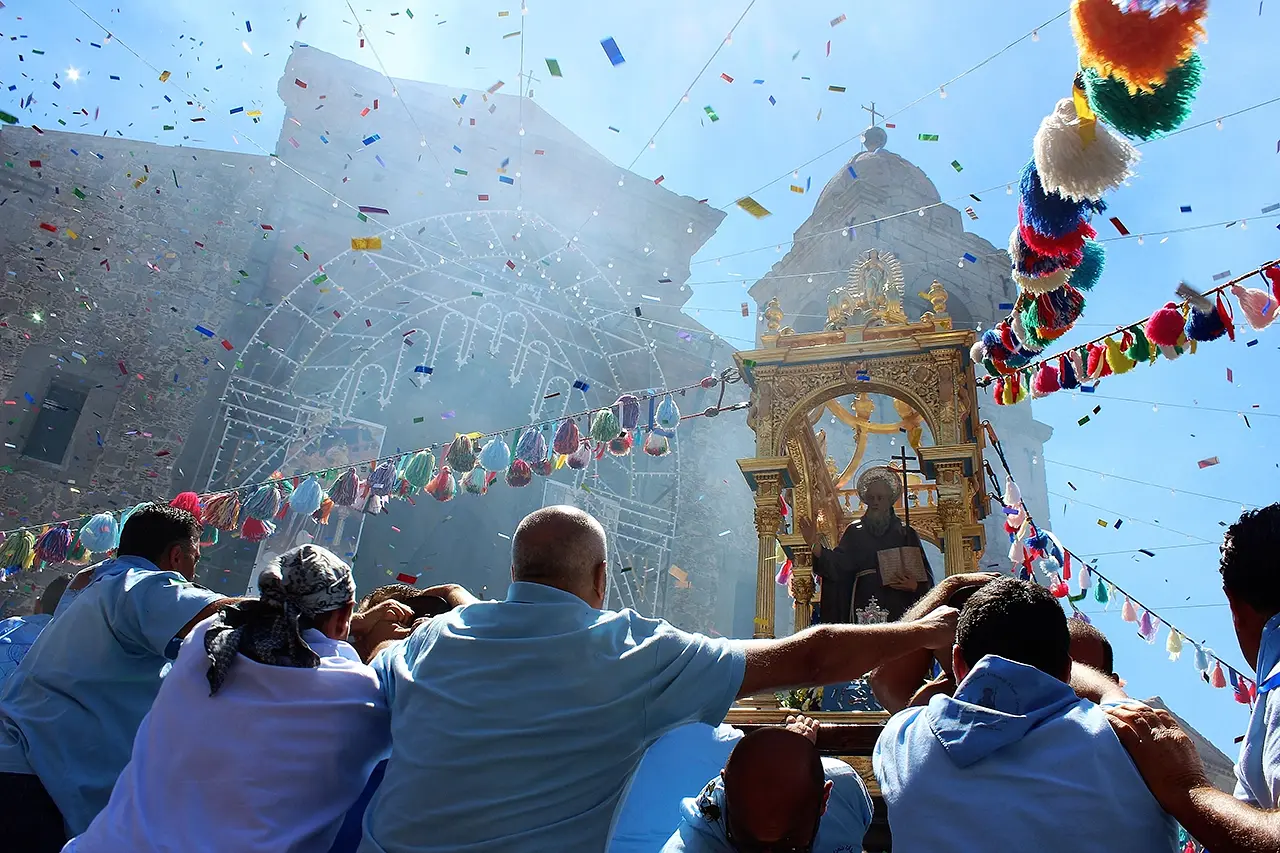 Feast of St. Anthony Abbot in Cerami
One of the most striking summer events in the province of Enna and the Sicilian hinterland



Automatically translated page.
Appointment in July to learn about Cerami
Cerami is a small and ancient village located in the Nebrodi Mountains area of inland Sicily. Its soul is woven with a mix of devotion, folklore and popular religiosity, and it manifests itself in all its strength during the festadiSant'Antonio Abate, organized by the Confraternity of the same name and held every year on the last Sunday of July. On this occasion, the statue of the saint is carried in procession through the streets of the town following precise rituals that mark the various stages of the festival.
Saint Anthony Abbot: the procession begins.
It all starts from the church of Sant'Antonio Abate, when the doors of the imposing Baroque facade open at 12 noon. Thus begins "A' Nisciuta, that is, thetriumphal exit of the fercolo (the Baroque-style wooden structure used to carry the statue of the saint in procession) from its church. This is the first opportunity to be fascinated by the "lazzuna," or races decorated with multicolored tassels and bells, which hooked to the top of the fercolo, carried on the shoulders of devotees, are pulled along the route and under special circumstances to help the fercolo regain its balance and facilitate certain maneuvers. Their bright colors, the joyfulness of their chimes and theincredible skill with which they are maneuvered leave one open-mouthed in amazement.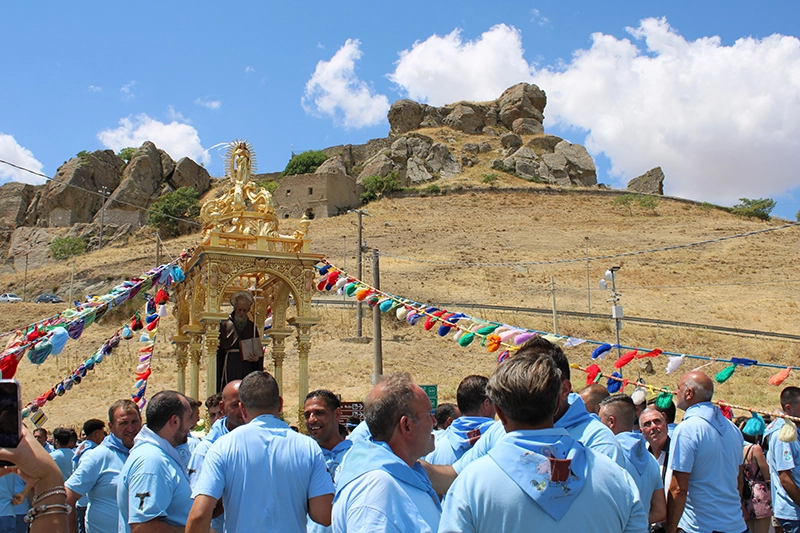 Moment of pause during the procession at the entrance to the village
The offerings, at rest and running
.
The procession passes through the village, but along the way several stops are made for the so-called "bippite, " or traditional offerings of cookies and wine, made by some families to fulfill a vow by giving sustenance to the bearers of the fercolo. In the morning, the outward lap, characterizes the first part of the procession that ends with a stop inside the Abbey of St. Benedict.
From here, the procession resumes at 8 p.m., making the inner circle, that is, the main streets of the city, and arriving in Corso Roma, the saint is honored with an impressive fireworks display.By now, "a cursa",that is, the uphill, sprinting race along the strenuous Via Umberto, which characterizes the last part of the procession before the saint's return to his church, can begin. Once again, the skill of the bearers impresses those who admire them, as does the warmth and devotion of the faithful who attend the procession and the celebration in honor of the Saint.
To make travel arrangements
The Map thanks: