2710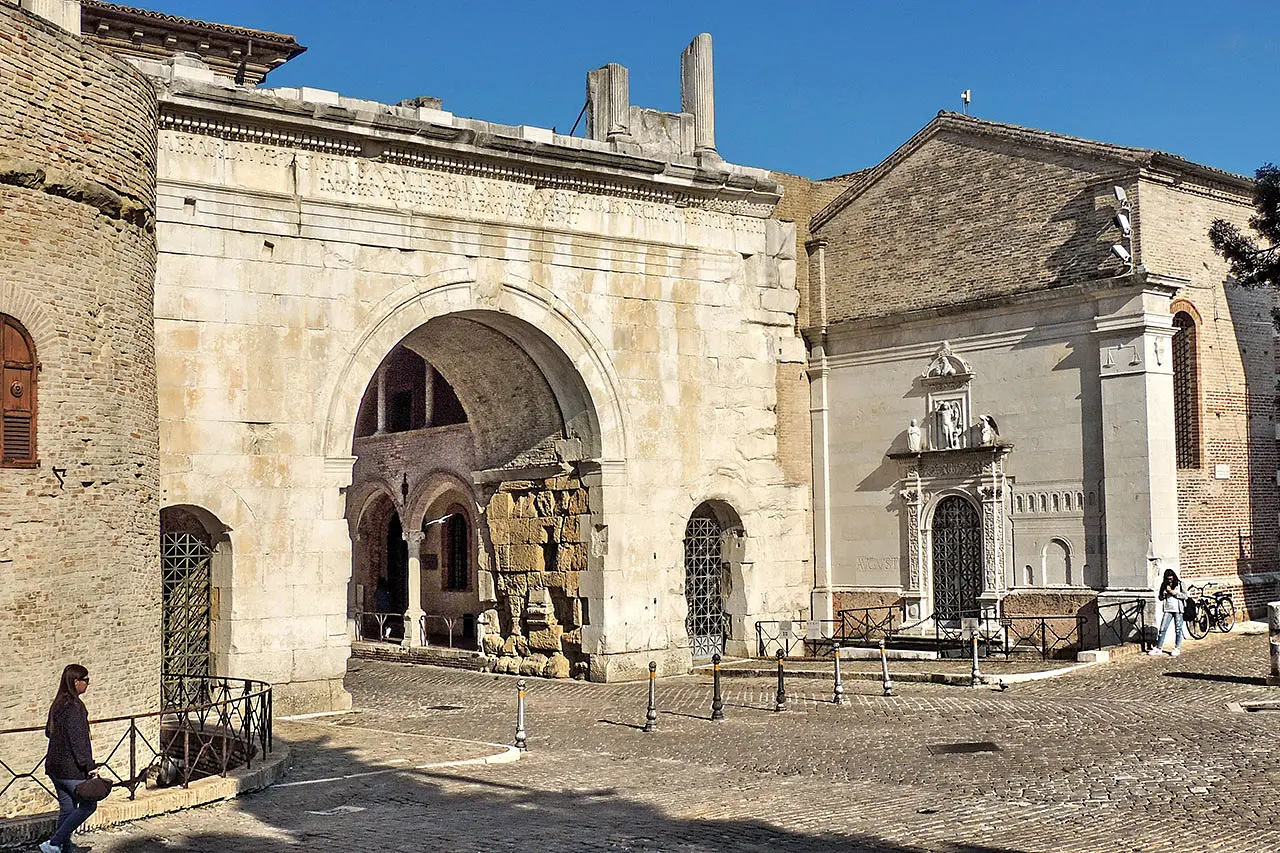 Fano: the city of Vitruvius and Augustus
A hymn to Ancient Rome, but in the heart of the Marches.

Automatically translated page.
What it is and where it is
After a day in Fano, one arrives at night amazed not to hear those around us speaking Latin. Indeed, the city is a treasure trove of reminders of Roman times. Among the most spectacular are the Arch of Augustus, the gateway to Fano, and the city walls, along which is also the Porta della Mandria; or even the Museum of the Via Flaminia, the Roman road that came right here. But there are many other Archaeological Areas accessible, among which the one at the Mediateca Montanari stands out; or even the Archaeological Section of the Malatesta Palace Museum, full of artifacts that testify to the history of the area since Prehistory.
Why it is special
The sampling of finds is enormous and dotted throughout Fano, where every place is a potential treasure chest of new discoveries. Fascinating is the Archaeological Area under the Church of St. Augustine, where impressive structures alternately attributed to a Basilica or the Temple of Fortune that gave the city its name have been unearthed.
Not to be missed
In July, Fano's Roman-ness is celebrated with the "Fano dei Cesari" in a Pincio crowded with Fano residents and tourists who flock to witness the inauguration of the most anticipated event of the Fano summer. A large group of merchants, representatives of the 4 factions, the historical associations Simmachia Ellenon and Colonia Iulia Fanestris, form a procession headed by the first citizen.
A bit of history
Fano represented the arrival point in the Adriatic area of the great Via Flaminia, which flowed into the historic center connecting directly with the Decumanus Maximus through the Arch of Augustus. This had been commissioned by the Emperor in 9 AD as a gateway, a task it still fulfills today in all its solemnity. On the other hand, the construction of the walls responds to the technical prescriptions provided by Vitruvius in his treatise "De architectura," dedicated to Augustus and which made its author an undisputed master of this discipline.
Curiosity
Vitruvius's imprint on Fano is profound and proud of the city, where the only work he says he designed and built arose, the Basilica of Fano that has unfortunately been lost. The search for this legendary structure has stimulated the imagination of generations of archaeologists. Some think it may be in the area covered by excavations under the Church of St. Augustine.
Collections
Discover places and related research
The Map thanks:
Collections
Discover places and related research