2248


Hermitage of San Salvatore Monte Antuni
A place of meditation and prayer overlooking the lake


Automatically translated page.
What it is and where it is
On the slope of Mount Antuni, the one overlooking Corneto, there is a natural cavity known as Grotta del S.S Salvatore. Inside it in the 17th century, lived a hermit, whose remains were still visible a few decades ago. The natural opening of the hollow has been closed with a wall equipped with a door and window, thus creating a real little rock church made of a single, bare room.
Why it is special
It is precisely the essentiality of the little church that allows one to get in touch with the daily routine of hermit life. Observing the cramped space in silence, one can almost identify with the ancient inhabitant of the cave. Inside, on the left, there is a hard stone bed and on the right, against the wall, an altar dominated by a fresco; another fresco separated from the first by the only window is placed above the door. How about you? Would you feel like trying to live like this?
Not to be missed
The two paintings were made in 1640 by the hermit, a certain Christopher, originally from Lotharingia. They depict one a blessing Christ and the other an unidentified saint, holding with his left hand, an open book in his lap. How do we know the author? Simple, it is written on the side of one of the representations, "Hoc opus fecit Christophorus Mirandi de Lotaringe pinxit per suam devotionem." The remnants of a third fresco, the few traces of which make it completely undecipherable, can be seen in the concavity of the rock where the bed on which the hermit's miserable remains were carved.
A bit of history
The Cave of St. Savior, also known as the Hermit's Cave, was already known in earlier times: it appears, in fact, as Speco SS.Salvatoris, in the Register of Churches of the Diocese of Rieti of 1398. In this place, as Archbishop Marini noted in 1787, every year on November 2, the people went there devoutly in procession.
Curiosity
Near the Hermitage of San Salvatore is the village of Antuni, often identified in the popular imagination as the setting for stories and legends. For example, Andrea Barberino, in his Royals of France (Book IV, ch.LXXIX), places the murder of Buovo d'Antona in the church of San Salvatore, near Antona (Borgo di Antuni).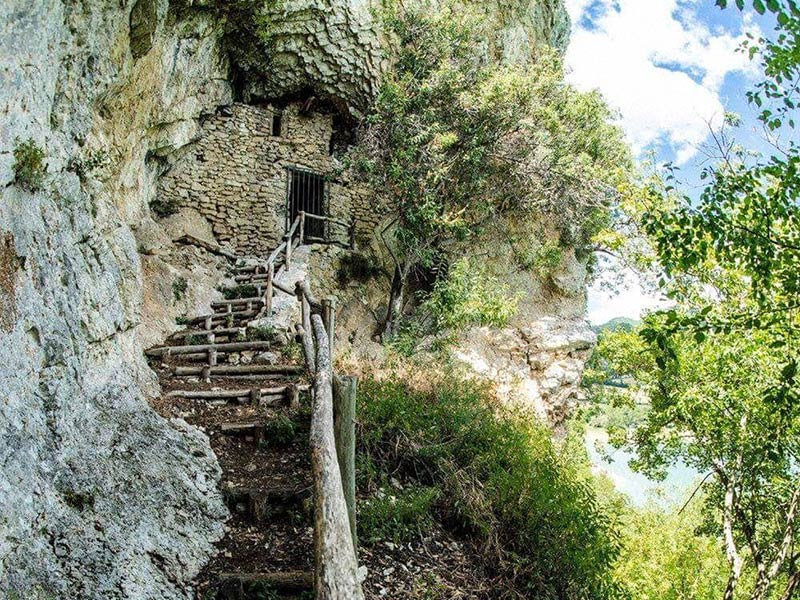 Hermitage Trail
To make travel arrangements
Collections
Discover places and related research
The Map thanks:
Collections
Discover places and related research