168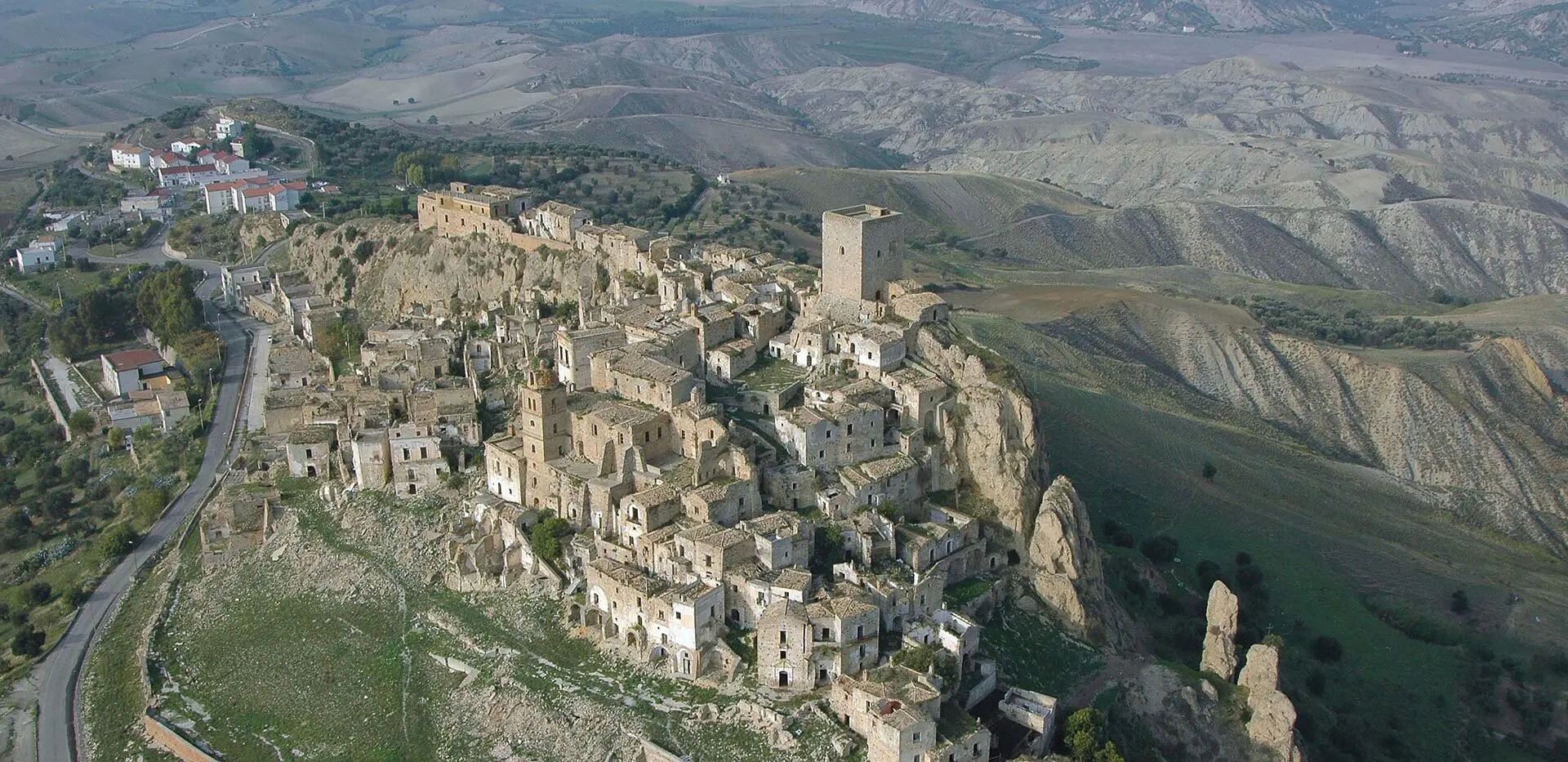 Automatically translated page.
What it is and where it is
Craco is a medieval village that stands on a ridge overlooking the Salandrella valley, against a backdrop of spectacular gullies, deep furrows carved by rainwater into the clay soil. On close inspection, the village is revealed to be in a state of picturesque abandonment, and so it turns out that the residents have actually moved to a nearby hamlet: the fault of a landslide, but when one learns the full story, one really has to say that not all ills come to harm...
Why it's special
The 'ghost' village, as it is spontaneously called, has become a museum of itself, or rather, to be precise, a 'scenic museum park' with a dual function: firstly tourist, for the benefit of those who want to experience the thrill of exploring its ruins, certainly by following protected routes; but then also as a backdrop for photographic and film productions. The idea, which at first might have seemed a bit crazy, turned out to be a winner from all points of view, making Craco one of the top ten 'ghost towns' in the world.
Not to be missed
The excursion to the village, which entered the list of the World Monuments Fund in 2010, is completed with a visit to the MEC, the Emotional Museum of Craco, set up in the convent of San Pietro with multimedia materials that in various ways give back a voice to the community that for centuries inhabited it. Not forgetting the events scheduled at the Palazzo della Cultura "Gian Maria Volontè," dedicated to the protagonist of Christ Stopped at Eboli (1979), the first major film production to have Craco as its backdrop.
A bit of history
The problems for Craco began in 1963: a landslide of such magnitude that residents had to be evacuated, later aggravated by a flood and an earthquake. In other words, old town, goodbye! The fact is that the village's new 'picturesque' situation began to interest the film world: productions of various kinds, from Hollywood colossals, such as Mel Gibson's The Passion of the Christ in 2004, to the new Italian comedy, such as Rocco Papaleo's Basilicata coast to coast in 2010.
Trivia
Visiting Craco also has a naturalistic implication, because it is not entirely accurate to say that it is uninhabited. After being abandoned, in fact, it seems to have gained a few new residents. It is a small bird with a bluish livery, the lonely sparrow, which usually inhabits the rocky environments of the Mediterranean belt, but which among the ruins of the village has evidently found an alternative habitat to the natural one. And before it shows itself, it often reveals itself with a song that in the past has bewitched poets such as Leopardi and Pascoli.
To make travel arrangements
Collections
Discover places and related research
The Map thanks:
Collections
Discover places and related research