2831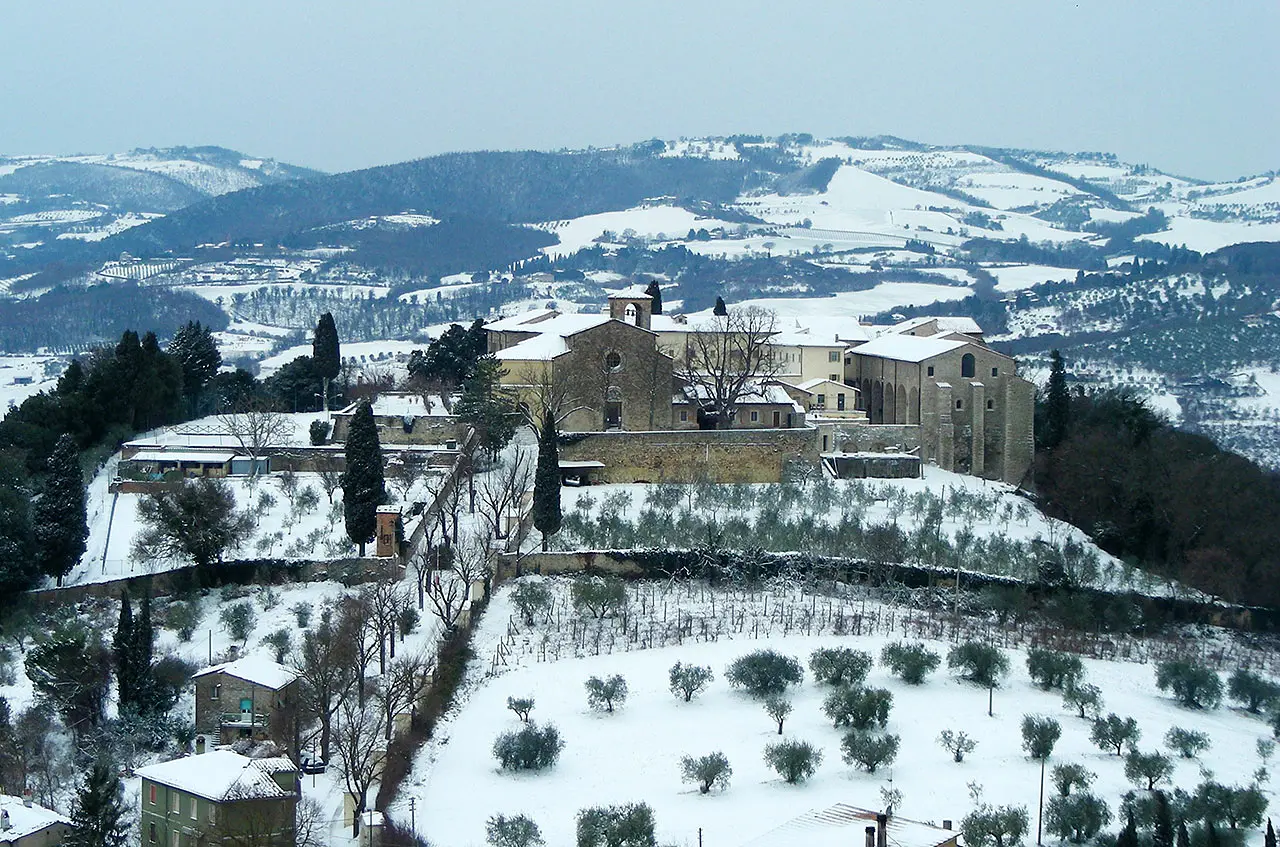 Convent of Montesanto
Among spirits, witches and saints


Automatically translated page.
What it is and where it is
A short distance from Porta Orvietana, perched on a small hill to the west of Todi's city walls, stands the Convent of Montesanto. It is a religious center guardian of very ancient history and spirituality that promises excitement to the most curious, peace and recollection to the most reflective. One thing is certain: such an evocative place must be conquered with an uphill walk punctuated by a sequence of white chapels that guard a scene from the Passion of Christ each.
Why it is special
Once there, one pauses briefly to look at the convent's structure, low and rather simple. But the desire to enter grows stronger and stronger. Inside, rooms and artifacts from the most diverse eras are housed: the cloister, for example, is enhanced by an 18th-century well. Also prominent are the 14th-century hall, used as a conference center, and the library full of parchment codices, incunabula and rare editions, much of which has found its way into the collection of the Todi municipal library.
Not to be missed
Next to the monastic complex is the small church of the same name. Consecrated in 1633, it became a parish church in 1977 with the name of Maria Santissima Assunta in Montesanto and still preserves numerous works of art: various wooden statues and some paintings by Spagna, Ghirlandaio's pupils (16th century) and Cesare Permei (17th century).
A bit of history
The monastery was built in the 13th century as a fortress against the assaults of Orvieto's citizens. In 1325 it was occupied by the Poor Clare nuns and, after the plague of 1348, by the Franciscans. This place, however, has been dear to spirituality since much earlier times. The old toponym "Mount Mascarano," for example, suggests the Lombard "maska" meaning mount of spirits or witches. The site must have been from ancient times a sacred place, perhaps a necropolis with temples and shrines dedicated to various deities including Mars and the goddess Bellona. It was in this area that the very famous Mars of Todi was unearthed in 1835.
Curiosities
The square of the Montesanto Convent is home to a majestic century-old linden tree that is said to have been planted in 1426 on the occasion of the visit of St. Bernardino.
To make travel arrangements
Collections
Discover places and related research
The Map thanks:
Collections
Discover places and related research