3966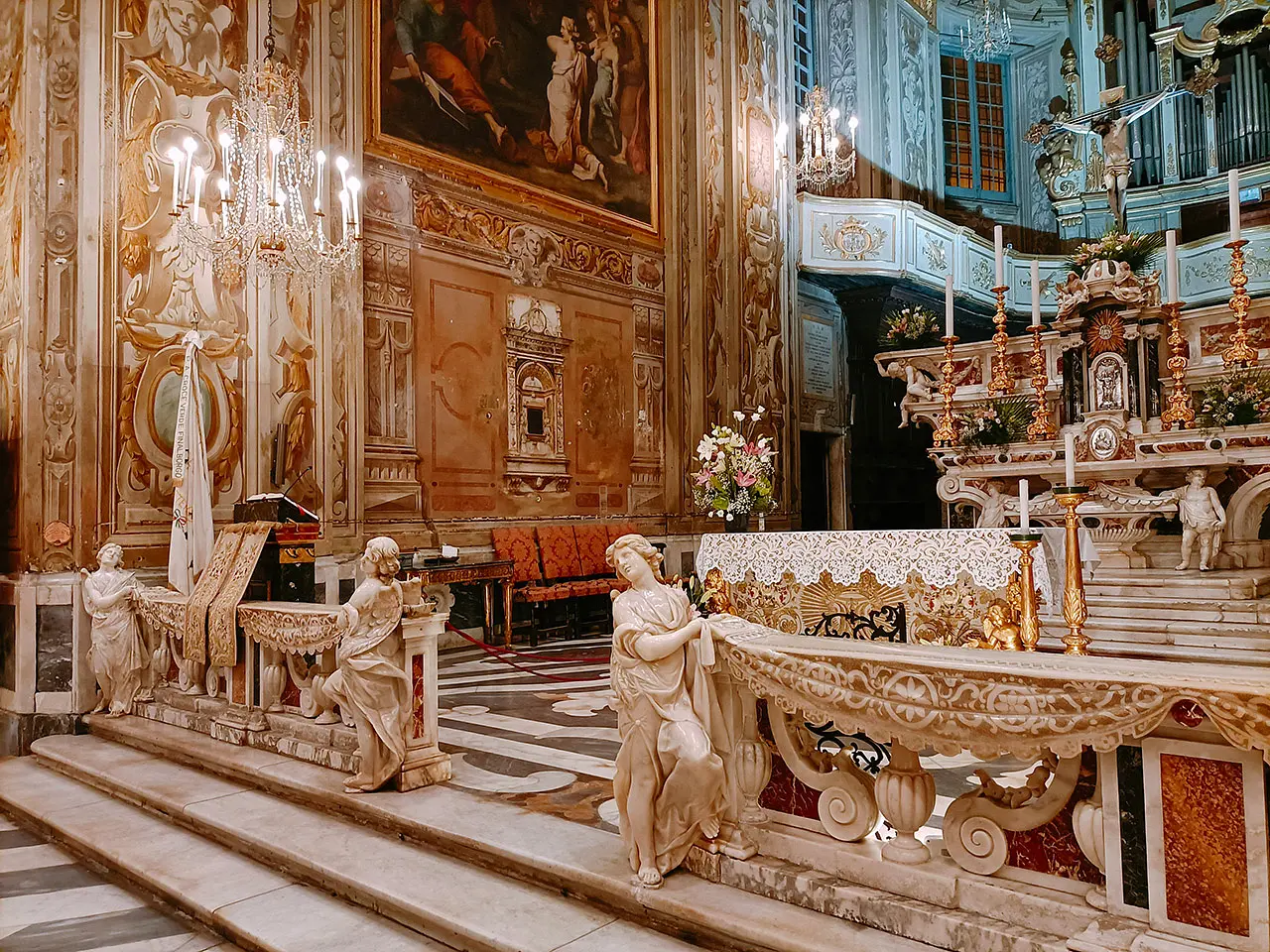 Collegiate Church of St. Blaise
A dance of marble and gilded stucco celebrates Finalborgo's baroque style


Automatically translated page.
What it is and where it is
If strolling through the heart of FInalborgo a brick facade, all pitted to boot, makes you want to shoot straight, stop, you are about to make a huge mistake! Look beyond appearances, appreciate the sharp, reassuring lines of its volumes, and that magnificent octagonal bell tower with its subtle mullioned windows with two lights...you are beginning to understand right? By now you also smell that little scent of treasure hidden in plain sight... Yes, you have found the Collegiate Church of St. Blaise, patron saint of wool carders, one of the oldest cults in town. Shall we go inside?
Because it is special
The interior is overwhelming. The large nave is flooded with light that chases in reflections from the many gilded stuccoes on the walls and columns. Splendid marbles seem to have lost all trace of their hardness and static nature, so engaged in a dance of sinuous lines, a true hymn to the Baroque. These are joined by statues, paintings and frescoes in a whirlwind of shapes and colors that would make even the best explorers lose their bearings.
Not to be missed
One of the best examples of sculpture in the Collegiate Church is the pulpit, to the left of the portal, which depicts an elaborate and scenic vision of Ezekiel, but the surprises are not over yet. Push your eye to the balustrade separating the chancel from the altar: doesn't it seem incredible that whoever put the lace on managed to make it look like marble angels are holding it up? It would be, except that in reality that very delicate lace is also made entirely of marble--a trick worthy of a magician!
A bit of history
A first church, dedicated to the worship of St. Blaise, arose on the heights of Rialto, around 1261, outside the walls of the village. Then, in 1372, the community decided to move it inside the walls: the church, in Gothic style, finally found its location in Finalborgo. Damaged by the Genoese in the late 16th century, it was rebuilt in Baroque style between 1633 and 1650, with a façade that remained unfinished, and with a dome enriched with frescoes between 1870 and 1911. In 1949 Pope Pius XII elevated the Collegiate Church to the dignity of a minor basilica.
Curiosities
Many of the works presently in the Collegiate Church of St. Blaise come from the Convent and Church of St. Catherine and the Palace of the Tribunal, the former, a religious complex later used as a prison and today the main cultural center of Finale. But these are not the only "imported objects": it was discovered that parts of Castel Gavone were used in the construction of one of the five altars in the right aisle.
To make travel arrangements
Collections
Discover places and related research
The Map thanks:
Collections
Discover places and related research