454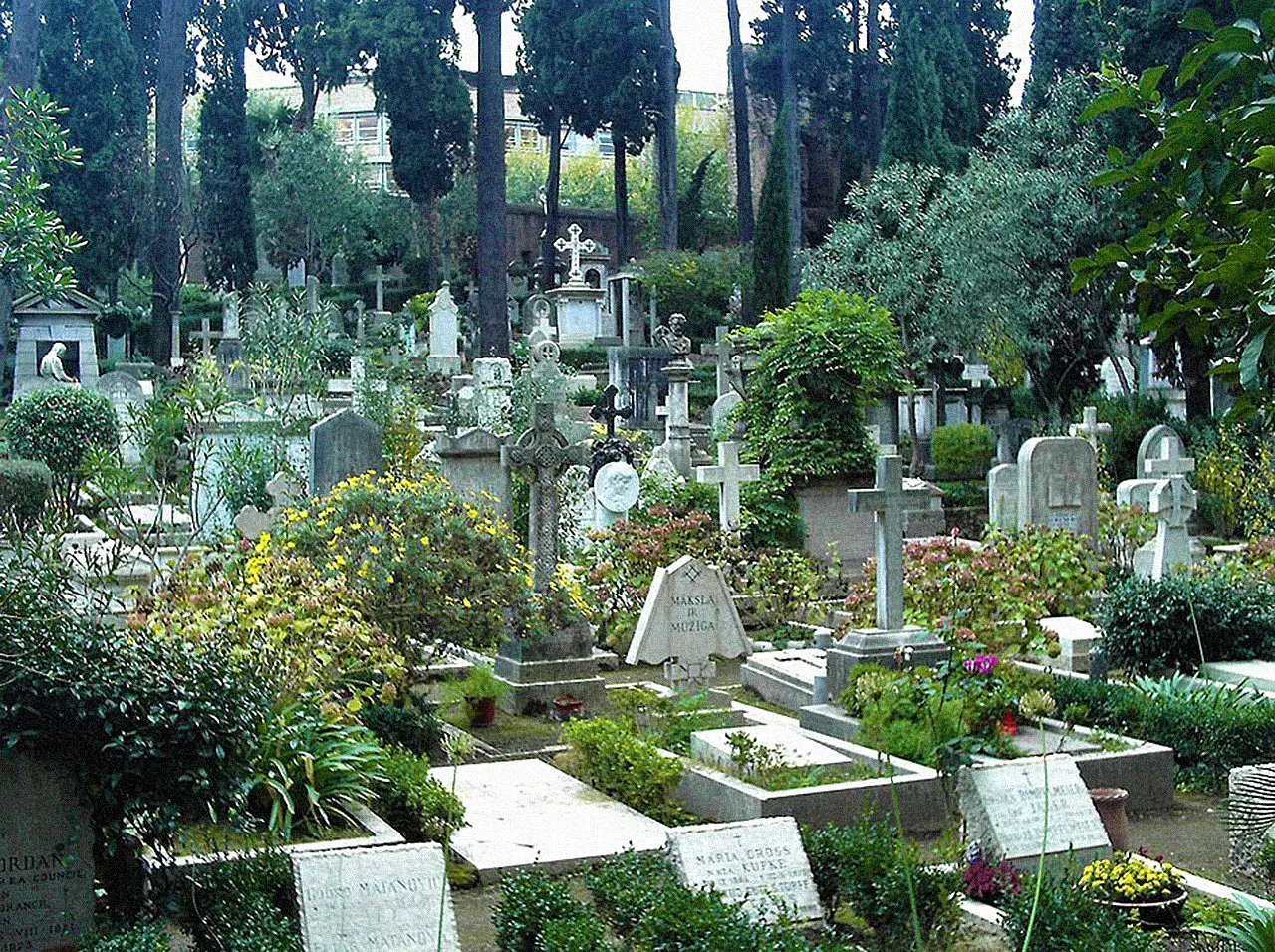 Non-Catholic Cemetery of Rome
An oasis of peace that restores the spirit



Automatically translated page.
What it is and where it is
Rome's Non-Catholic Cemetery is located in the Testaccio neighborhood, near Porta San Paolo, beside the Cestia Pyramid. In this silent city oasis, some 4,000 graves rest in the shade of cypresses, pines, fragrant wild roses and camellias. More than twenty foreign nationalities of all religious denominations, not Catholic, populate the cemetery, which is, to date, one of the oldest burial grounds in Europe. Nothing sad, then, but an unusual walk through art and history, off the beaten path of mass tourism.
Why it's special
Imagine knights, princesses, men of letters, politicians, scientists, philosophers, artists coming from all corners of the world, parading through the streets of Rome and finally meeting in the beauty of this garden. A multitude of stories meet here without the need to keep the clock at bay. Everyone leaves a memory, a sentence, a work: a trace of what has been and what, in some way, continues to be: for me who write, for you who read, for anyone who agrees with the statement "the essential is invisible to the eyes."
Not to be missed
There are many tombs that rightly draw visitors' attention: from that of English poets John Keats and Percy Bysshe Shelley to that of Goethe's son; from the grave of Antonio Gramsci, to that of Russian painter Karl Brullov. But among them all, The Angel of Grief deserves special attention. The work is by William Wetmore Story, a famous American sculptor who dedicated the statue to the memory of his wife. It tells of the visit of an angel who wanted to bring flowers, but was seized by grief and collapsed. The wings almost envelop him. The gracefulness of the forms and the minuteness of detail move people.
A bit of history
The cemetery arose in the early 18th century. Before that time the Church did not allow non-Catholic deceased to be buried in consecrated cemeteries therefore there was a need to set aside a designated place for the deceased. It was Pope Clement XI who reserved the recreation area, then known as 'The Meadows of the Roman People,' for the burial of Protestants.
Curiosities
A curious detail concerns the dense presence of cats inside the Cemetery and, especially, near the Pyramid. An organization of volunteers feeds and offers medical help to the pussycats wandering around undisturbed. Will it be their sixth sense or a simple coincidence that leads the friends with seven lives here?
To make travel arrangements
Collections
Discover places and related research
The Map thanks:
Collections
Discover places and related research