3674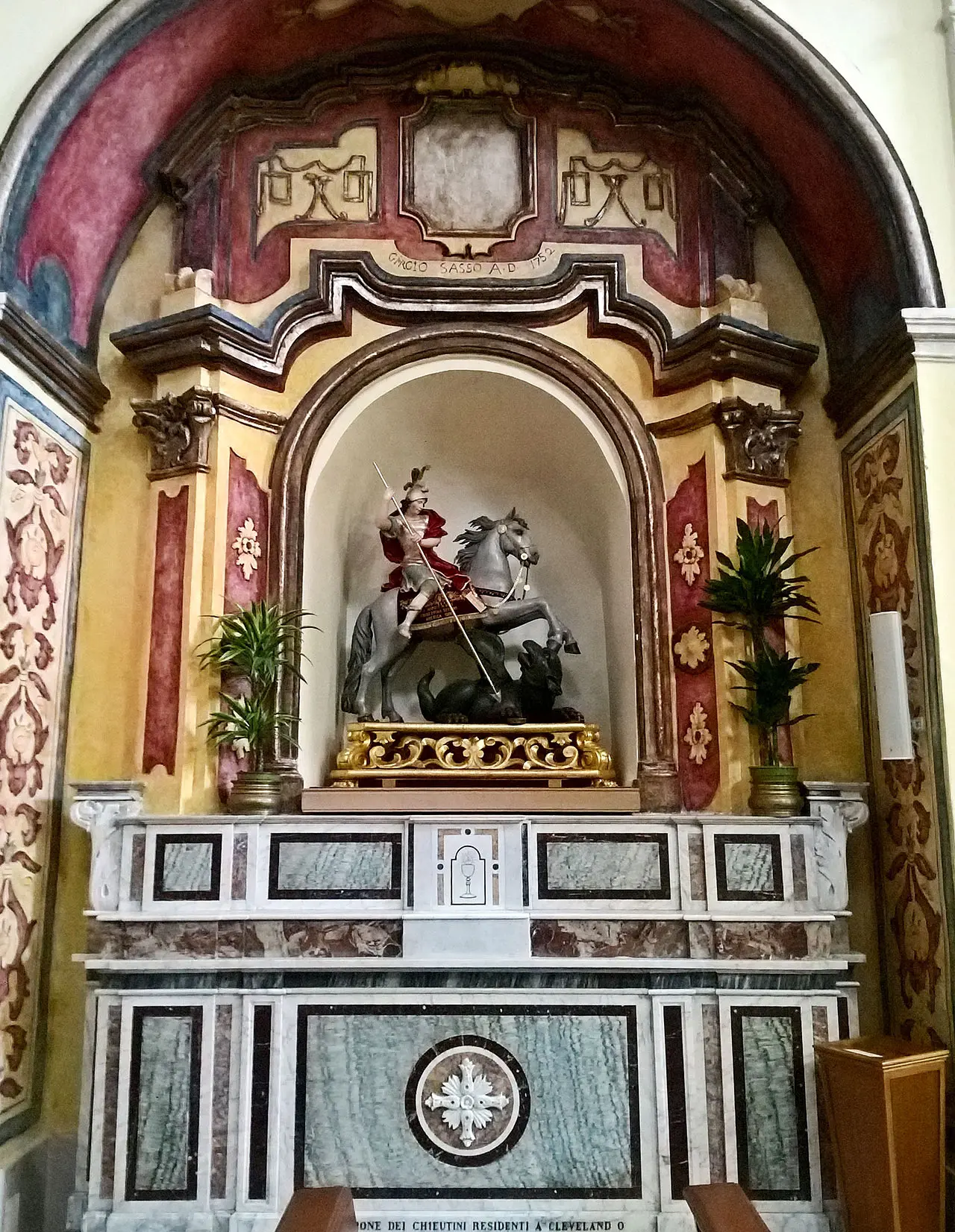 Chieuti and the church of San Giorgio Martire
A small eastern island between the Apennines and the Adriatic.


Automatically translated page.
What it is and where it is
Between the sea and the mountains of the Subappennino Dauno lies Chieuti, ancient Qefto. It is a small urban center, counting only 1566 inhabitants, and its structure makes one think of just those small towns where everyone knows each other. In fact, the main core of buildings is developed in the highest part of the town, gathered around the village church. Walking through its streets, one can hear a peculiar dialect, and even some of the scents may seem rather unusual.... The key to the mystery is the church itself, which tells us more about the origins of the village.
Why it is special
The very church, named after St. George Martyr, tells us something more about the origins of the village. This name, in fact, is often found in Arbereshe settlements, although the George to whom Albanian exiles return in memory is not really the saint. Instead, it is Giorgio Castriota Scanderbeg, Albanian prince and hero. The present population is descended from a number of migrant families fleeing to the West from the Ottomans, and the local language and culture keep traces of these origins alive.
Don't miss
St. George the Martyr Catholic Church was built in the 16th century. One of the most important works preserved inside is a canvas depicting St. George and the dragon, a 1740 work by Alessio D'Elia, also the author of the canvas depicting Our Lady of Mount Carmel, located not far away. But the sacred is always accompanied by the profane, which is why it is good not to neglect to immerse yourself in the chieutine Arbereshe traditions, listening to its inhabitants, its traditional songs and poems, or tasting its typical dishes such as tepsi, or gjimaveja.
A bit of history
Chieuti was founded in the same area as the ancient settlement of Cliternia Frentana between 1461 and 1470 by Albanian immigrants. Thanks to the excellent relations between the Aragonese and Scanderbeg, its inhabitants were welcomed into the Kingdom of Naples. Chieuti, in fact, is part of an area that, starting from Casalvecchio di Puglia (also an Arbereshe), extends to lower Molise, among the Arbereshe communities of Ururi, Montecilfone, Portocannone and Campomarino. In more recent times it was a fief of the Gonzaga, a very important family in Alto Tavoliere, de Guevara, Maresca D'Avalos and Carafa.
Trivia
You might happen while you are here to hear phrases referring to the "carrarese," or perhaps find some evidence here and there, such as photographs, or some heirlooms. This is a tradition that fell into disuse only a few years ago, but which was very dear to the hearts of the townspeople: the ox race. It was a highly anticipated event as part of celebrations in honor of St. George that ran from April 21 to 24.
To make travel arrangements
The Map thanks: