880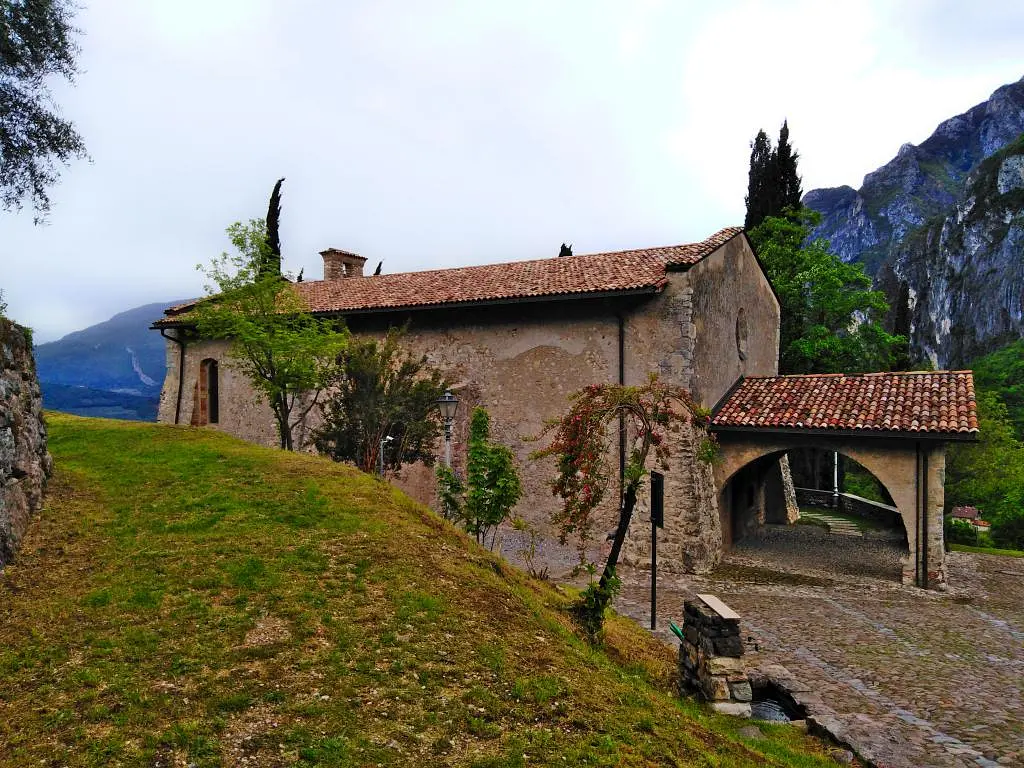 Church of St. Lawrence, on the rock of Frapporta
Resists tenaciously the passage of time



Automatically translated page.
What it is and where it is
We are immersed in the village of Frapporta di Tenno when suddenly we come to a fork in the road. Loving off-trails, we choose the detour that takes a right and soon find ourselves outside the village, along a street flanked by a dry stone wall on one side and wide rows of vines on the other. In the distance a simple-looking structure stands on a meadow, overlooking the Sarca plain below and Lake Garda: it is the small Romanesque church of San Lorenzo.
Why it is special
In addition to its special scenic position on the sheer rock above the Sarca plain, at the southern end of the ancient village of Frapporta-as if it were the extension of a continuing history-the church of San Lorenzo Martire takes on a fundamental importance from an architectural point of view. In fact, it is one of the most significant expressions of Romanesque art in the entire region. A precious jewel, lost in the mountains above Lake Garda...
Not to be missed
It is inside that the church holds its most precious secrets, remains of valuable frescoes from different periods, including the martyrdom of St. Lawrence ( and St. Roman), dating back to the 12th century. Testimonies of Trentino painting thus stand side by side with Gothic iconographies in the harmony that only such a humble and evocative place can always maintain.
A bit of history
With the advent of Napoleon-and then the Kingdom of Italy-the church was deconsecrated, like many others in the area. However, in 1840, the chapel managed to resume its function and retains it to this day. In fact, in this small church dedicated to the martyr "who made the poor weep," mass is celebrated every Sunday in the summer between 10 a.m. and noon.
Curiosity
Recently, due to problems particularly due to humidity, the church was closed for a full four years, from 2013 until August 2017. The system installed was intended to safeguard the interior frescoes from decay, water seeping and oozing from the walls... In a symbolic twist, perhaps, from the weeping of St. Lawrence himself.
To make travel arrangements
Collections
Discover places and related research
The Map thanks:
Collections
Discover places and related research