3962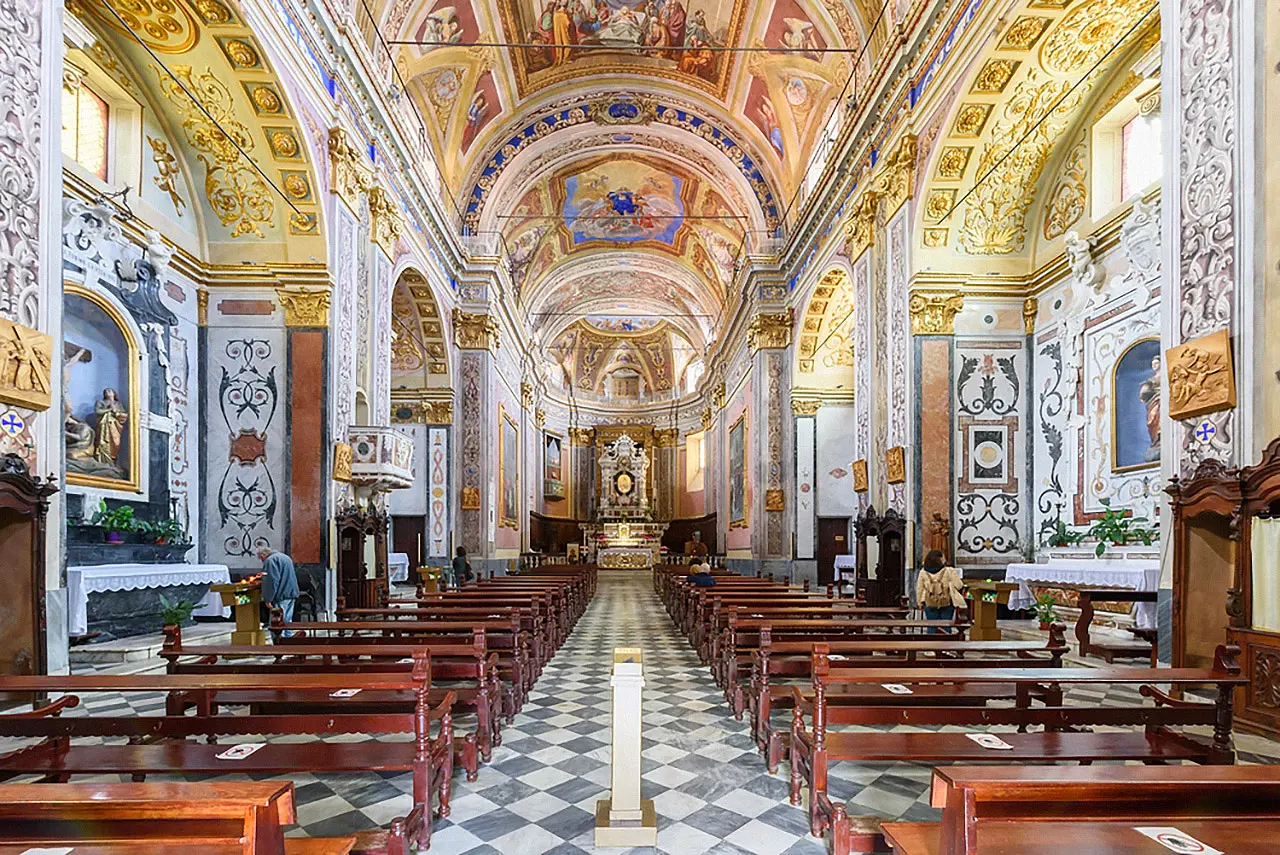 Church and Abbey of St. Mary of Finalpia
A little bit Gothic, a little bit Baroque, it is the spiritual heart of the ward


Automatically translated page.
What it is and where it is
Today it is incorporated into the built-up area of Finalpia, but this is only because it is the oldest Marian church in the Finalese, and the other buildings have sprung up around it. The church of St. Mary of Finalpia is the true historical-spiritual center of this ward, and its appearance reflects the importance of its mission. The church stands tall and slender despite its six half-columns. Ensuring its innate gracefulness are the Baroque lines and volutes, enhanced by a light, almost pastel hue.
Why it is special
Its variety of styles is what makes it so unique. To realize this, one need only push one's gaze a little further back, where the bell tower seems to have happened to pass by. Unlike the bright Baroque facade, in fact, the bell tower is a monument to the Romanesque-Gothic style, dating back to an earlier structure of the entire church. And the abbey? Compared to the church it is almost hidden, as if it existed in its own time and space reserved for contemplation. It is still inhabited by Benedictine monks, custodians of the ancient Marian tradition and the most striking places in the complex: the library, apiary and cloister.
Not to be missed
The interior of the church is also a jewel, shining with the light of different centuries and styles. One of the most famous paintings preserved here is the Tavola della Madonna di Pia, attributed to Nicolò da Voltri, a well-known Genoese painter active between 1385 and 1417. But one cannot overlook the 15th-century terracotta sculptures by Giovanni della Robbia and Santi Buglioni, the high altar, donated by the Prasca family in 1728, and the 20th-century frescoes, inspired by the great Tuscan painters of the 14th and 15th centuries, that adorn the monastic chapel.
A bit of history
Early evidence of the church's existence is documented in 1170, when ownership was traced back to the Benedictine monastery of Spigno Monferrato, in the Alessandria area. Its importance grew in the Middle Ages, so much so that in the 13th century it was equipped with the bell tower that we still admire today. In contrast, the foundation of the present Benedictine Abbey dates back to September 21, 1476. Until the 19th century it overlooked the sea, then the construction of a railway line broke this continuity. Today the line has been moved upstream, but the landscape has now changed, and a few houses stand between the coastline at the mouth of the Sciusa stream and the Abbey.
Curiosity
The majestic bell tower is not the only remaining evidence of the ancient late medieval building: if you look inside the church you will notice arches with Gothic columns and capitals preserved today in the apse.
To make travel arrangements
Collections
Discover places and related research
The Map thanks:
Collections
Discover places and related research