2793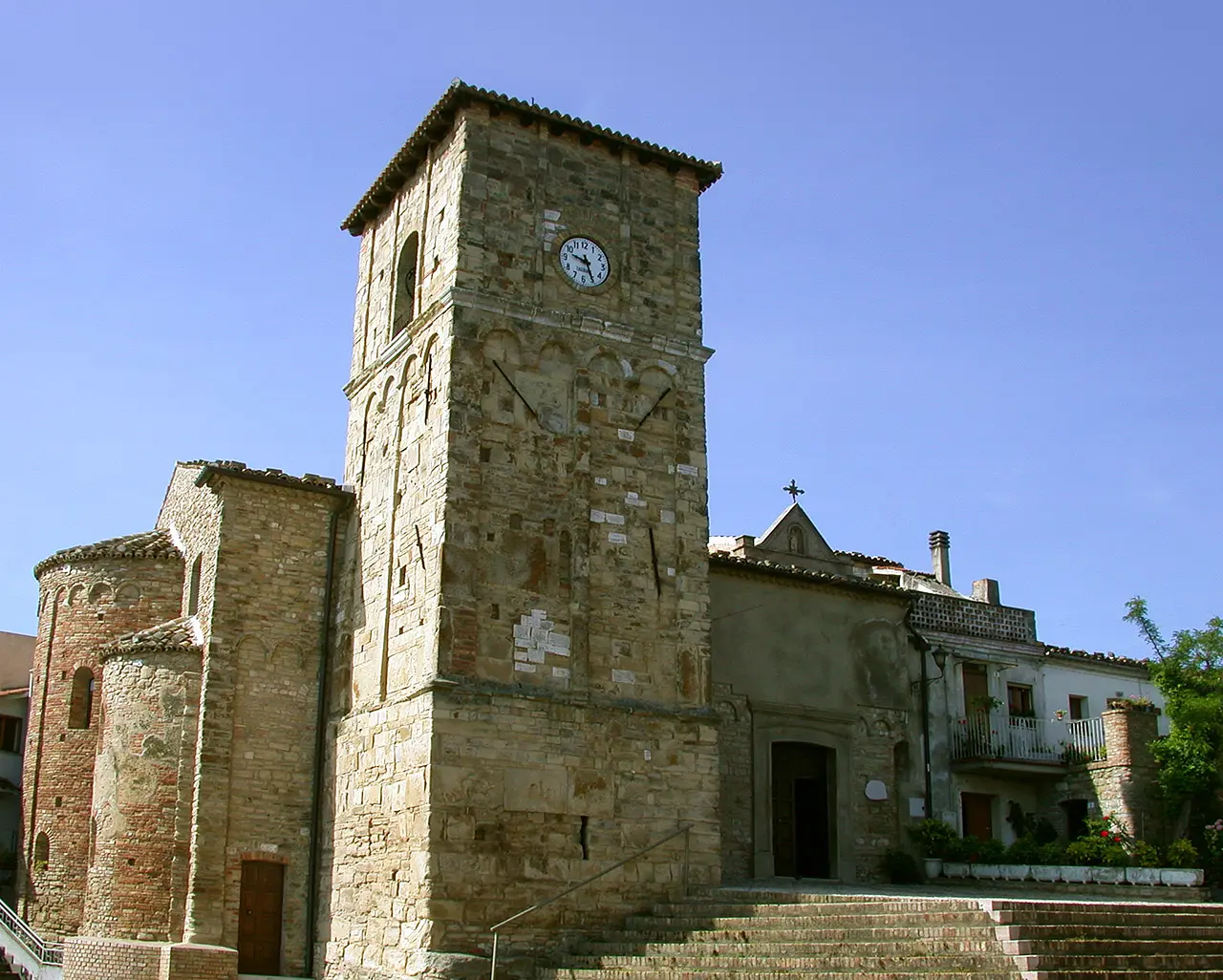 Church of Most Holy Mary of Petacciato
A small Romanesque jewel set in the center of the village


Automatically translated page.
What it is and where it is
The Church of Santa Maria, a small jewel of Molisian Romanesque architecture, is located in the center of Petacciato, simple but elegant with its tufa, sandstone and plaster facade, adorned with pilasters and a row of blind arches, plus a small gable raised above the entrance portal, the apses facing east, and the bell tower still in Romanesque style, rather squat and sturdy, but softened by pilasters and blind arches that echo those of the facade. All around, there are modern buildings, many of them private dwellings, which set off by contrast this modest but elegant complex.
Why it is special
To say that modern houses are found all around is perhaps a bit reductive. To be precise, they are completely abutting the church, almost encompassing it, even taking space away from it. The final effect, however, is very far from being overbearing or cluttered. Rather, the church immediately stands out down to the smallest details. For example, skirting the bell tower one notices bas-reliefs probably dating back to the 11th century depicting a warrior, a deer and wolf. But there are also those who see in the human figure St. Michael the Archangel.
Not to be missed
Theinterior of the Church of Santa Maria is rather bare,and includes several chapels including one reserved for the D'Avalos family, the local marquises. The most striking room is the crypt: the ceiling is low, with cross vaults supported by small columns whose capitals recall the stylistic choices typical of the Normans. This very fact suggests that the crypt dates from around the year 1000. The confined space, dim light and impenetrable silence of this room make it perfect for the quest for concentration and recollection. Try it to believe.
A bit of history
Built and restored between the 11th and 13th centuries, over time it has faced earthquakes, plagues, abandonment and reconstruction. At the turn of the 17th and 19th centuries, the wooden statue of St. Joseph, the dossal of Our Lady of Sorrows, the altar of St. Lucy and a wall stoup of carved stone were added. The crypt is the room that has best withstood the passage of years, probably because it was filled with earth at some point. It would have to wait until the 1970s for excavations to begin, and the restoration that affected the entire church in 2000 to see it clean and orderly again.
Curiosity
To the Holy Mary of Petacciato was also dedicated an important religious settlement that existed in the town around 1150, of which a Madonnina is preserved in the locality "coll d'cent lire."
Collections
Discover places and related research
The Map thanks:
Collections
Discover places and related research