1462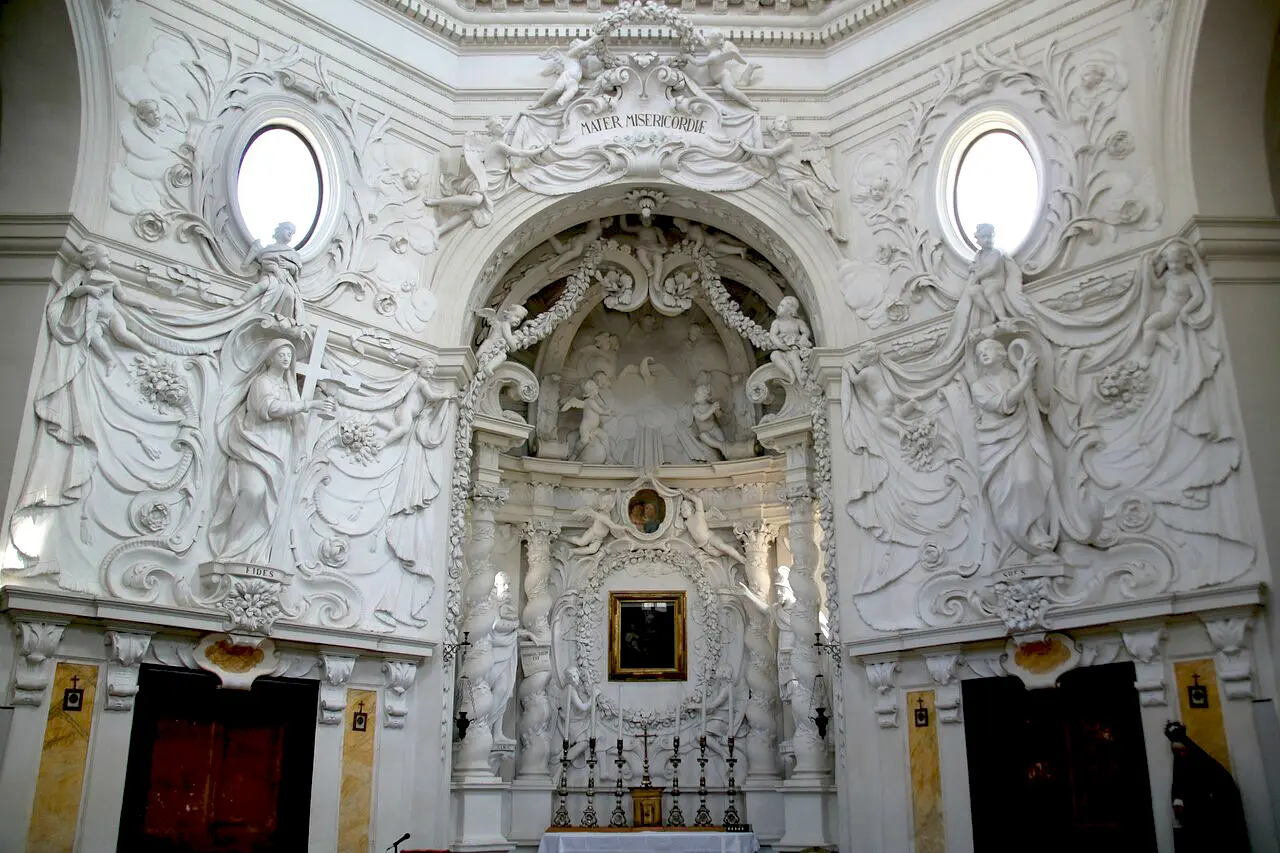 Church of Santa Maria delle Tinte
An austere shell hides a swirl of baroque beauty
Automatically translated page.
What it is and where it is
It dominates the neighborhood district of Tinte. Whether coming down from the historic center or arriving from the opposite side, its strange shape enraptures you. As you enter you are amazed by the prevailing white, the tall statues, the style of the canvases, the stucco and frescoes, the painted doors on the wall. A surprising visit that gives emotions.
Why it is special
A unique church, outside and inside, rich in history, art and beauty. Small but immense, you would never leave. The +contrast between the outside and the inside is striking: an understated red brick facade precedes the compact mass of a Greek-cross building. Once inside, a flurry of white, of waves, of curves chasing each other among the stucco, statues and paintings embraces us in the enchantment released from every corner.
Not to be missed
With all the beauty adorning the walls of the church, one runs the risk of not lowering one's eyes to the ground. That would be an unforgivable mistake: you would miss the terracotta floor decorated with a wind rose. Who knows, perhaps it serves the faithful to keep on the right spiritual path, or perhaps to orient themselves among Pergola's many sacred buildings. There are so many that the hamlet is also known as Holy Pergola.
A bit of history
The church was commissioned by the Dyers' and Wooleners' Guild, which had its workshops in this part of town, where they lived and worked for six centuries. The simple entrance portal is made of sandstone with the date 1787 carved on the lintel, indicating the completion of the work. The design of the church is attributed to architect Arcangelo Vici of Arcevia.
Curiosities
Interesting wooden pews, dating from the 18th century, painted with heraldic coats of arms of some noble families of the time, and floral motifs.
To make travel arrangements
Collections
Discover places and related research
The Map thanks:
Collections
Discover places and related research