1826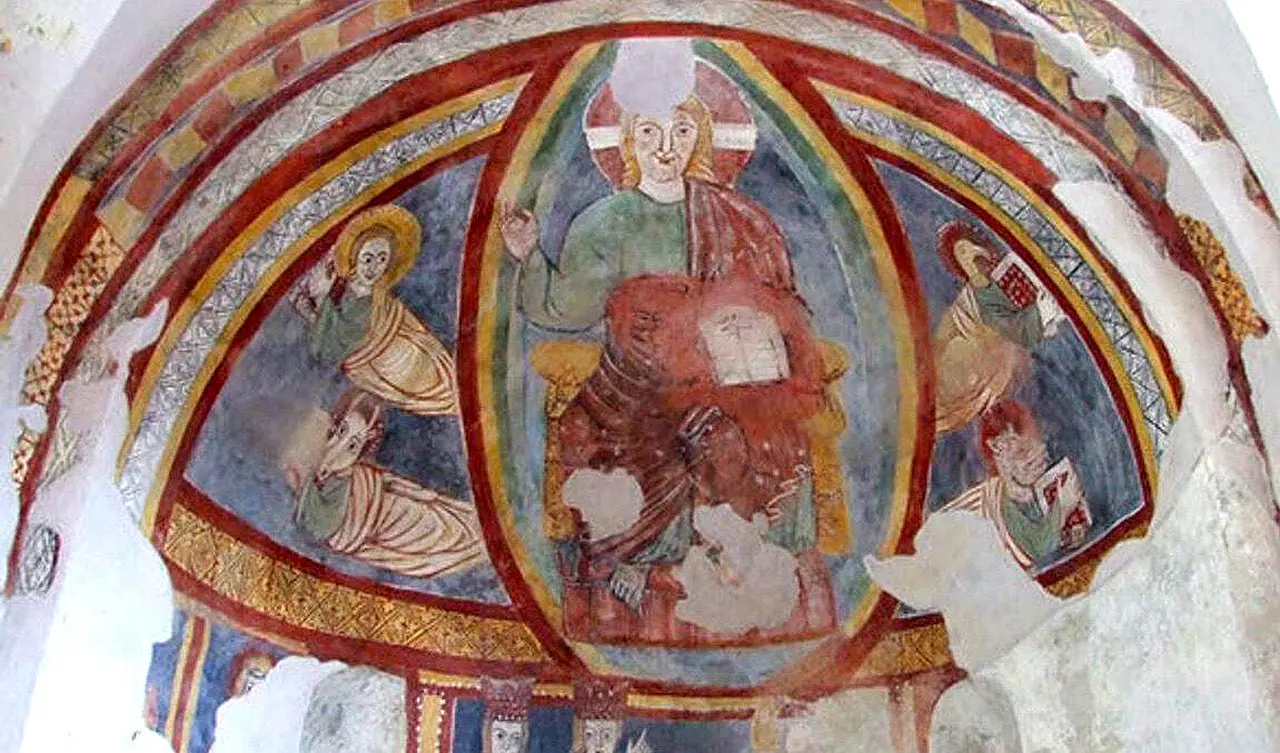 Church of St. Augustine of Caravate
In Valcuvia, echoes of the year 1000 in the frescoes and burials of a small church

Automatically translated page.
What it is and where it is
The church of St. Augustine is located in Caravate, a small urban center protected by hills sloping toward Lake Maggiore. Here the traces of a past that speaks of the Golasecca civilization, of Etruscan, Roman and Celtic settlements resurface. But it is those of the Middle Ages that are most alive, preserved in the very fabric of Caravate, at the center of which is the church. The building has been the subject of recent studies and restorations that have restored it to its former glory: cleaning works and removal of the most recent infill seem to have brought a corner of the Middle Ages back to life.
Why it is special
S. Augustine presents an anomalous structure among churches in the province of Varese: in fact, its features are typical of Carolingian art. The plan is rectangular with a single hall and two opposing apses facing east and west. However, archaeological investigations have scaled down the originality of the oratory. The church originated with a single east-facing apse with the bell tower and entrance placed on the north side facing the mountain. Thus, it was a matter of later modifications that led to this atypical structure that is very different from the original.
Not to be missed
The church inside was decorated with frescoes. We know this because some traces of this 14th-century cycle are still present, while other fragments were torn off and are now preserved in the town hall, including a very important Gothic Crucifixion scene and one of the Adoration of the Magi. This decorative cycle represents a splendid example of Lombard pictorial art of the first centuries after the year 1000.
A bit of history
The small church was built in the Romanesque style in the 11th-12th centuries. Its history is rooted in 1107 when it is first mentioned in a formal deed. Later in some documents of 1157 Frederick Barbarossa attests its ownership to the monastery of San Pietro in Ciel D'Oro; later it will be sold to a private individual and transformed into a school oratory. This would mark the beginning of a slow decline.
Trivia
In 2002, restoration and recovery works around the small church of St. Augustine revealed a necropolis. It is a complex of fourteen inhumation burials dated between the 8th and 9th centuries. This is where the inhabitants of Caravate were buried, which are now being studied to try to uncover new aspects of life at the time. The graves have remained in view so that we can at least get a glimpse of the traces of the past and see the little church and its surroundings just as it would have been found at the time.
To make travel arrangements
Collections
Discover places and related research
The Map thanks:
Collections
Discover places and related research