4198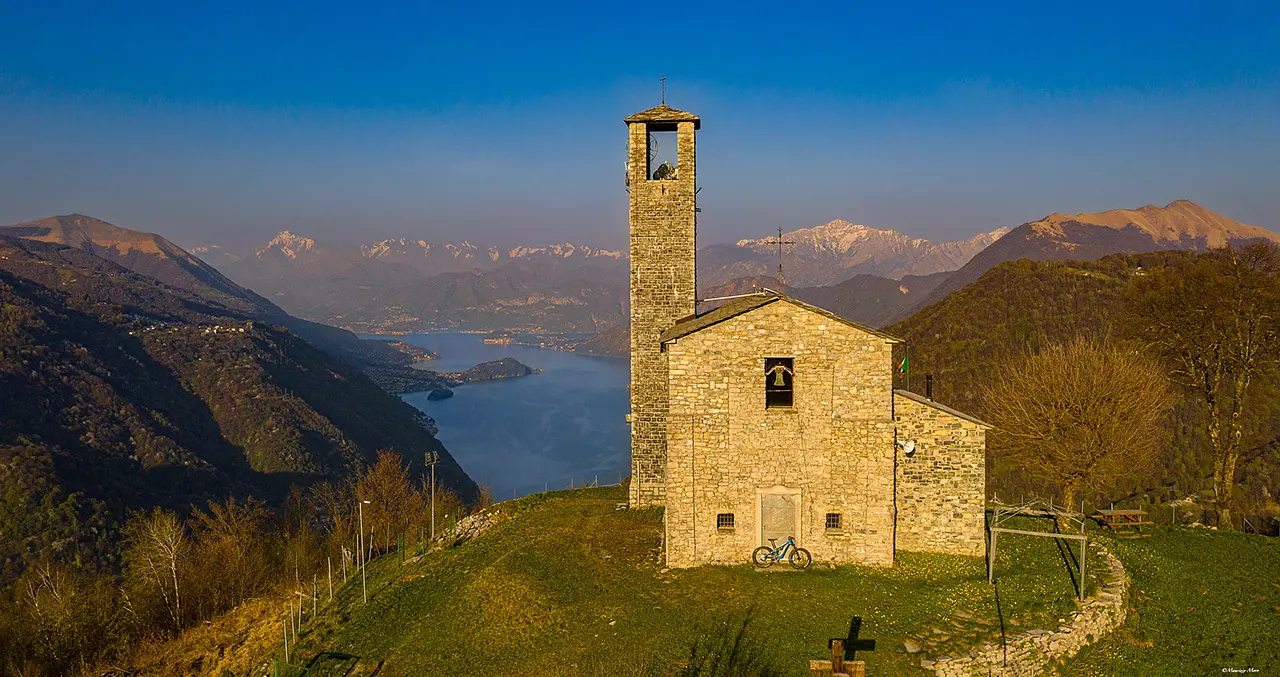 Church of San Zeno in Cerano d'Intelvi
History and spirituality on one of the most beautiful views of Lake Como
Automatically translated page.
What it is and where it is
Imagine the simplest church possible: a gabled facade with a portal, two low, small windows closed by grates, a tall bell tower at the side. All built of local stone. Now take this little church and put it on the top of a hill on either side of which other mountains rise up to encircle a lake. It sounds like a description of a painting, doesn't it? Instead, it is a real place, a real panorama: just reach Pian delle Alpi and direct your gaze toward Lake Como. In the middle of the scene, the hill and the Hermitage of San Zeno reign over the landscape.
Why it is special
The church looks ancient, but in fact today's building is the result of a restoration work on the ruins of the original building, destroyed by lightning in 1956. It is therefore a modern building but with an ancient heart, suspended in time. And it is precisely this sense of suspension, also given by the beauty of the surrounding landscape, that makes the top of San Zeno Mountain a unique and magical place, where you can forget about everyone and anyone, at least for a while.
Don't miss
To get to the Hermitage of San Zeno, one follows a path that starts from the locality of Pian d'Alpe, and is punctuated by Stations of the Cross made with railway sleepers by the valley's Alpine groups in memory of the Don retreat (1942-1943). If at first it is a fairly easy trail, from the ninth station of the Way of the Cross the path becomes steeper: it is the final final ascent, leading up to the foot of the hermitage of San Zeno, where it is possible to admire the grandest viewpoint in the entire Valley.
A bit of history
According to legend, the church was erected before the year 1000 by the "magisteri" of the Valley who escaped a storm on the Lario, while returning from Verona, where they were working on the church of San Zeno. Consecrated in 1215 and guarded by hermit monks, it is the oldest church in the valley. Always a destination of devotion from all the surrounding valleys, the church had a small sacristy with a segmental vault and a constant water source. After the 1956 lightning strike, it remained in rubble until 1996 when the "Pro San Zeno Committee - a church for the 3rd Millennium" began to rebuild it. The ancient ruins and the ancient altar were blessed in 2000.
Trivia
The façade bears the Youth Bell, signed by 50 young people from Intelvese, a testimony of millennial faith and blessed by Pope John Paul II in Rome on May 27, 1998.
To make travel arrangements
Collections
Discover places and related research
The Map thanks:
Collections
Discover places and related research