3362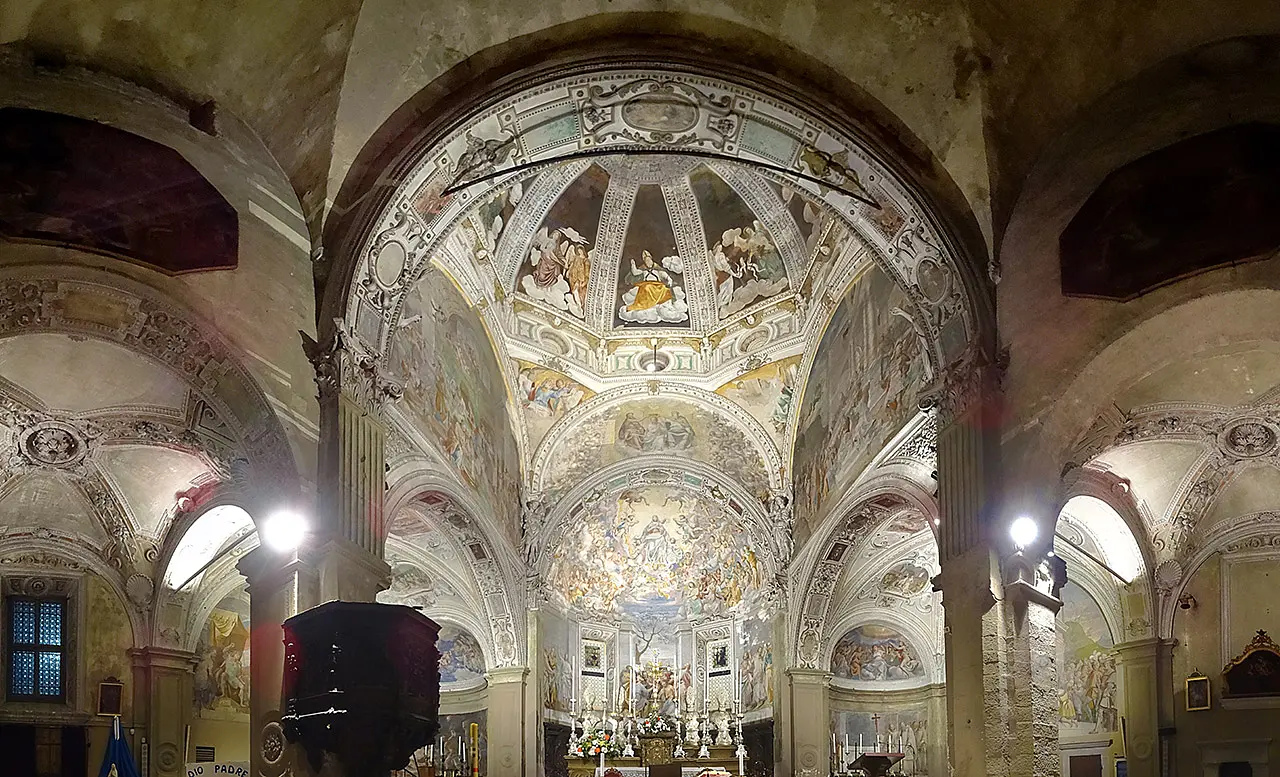 Church of Madonna di Campagna in Pallanza
Between Gothic and Renaissance waiting for the Miracle of the Sun


Automatically translated page.
What it is and where it is
The gray brick facade, with its ornate portal, a tympanum that looks like an equilateral triangle, surmounted by a rose window, despite its elegance is not the first thing one notices or remembers about the Madonna di Campagna church in Pallanza. Stealing her thunder are two spectacular elements that, in addition to the eye-catching geometries of their windows and arches, enjoy considerable visibility: the bell tower and the octagonal tiburium. We are in Verbania, more precisely between Pallanza and Intra, and we are in front of a monument of local history, impossible not to stop and get to know it better.
Why it is special
Just the bell tower and the tiburium, besides inevitably capturing our attention, tell us something about the origins of the church. They belong in fact to two completely different eras, respectively the Gothic of the 11th century, and the Renaissance of the first half of the 16th century. The same eras also intersect in the interior: the bright space, amplified by the dome and embellished with frescoes in soft, airy colors, holds an ancient relic: it is the Gothic fresco of the Madonna del Latte, beautifully framed by stucco and frescoes by Camillo Procaccini from the late 1500s.
Not to be missed
The very decorative apparatus of the church deserves special attention, first and foremost, in the central apse, the significant fresco representing the Assumption of the Virgin, attributed to Carlo Urbino and Aurelio Luini, who were probably joined by Giovanni Pietro Gnocchi. In addition to this, we also find the cycle of frescoes dedicated to St. Lawrence and St. Bernard, painted by Bernardino Lanino, and, in the dome, there are frescoes depicting St. Augustine and St. Jerome, attributed to Cesare Luini, surrounded by musician angels.
A bit of history
These juxtapositions are explained if one thinks that in the 14th century there stood in this place a church that in a document of 1341 was referred to as Santa Maria de Egro, or country church. And the fresco of the Madonna del Latte dates from that period. The present church was built between 1519 and 1527, following the design of Giovanni Beretta of Brissago, who later built a similar church in Brissago itself, in Canton Ticino. Curiously, the consecration of the church had to wait a long time, until 1547.
Trivia
Every year, on March 25 and August 25, a very heartfelt event is repeated at 5 p.m. by the local community: the "Miracle of the Sun." At these two exact moments, a ray of sunlight passes through the Romanesque rose window of the facade, makes its way inside the church and rests on the painting of the Immaculata, almost caressing her face. A magical moment!
To make travel arrangements
Collections
Discover places and related research
The Map thanks:
Collections
Discover places and related research