2784

Cathedral of San Severo
A compendium of Art History to be experienced in the round


Automatically translated page.
What it is and where it is
San Severo is a town known for the beautiful bell towers that color its sky. One of these belongs to the church of Santa Maria Assunta, the cathedral of San Severo. Its facade with warm colors and soft, clean lines does not reveal the building's medieval origins except in the rose window. Although at first glance it appears simpler than other churches in the city, in terms of importance it turns out to be the main one in the Dauno capital, and is to be considered the real heart of its historic center.
Why it is special
The interior is almost a compendium of local art history because of the many remodels over the centuries. The three naves, of which the oldest is the central one, are enriched by ten minor chapels, decorated with wooden statues and Baroque paintings. The exception is the Chapel of the Blessed Sacrament, which also brings early 20th-century sacred art into the church. But in all honesty, every nook and cranny hides surprises: the late medieval baptismal font, the Baroque pulpit with its painted panels, the wooden choir from the 1800s... there's something to get lost among the beauties and eras!
Not to be missed
The giant bell tower that flanks the cathedral deserves special mention. It too underwent reconstruction in the early 1700s and thus contributes to the great eclecticism that characterizes this place. An initial quadrangular brick section then evolves into a white-plastered octagonal structure culminating in a dome covered in multicolored tiles, almost a dreamlike vision, an exotic brushstroke in the San Severo sky.
A bit of history
Built under the title of Santa Maria in Strada, the church (the city's third parish) is of late medieval origin. It underwent many interventions over the centuries, so much so that styles and eras follow one another in and out of it , starting with the few medieval remains, passing through 17th- and 18th-century works, to the facade redone during the 19th century and even an early 20th-century chapel. It was elevated to city cathedral on March 9, 1580.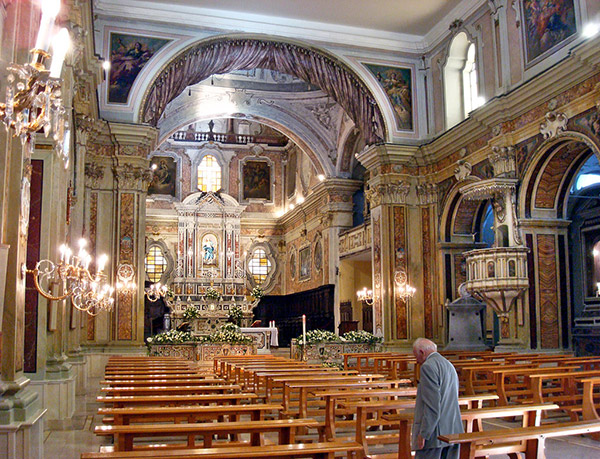 A look inside
To make travel arrangements
Collections
Discover places and related research
The Map thanks:
Collections
Discover places and related research