769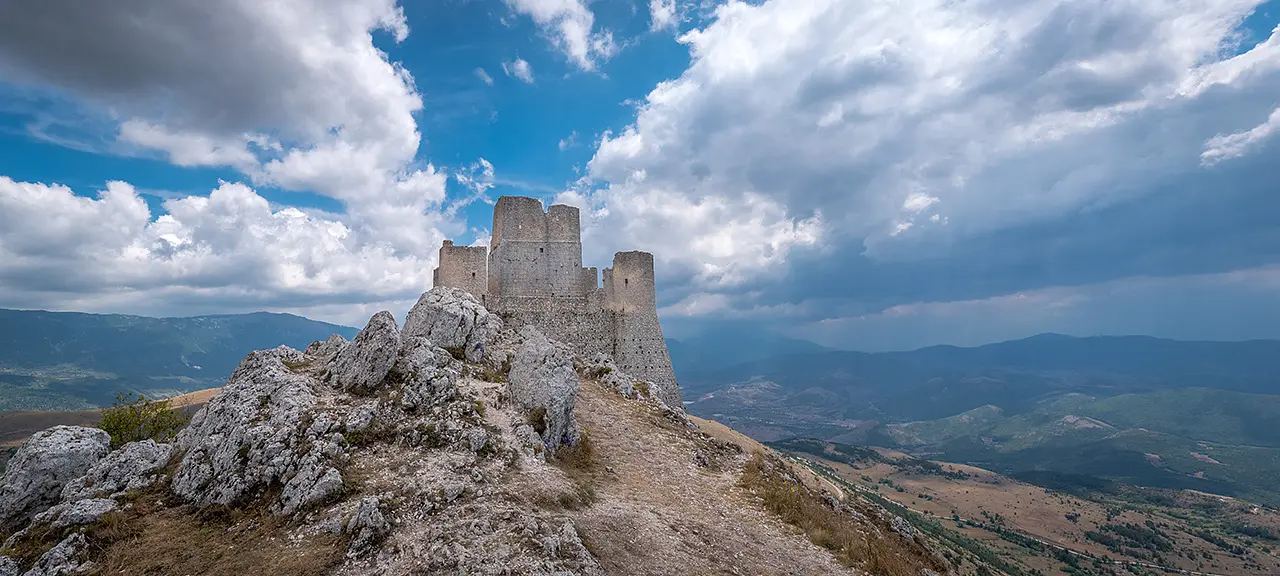 Castle of Rocca Calascio
With its charm it bewitches tourists and filmmakers


Automatically translated page.
What it is and where it is
Built around the year 1000 on a ridge 1,460 meters above sea level, the castle dominates the Tirino valley and the Navelli plateau and is one of the highest fortresses in Italy. Not far away stands the church of Santa Maria della Pietà, a small octagonal temple with a distinctive eight-segmented dome. Legend has it that the church was built on the site where the people managed to defeat a band of brigands that raged in the area.
Why it is special
National Geographic listed Rocca Calascio as one of the 15 most beautiful castles in the world. Already from a distance you can sense its charm, and as you ascend the awe grows: wind and silence envelop the fortress. The scent of history transports the senses to the times of ladies and knights while the gaze is ravished by the enchantment of a unique, 360-degree panorama from Gran Sasso to the Adriatic Sea.
A bit of history
Built around the year 1000, the castle became a possession of the Barons of Carapelle, and was then granted by King Ferdinand to the Piccolomini family, who in the 15th century strengthened its fortification by endowing it with walls and four cylindrical towers. At the end of the 16th century it was bought by the Medici, until the terrible earthquake of 1703 after which the area was abandoned, until it regained its splendor as a film location starting in the second half of the 1980s. In the village below, some dwellings have been recovered and others converted into an Albergo Diffuso.
Curiosity
Because of its location and the special atmosphere that surrounds it, the castle has been chosen several times as a film set for even very important films, including "Ladyhawke" (1985) and "The Name of the Rose" (1986). In "Ladyhawke" the view outside, in the distance of the village of Anguillon (i.e., L'Aquila), is actually that of Castel del Monte, a few kilometers from Rocca di Calascio.
To make travel arrangements
Collections
Discover places and related research
The Map thanks:
Collections
Discover places and related research