8308

In the land of castles - bicycle touring route - 2 DI 2
Ragogna Castle
History culture and landscapes in the village of Ragogna
Automatically translated page.
What it is and where it is
It is impossible not to notice the crumbling towers and crenellated walls that tower above the fortress of Ragogna, and even from the moment you stand at its foot you can imagine that from up there the view of the surroundings must be spectacular. After all, just nearby flows the Tagliamento, and the plain stretches wide all around. And indeed, this castle, known by the names of St. Peter's Castle or Ragogna Castle, has stood as a strategic lookout and defense point for the ford below since the time of the ancient Romans. A true concentration of history and beauty!
Why it is special
When you visit it, you can feel the medieval atmosphere that hangs between its massive walls, walkways and the church of St. Peter with its small cemetery. Some archaeological excavations suggest a truly ancient origin for this parish church, which is an integral part of the castle to which it gives its name.
Not to be missed
Wandering among the castle's exterior structures, one is enchanted by a balcony of the keep that opens onto a unique view of the Tagliamento valley. A river that also "enters" inside the castle with a permanent exhibition on the Tagliamento and its fundamental environmental and cultural role in the development of this territory.
A bit of history
The structures we see today, unfortunately, are not the originals, not entirely at least. The oldest parts are the two crumbling towers and some parts of the parish church. This is because both the church and the castle have a very long history behind them, made up of disputes, changes of ownership, spoliation and abandonment that led them to be in a strong situation of degradation finally crowned by the 1976 earthquake. Fortunately, however, important and careful restoration work allows us to relive Ragogna's ancient splendor.
The Map thanks:
Index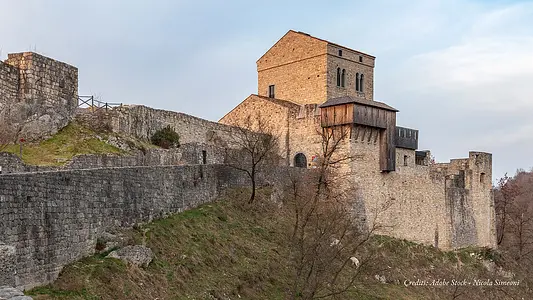 INTRODUZIONE
In the land of castles - bicycle touring route