952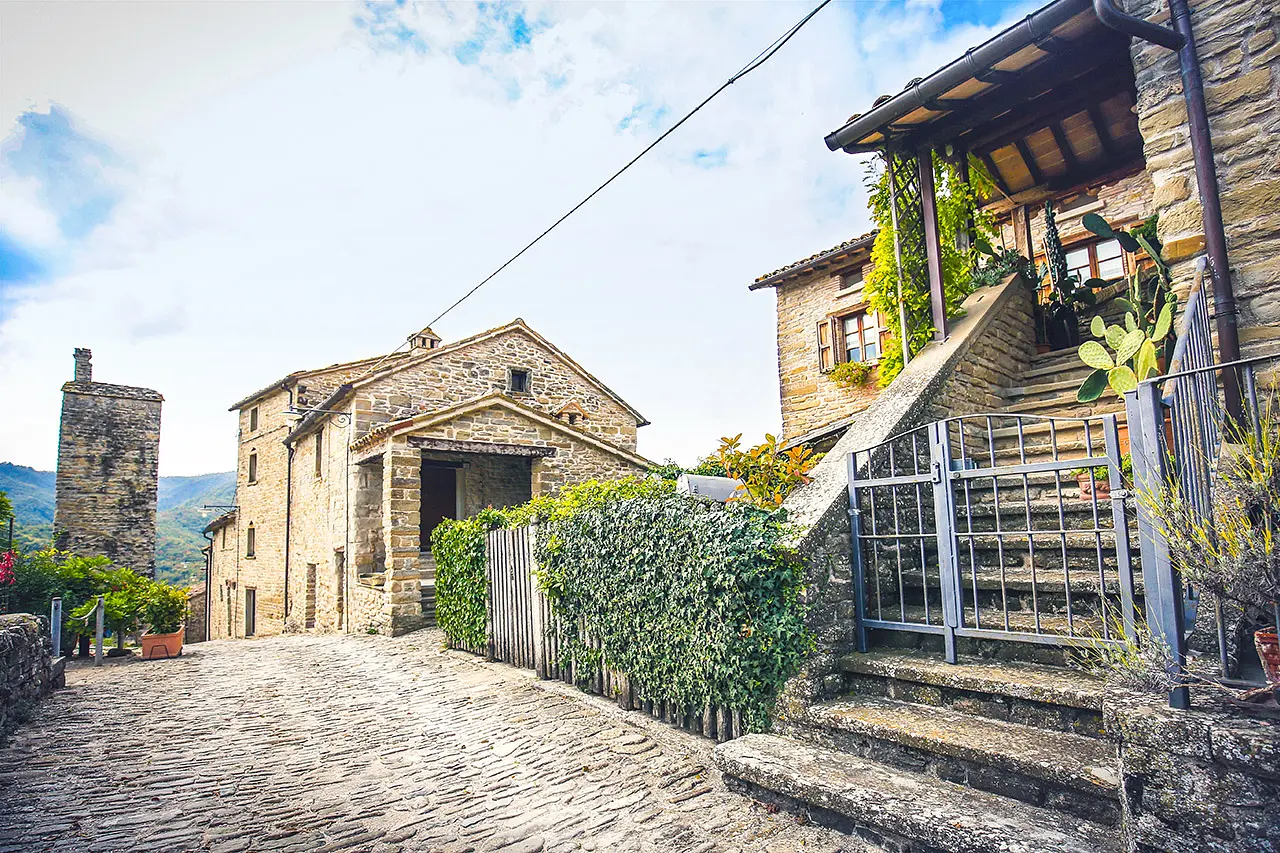 Pieve Castle
Footsteps and whispers in the evening dusk

Automatically translated page.
What it is and where it is
Castello della Pieve is located halfway between the two inland Marche villages of Borgo Pace and Mercatello sul Metauro; it was built near an ancient pagan temple, dedicated, according to tradition, to the God of the Metauro River. Today, the ancient medieval tower and the 17th-century Church of St. John the Baptist with a bell gable and a three-arched prothyrum covered by a vault are still visible. The village is traversed longitudinally, between the tower and the houses, by a narrow stone and stone road that reaches up to an archway that closes the village by joining two houses.
Why it is special
In this hamlet it is possible to relive the atmosphere of times past by walking along the stone and pebble road that crosses it longitudinally and stopping to look at the houses in which rustic grilles and some doors with carved wooden ornaments can still be admired.
Not to be missed
If you want to have an atmospheric experience, come here around sunset. In fact, it is said that, precisely at sunset, travelers and artists found shelter in Castello della Pieve, the last refuge near the only road that would lead them to Umbria and Tuscany. They could thus avoid facing probable nocturnal ambushes by brigands hidden in the woods of the Bocca Trabaria pass.
A bit of history
The village was one of the fortifications that made up the defensive system of the small province of Massa Trabaria, a mountainous territory that stretched as far as Cagli and Urbino, named for the quantity of firs that ended up in Rome to provide the beams (in Latin trabes, hence the toponym still maintained) needed for the construction of palaces and churches. The castle arose after the disintegration of the Roman Empire, and in the 12th century it was fortified to defend the ancient Pieve d'Ico, now Mercatello sul Metauro.
Curiosities
In this very village, in 1301, a decision was made that changed the course of a man's life and of Italian culture: the valiant Charles of Valois, brother of the king of France, decreed, together with the rector of Massa Trabaria, the exile of Dante Alighieri.
To make travel arrangements
Collections
Discover places and related research
The Map thanks:
Collections
Discover places and related research