222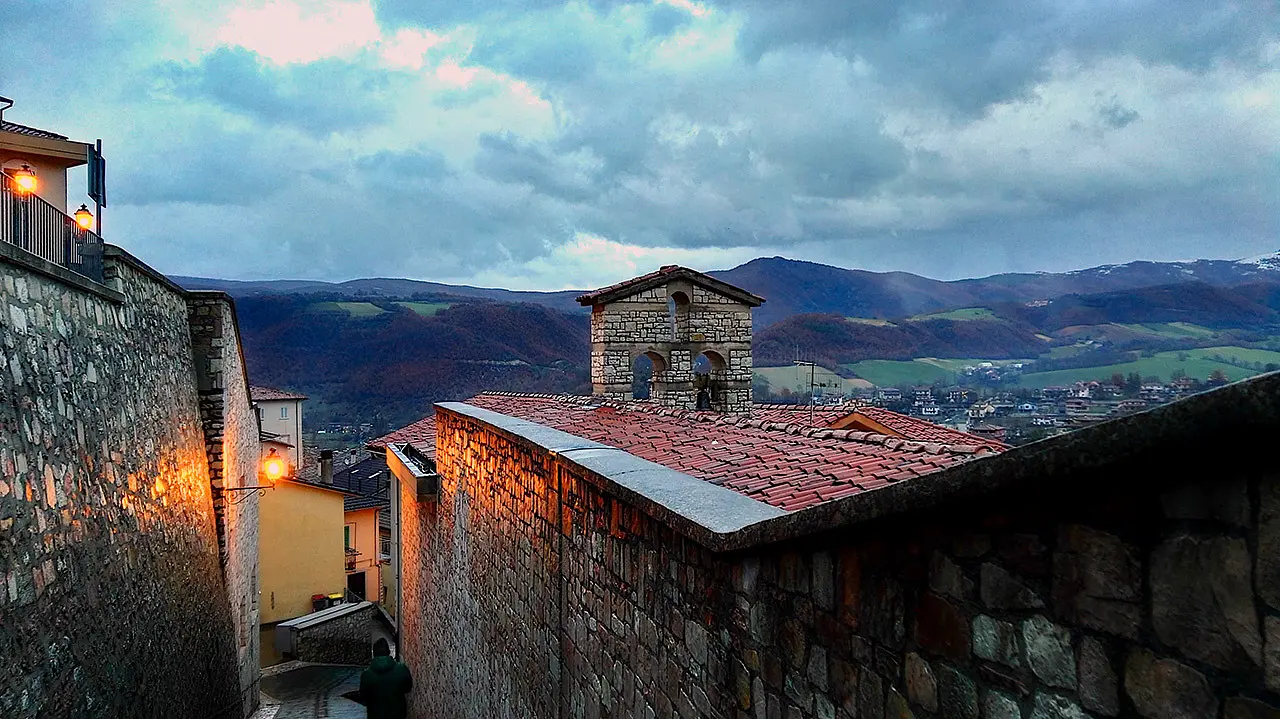 Cascia
The city of Saint Rita, between myth, spirituality and history
Automatically translated page.
What it is and where it is
Cascia is a mysterious and charming town in the Valnerina valley in the lower province of Perugia, Umbria. Nestled on the hill of Sant'Agostino, the historic town takes on the peculiar shape of an ancient hillside castle, dominated by an elevated fortress of medieval origin. Below it is the beating heart of the town: the Basilica of Santa Rita da Cascia, one of the major places of worship for the Christian faithful.
Why it's special
You can hardly visit a place as deeply and intrinsically linked to the history of a religious figure. In fact, the relationship over the centuries between the town and St. Rita is evidenced right from its entrance, with a majestic sculpture depicting her with her main attributes: the bees, the rose and the thorn. Not only that... walking through the alleys of the village and peeking at the various store windows, one can never miss a reference - more or less explicit - to this extraordinary religious figure, placed somewhere between history and myth. All this is enclosed in a splendid landscape setting, consisting of sinuous hills on which the town's imposing historic buildings stand out, and generous fields that offer high quality local produce.
Don't miss
In the first two decades of May, preparations are made for the great feast dedicated, of course, to St. Rita of Cascia, which is celebrated on the 22nd of the month with a grand historical procession. The large numbers of pilgrims who flood, from dawn, the porticos, alleys and squares of the town, recognize themselves in the figures who represent not only Rita, but also the people of her time. The Pontifical, a solemn liturgical celebration in honor of the saint, closes with the evocative blessing of the roses, in which participants lift the flower high in an attempt to gather as much grace as possible on it, then sharing it with loved ones.
A bit of history
Again, as with many other municipalities in central Italy, there are records of ancient settlements dating back to Roman times, only here the settlement was abandoned in the first century B.C. following devastating earthquakes that devastated the area. In the twelfth century, having been constituted a municipality, Cascia was subdued by the Trinci family and then by Frederick II. In the Middle Ages it knew its golden age, and in the 16th century it was annexed to the Papal States. In 1596 Pope Clement VII recognized it the status of a city.
Curiosities
The first to colonize these lands were the Romans, who converted them into valuable agricultural areas. This is evidenced by archaeological finds unearthed in the Chiavano Plateau, among which one can, even today, admire the remains of an ancient temple, but that is not the only... Another important evidence of Cascia's ancient history is a 2nd-century tomb found in Maltignano.
To make travel arrangements
Collections
Discover places and related research
The Map thanks:
Collections
Discover places and related research