597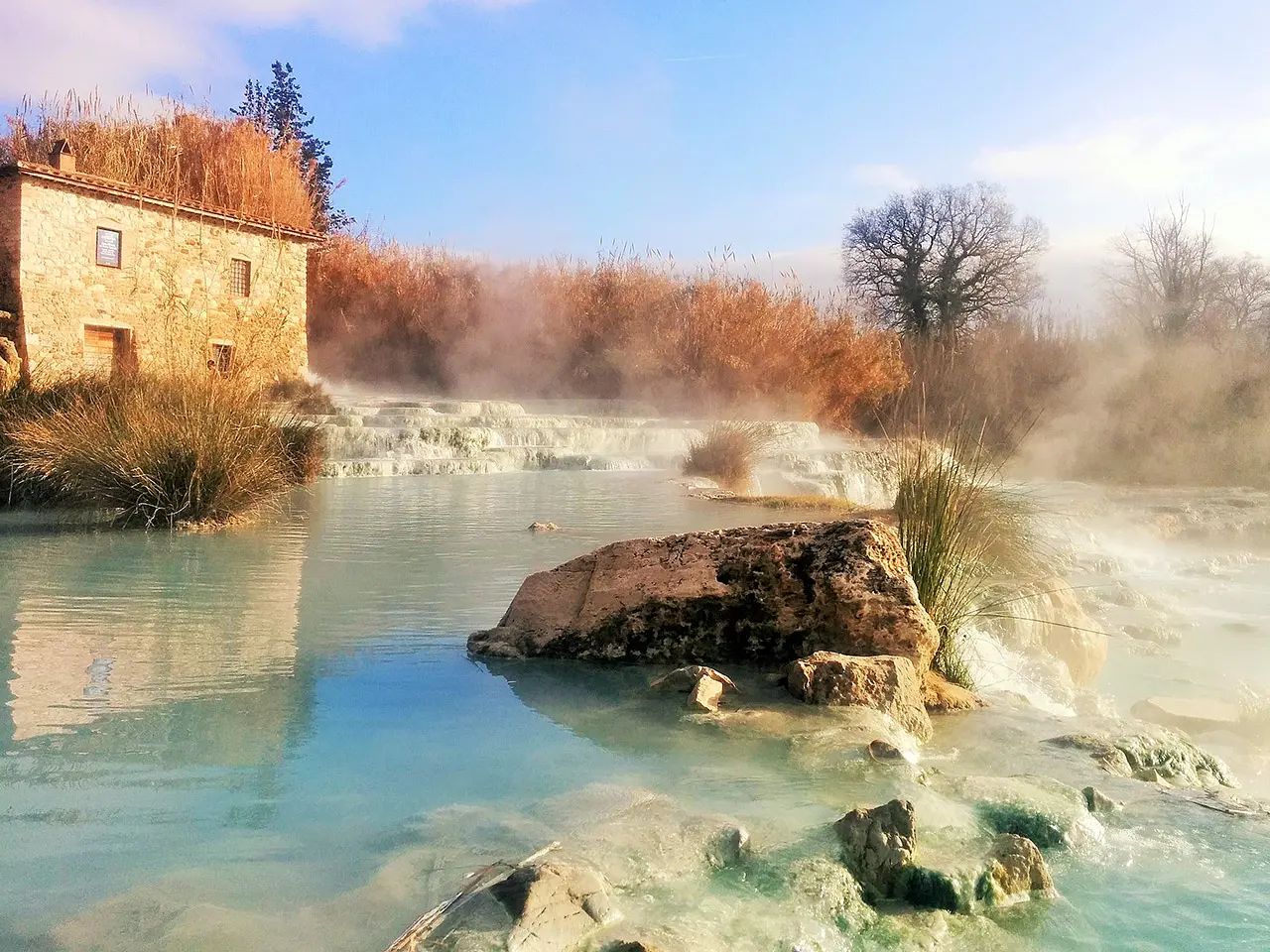 Mill Falls
A natural Jacuzzi in the beautiful Maremma


Automatically translated page.
What it is and where it is
The Cascate del Mulino waterfalls are natural cascades of sulfurous thermal water that flow from the source of the Terme di Saturnia spa. The water, which emerges at a temperature of 37.5 degrees, has rich therapeutic properties, and is among the most renowned in the world. The force of the waters, with the passing of the years, has excavated and worked the limestone rocks, going to form natural pools, in which it is allowed to bathe free of charge at any time of day or night. The waterfalls, in fact, are completely free, belonging only and only to the land that hosts them, and embraces them: the Maremma.
Why it is special
Bathing at the waterfalls is a true sensory experience: the warmth of the waters that welcomes and embraces you, the power of the waterfalls, which, depending on the pool you choose, massages you with greater or lesser force, the colors and scents of the surrounding nature... a kind of open-air jacuzzi! A feeling of relaxation will pervade you that will last even hours after your bath. Above all, you will feel immersed in the truest and most unspoiled nature, and not only in summer: the temperature of the waters, in fact, makes bathing very pleasant in all seasons. In fact, in my opinion, it is precisely in winter that the falls are at their best. Yes, because while the waters will envelop you and warm you, the scenery around you will be fairy-like, an enchantment of shades of red and brown.
Not to be missed
One thing I recommend to everyone, because in my opinion it is the very essence of a trip to Maremma, is to bathe in the Cascate del Mulino Falls at night. Maybe with a full moon, to enjoy the reflections of the moonlight in the waters. But also on a moonless night, to observe the starry sky (Maremma is one of the places in Italy with the lowest rate of light pollution!). Diving into the warm waters at night is a wonderful feeling, to say the least.
A bit of history
The waters of Saturnia were appreciated since ancient times: already Romans, and before them the Etruscans, exploited the presence of the waters to enjoy its benefits. Ancient legend has it that it was the God Saturn, angry with mankind for the wars and suffering created on earth, who sent a thunderbolt that ripped through the earth, spewing out hot waters and vapors.
Trivia
In places where the current is really strong, so much so that you have to hold on, someone, it is not clear who, has kindly made ropes available to everyone. In short, from the creek to the smallest and quietest pool to the swirliest spot, you're sure to find your favorite spot at Mill Falls!
To make travel arrangements
Collections
Discover places and related research
The Map thanks:
Collections
Discover places and related research