2303

Vallocchie Falls
Water games in the forest

Automatically translated page.
What it is and where it is
There are people who like to take a path for the simple sake of following the rhythm of their steps, others who need a destination to reach in order to be able to enjoy the walk. For both, fortunately, there are many possibilities around Castel di Tora. One that can get everyone excited is the E13 trail, which goes deep into the vegetation alternating between steps and wooden footbridges, making the path more varied, and leads to a series of small lakes originated by water jumps.
Why it is special
Guiding us is a natural staircase that leads to a spectacular setting: a water jump of about 30 meters caresses spongy limestone rocks. Its waters flow from "Lu Capu 'ell' acqua" and feed the "Cretara" ditch, which forms small pools of clear water at its foot. The feeling is that of having entered an enchanted clearing. It is not, in fact, one of those majestic and powerful waterfalls, rather a game of the stream that enjoys launching itself from the rocks to dive into the small pools of water.
Not to be missed
Precisely because the stream that forms the Vallocchie Falls does not have a very sustained flow rate or strength, there is no better time to come here than a beautiful spring or fall day , especially if preceded by some rain. In this case, good hiking shoes and some attention to the terrain will be a must to avoid slipping, but the spectacle will be guaranteed.
A bit of history
The original toponym reported by the elders of Castel di Tora was "Busciu 'elle Coreara" referring to the numerous crows that until the early years of the last century had completely colonized the rock face along which the waterfall descends. Today, to help people enjoy the beauty and calm of the place, the municipality has promoted an intervention to make the last section of the trail easier with the installation of wooden steps and handrails.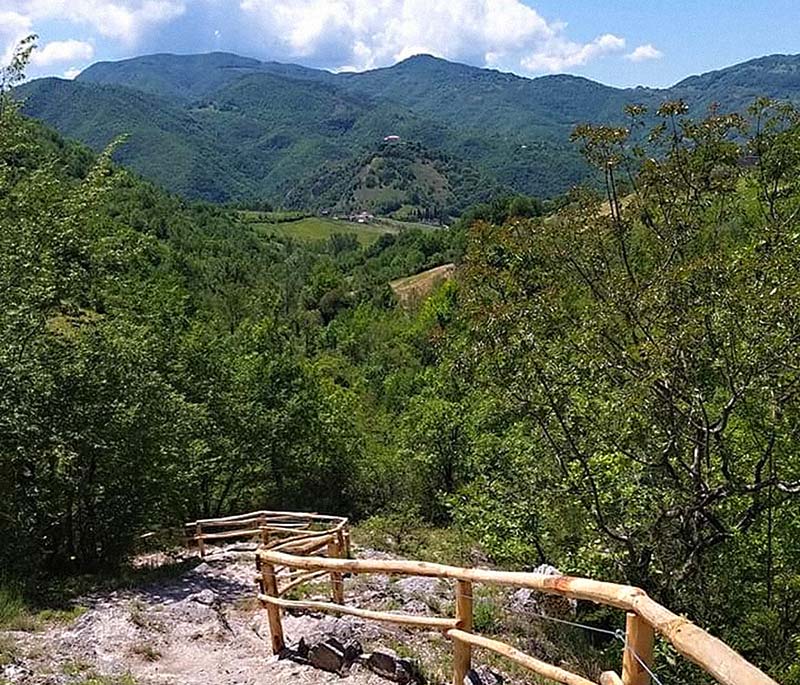 Vallocchie Waterfall Trail
To make travel arrangements
Collections
Discover places and related research
The Map thanks:
Collections
Discover places and related research