1232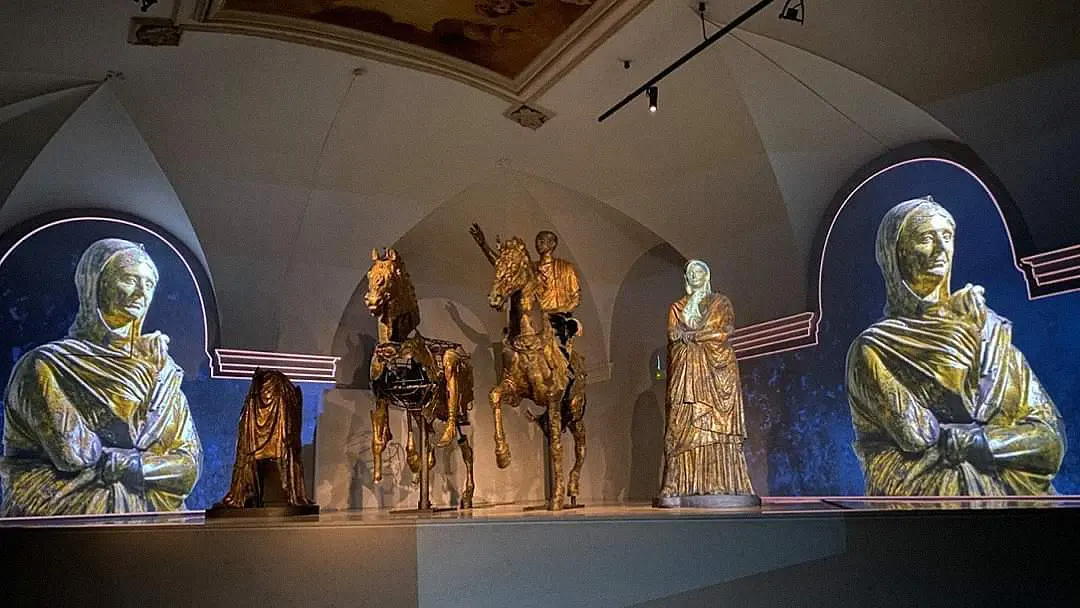 Pergola's Golden Bronzes, nine quintals of bronze and gold
Fragments lost in the earth rediscover their ancient beauty


Automatically translated page.
What it is and where it is
The Museum of the Golden Bronzes is located in the 14th-century former convent of St. James. The four sections that make up the museum center (art-historical, numismatic, archaeological and contemporary art) are organized around the cloister in a sort of circular path. It preserves precious and unique goods, works that come from the palaces and churches and the city, as well as the Bronzes.
Why it is special
The Golden Bronzes represent one of the most important archaeological discoveries of the last 50 years. They are, in fact, the only gilded bronze statuary group from the Roman age that has come down to us. Ingredients that make the museum unique and special, now even more impressive and fascinating thanks to the immersive hall, a blend of art and technology.
Not to be missed
As of 2019, the Bronzes are enhanced by the immersive hall created by physicist Paco Lanciano, Piero Angela's consultant. Modern technologies to enhance the bronzes, innovative lighting applications, projection of a film to support the multimedia installation to make the equestrian group even more fascinating. An itinerary organized as a story with the visitor becoming the protagonist.
A bit of history
The bronze group was fortunately found by two farmers in June 1946 at S. Lucia di Calamello near Cartoceto di Pergola. The group, referable to a family of high senatorial rank, was initially identified with the Giulio-Claudi family, but according to more recent studies the dating should be raised to the late-republican period between 50 and 30 B.C.
Trivia
Discovered from a pit just over a meter deep and five meters wide by two peasants who were digging the earth, the Bronzes appeared as nine quintals of golden fragments. After careful painstaking reconstruction work, the statues that formed the group were reassembled: these were two female figures and two horsemen in military garb riding their luxuriously adorned steeds.
To make travel arrangements
Collections
Discover places and related research
The Map thanks:
Collections
Discover places and related research