2071

Bramezza, an ancient and half-hidden dolomite village
What are the Turks doing here?



Automatically translated page.
What it is and where it is
Did you know that there is a village that can only be reached on foot, made up of ancient houses from the 16th-18th centuries, hidden in the woods and suspended above Lake Alleghe, in front of the admirable Civetta rock face? And that according to a legend this village was built... by the Turks?
Why it is special
Bramezza is a mysterious village, now almost completely abandoned. The strange conformation of the dwellings and chimneys, vaguely reminiscent of oriental architectural motifs, has given rise to a legend, related to a possible use in the past as a penal colony of the Serenissima. Reportedly, after the Battle of Lepanto, the Venetians confined some Turkish prisoners in this remote area of the Dolomites to work in the production of coal with which to fuel the Agordino smelting furnaces and in the procurement of timber.
A bit of history
Consisting of dwellings that architecturally denote a certain wealth and care, the prerogative of the most important settlements generally located at the bottom of the valley, the locality was in fact certainly inhabited as early as 1100 AD, and some documents bear witness to this. The reason for the strange conformation of these architectures, characterized by wooden galleries and typical "fogher" (circular rooms with a bench around the fireplace, protruding from the wall line) is due to the presence of ancient copper mines nearby. It is therefore a typical multifamily typology, similar to that found in other ancient mining villages in Agordino, Livinallongo and Val Zoldana.
Curiosities
The permanence of the Turks in Bramezza would be reflected in the strange appearance of the dwellings in the hamlet, as well as, it is said, in the Middle Eastern somatic traits that some people from Allegheny and Rocchesano would still display. These rumors, very interesting moreover, although lacking historical basis, would also seem to be supported by the presence of the place-name "Caracoi" in the two settlements located below Bramezza, a name that has an undeniable resemblance to the Turkish "Kara Koy, " or "black village."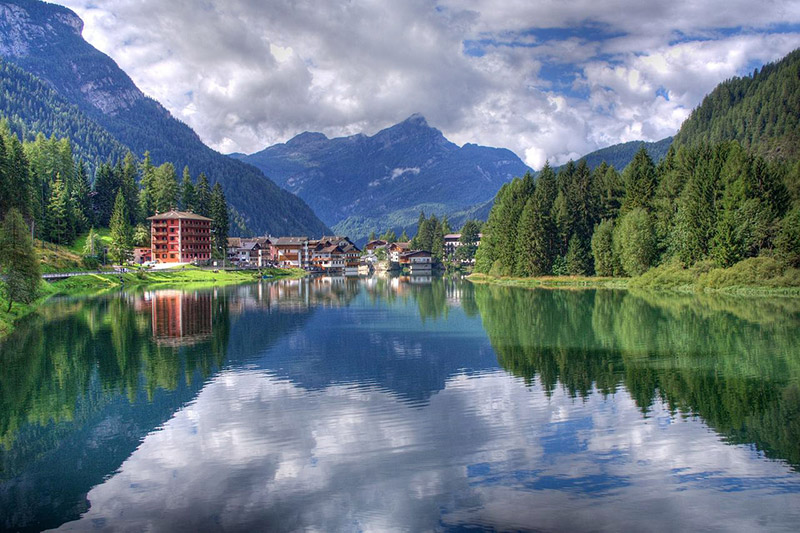 Nearby, the beautiful Lake Alleghe - Ph: Roberto Ferrari (CC BY-SA 2.0)
To make travel arrangements
Collections
Discover places and related research
The Map thanks:
Collections
Discover places and related research