3804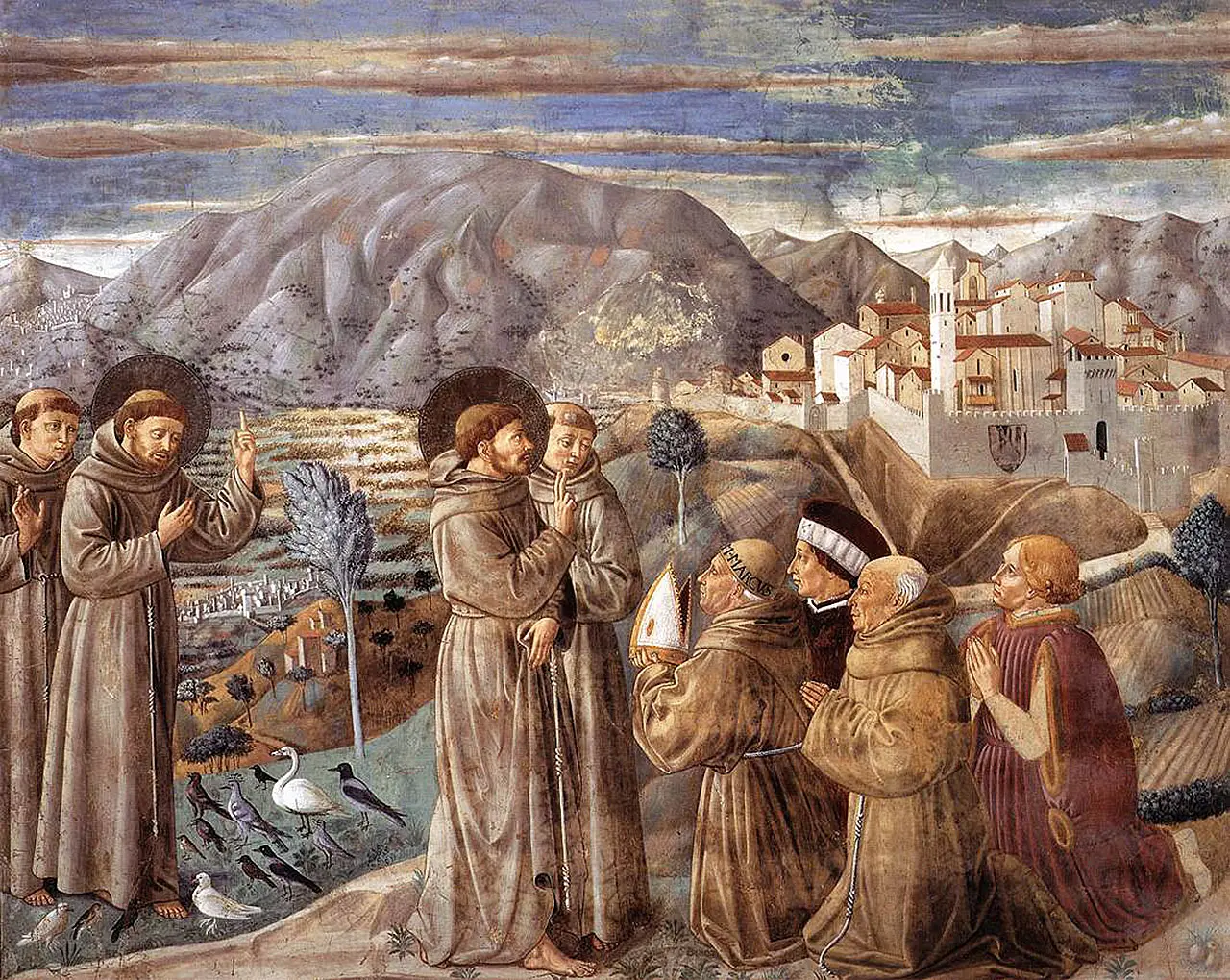 Benozzo Gozzoli and Saint Francis
When church walls told stories: the masterpiece of Montefalco


Automatically translated page.
What it is and where it is
Montefalco has warm colors: the red of the Sagrantino vines in autumn, the ruby of its wine, the gold of its oil, the ochre of its mighty walls and narrow alleys and, all around, the softer, bluer colors of the rolling Umbrian hills that crown it... We're not telling you about these colors today, but about the palette of Benozzo Gozzoli, who painted an extraordinary cycle of frescoes right here in the mid-1400s. Enter with us into the 14th-century church of St. Francis, now a museum, and with respect and wonder "read" the story of the saint of Assisi on the walls of the apse.
Why it's special
The apse is a whirlwind of colors and narratives. Its five walls are entirely covered with scenes from the life of St. Francis, divided into three overlapping bands. In an entirely unusual way, the narrative begins from the lower left with the birth (in a cave, like Christ) and rises upward toward Heaven: it dwells on the gift of a cloak to a poor man or the renunciation of earthly goods, and then arrives at the stigmata and other miracles and concludes, in the vault, with Francis in glory among the saints. Striking are the architectures that divide the scenes into several episodes and the backgrounds where perspective landscapes open up or where fairy-tale and colorful cities with a somewhat metaphysical flavor tower over.
Not to be missed
Unfolding between the fresco cycle and the choir stalls is a frieze depicting portraits of 20 illustrious Franciscans, including, for example, "Doctor Thin," the Scottish philosopher Duns Scotus. But surprise awaits at the base of the central window, where three roundels depict none other than Petrarch, Dante and Giotto, not friars but certainly exemplary figures for Benozzo.
A bit of history
It was Friar Jacopo, the guardian of the monastery, who commissioned the work from Benozzo Gozzoli (1421-1497), who had come to Montefalco to make other works in the nearby monastery of San Fortunato, outside the walls. Among the "local" episodes look for Francis blessing Montefalco and its inhabitants (Fra' Jacopo himself is depicted among them) and Francis preaching to the birds in Bevagna: the landscapes, Mount Subasio and towns are still wonderfully recognizable.
Curiosities
Before you leave, stop in the Chapel dedicated to St. Jerome and approach the magnificent gilded polyptych depicting the Madonna enthroned among saints... Can't believe your eyes? And do well! The polyptych is actually an extraordinary trompe l'oeil! By playing with shadows and perspectives, with fake curtains behind fake columns, Benozzo created the perfect illusion of a wooden structure that is in fact not there!
To make travel arrangements
Collections
Discover places and related research
The Map thanks:
Collections
Discover places and related research