2765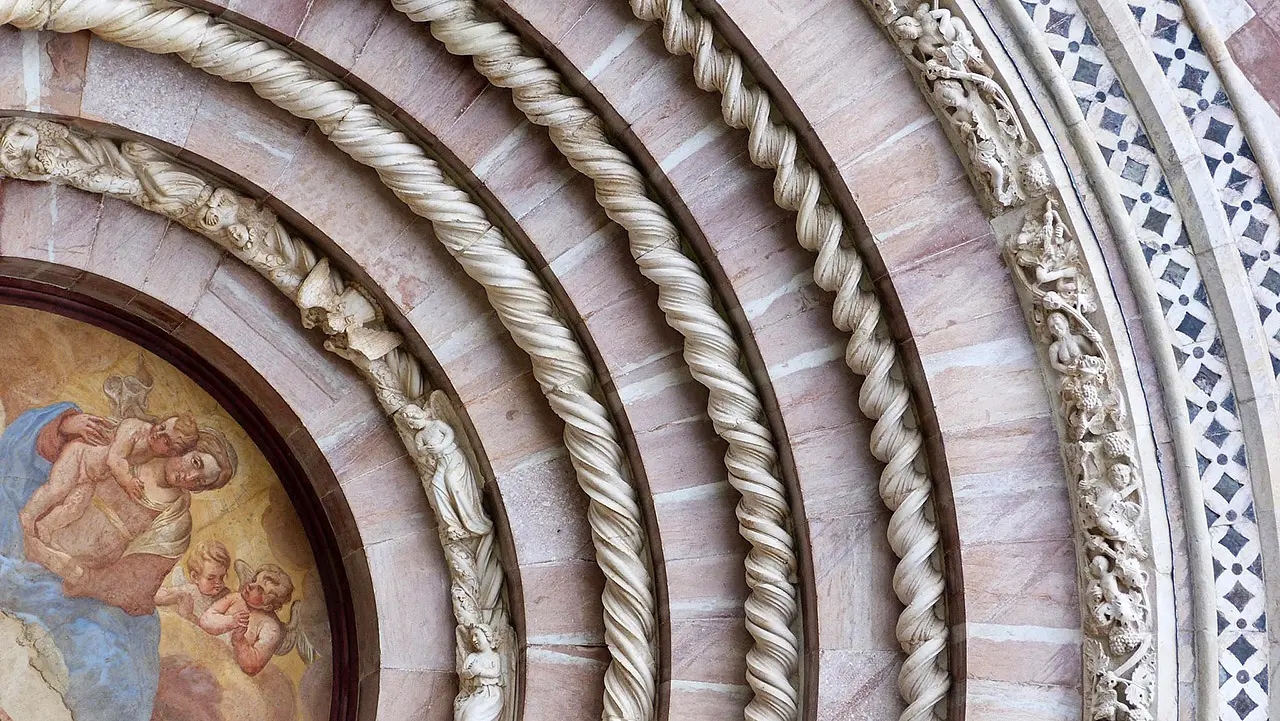 Basilica of Santa Maria di Collemaggio
On Pilgrimage for Plenary Grace


Automatically translated page.
What it is and where it is
The basilica of Santa Maria di Collemaggio is a religious building in L'Aquila, located on the hill of the same name just outside the city walls. Together with the basilica of San Bernardino and San Giuseppe Artigiano, the Basilica of Santa Maria di Collemaggio boasts the title of minor basilica. Due to the very frequent earthquakes in the area, the Basilica has been remodeled several times, thus presenting a special mix of different styles. In 2017, restoration and consolidation work made necessary by the 2009 earthquake was completed, work that was awarded the Cultural Heritage Prize by the European Union in 2020.
Why it is special
The facade with its geometries and colors is certainly a striking feature. Although it is very visually rich, it has been further embellished by three rosettes, a larger one in the center and two smaller ones on the sides, which almost seem to be crocheted by how delicate their shapes are. But there is another element that still manages to work the scene: the portal. The solid wooden doors are surrounded by several rows of columns, statues and marble decorations, and it is really hard to convince the eyes to tear themselves away from them.
Not to be missed
This very careful decoration of the entrance portal, is neither an accident nor a whim. It serves to emphasize the importance of that gateway: the main entrance to the basilica is in fact a Holy Door. It is opened every year between August 28 and 29, on the occasion of the Perdonanza, a form of perpetual plenary indulgence that Celestine V, on the evening of his ascent to the papal throne in 1294, granted to all the faithful. For 24 hours uninterruptedly, night and day, masses are celebrated and confession is possible.
A bit of history
The Basilica of Santa Maria di Collemaggio was founded in 1288 at the behest of Pietro da Morrone, who became Pope Celestine V here on August 29, 1294. It is considered one of the main expressions of Abruzzo architecture and the symbol of the city of L'Aquila. Since 1327, it has housed the remains of Celestine V, currently preserved inside the mausoleum built in 1517 by Girolamo da Vicenza, Andrea Palladio's master. In 2019, the Perdonanza Celestiniana was included in UNESCO's list of Intangible Heritage of Humanity.
Trivia
The future Pope Celestine V is said to have helped the Knights Templar hide some of their treasures right in the Basilica. According to legend, in order to foil the dissolution of his congregation, in fact, Celestine, then Peter, is said to have gone to Lyon for the Council wanted by Pope Gregory X. The frescoes in the basilica show a moment on his return journey. He himself related that he met a knight, an angel, who would protect him on that occasion.
To make travel arrangements
Collections
Discover places and related research
The Map thanks:
Collections
Discover places and related research