3459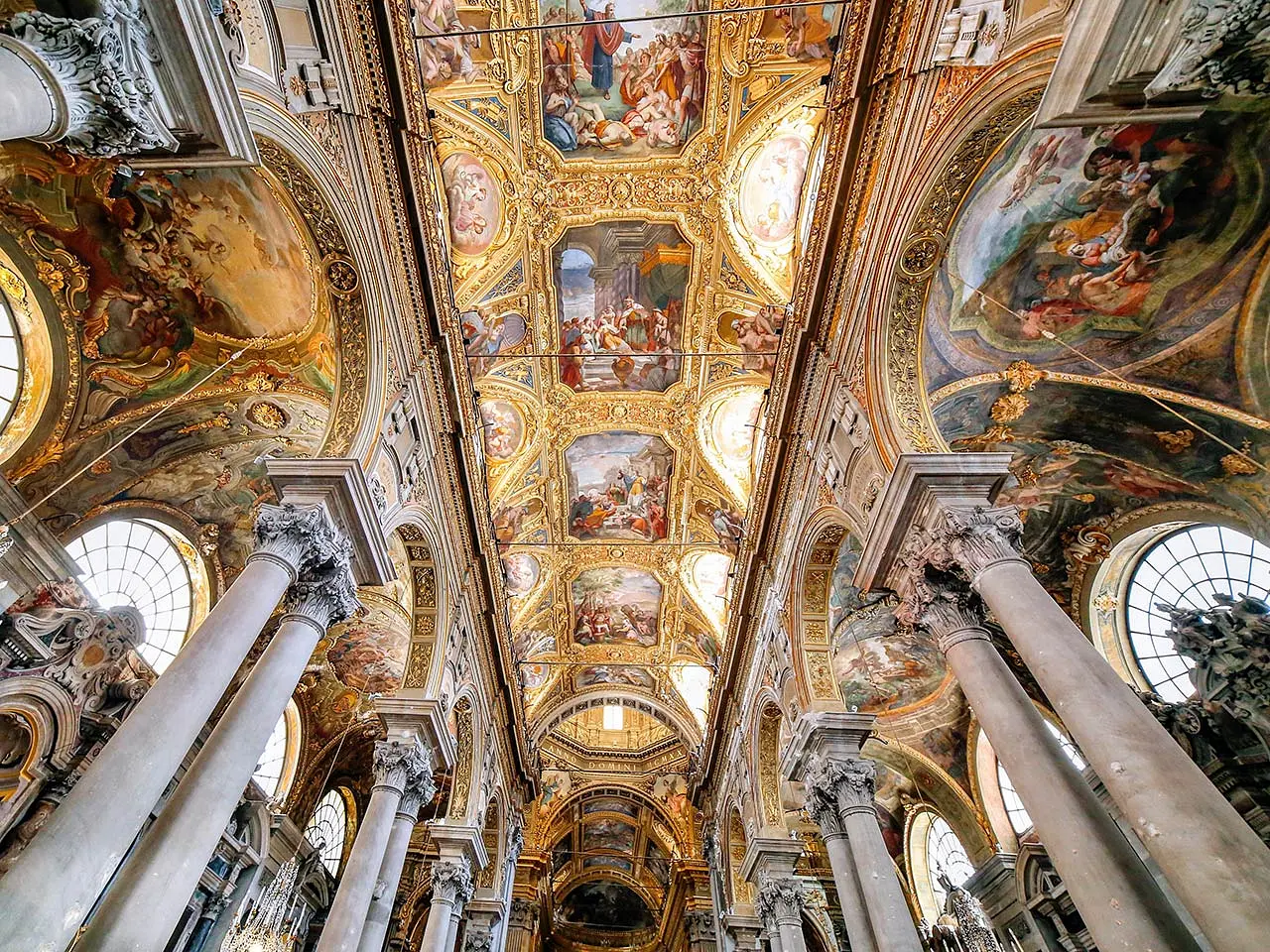 Basilica of Santa Maria delle Vigne
A sumptuous tale of history and curiosities


Automatically translated page.
What it is and where it is
The Basilica of Santa Maria delle Vigne is one of the city's oldest Catholic churches and one of Genoa's most important Marian shrines. Its very facade seems to want to remind us of this: at the bottom, the fascia containing the three entrance portals is punctuated by eight columns culminating in a cornice. The effect, however, is not soaring, rather crushed by the weight of the austere upper section, almost a white mass interrupted only by three semicircular windows. One must look up to the central tympanum to find, at last, a final decorative frieze, a light brushstroke, an upward sigh.
Why it is special
Inside, everything changes. That somewhat severe effect that greets at first glance vanishes, nullified by the spaciousness and brightness of the hall in which one finds oneself. This space embellished with paintings, statues and frescoes actually consists of three naves, but Baroque reorganization has made the subdivision difficult to perceive. What prevails is the light that enters sumptuously from the central dome to pour into the basilica, caressing the surfaces and colors it encounters, coating them with an unmistakable beauty.
Not to be missed
If you have ever wondered what lies behind the gilded vaults, what a thrill it must be to pass through the half-hidden little doors that fascinate the most curious, Santa Maria delle Vigne is the church for you. Here, in fact, you can experience the ascent and visit: it is an engaging guided tour that involves walking on the construction scaffolding, landing on the roofs of the city, crossing the attic until you reach the top of the dome of the Basilica.
A bit of history
The earliest records of the basilica's existence date back to 1083. Built just before the year 1000 in an area of countryside planted with vines, hence the origin of the name, today the Basilica of Santa Maria delle Vigne is located in the historic center, and encapsulates the complex and rich artistic stratification of the city. The Basilica, in fact is told by showing the public so many clues capable of taking the visitor back in time. For example, an exterior inscription bears the date 980, anticipating its foundation by about 100 years.
Curiosities
Among the many columns in the basilica of Santa Maria delle Vigne, there is one that more than the others claims the attention of visitors. It is immediately recognizable by its green coloring, and by the fact that it bears on its side an image of the "Madonna of Life" dating back to the 14th century. According to some theories, this would be one of the columns we would have seen in the basilica if we had entered it before the Baroque interventions, when the whole building was still in the Romanesque style. It would have been saved precisely because of the sacred effigy, which was particularly dear to the faithful.
To make travel arrangements
Collections
Discover places and related research
The Map thanks:
Collections
Discover places and related research