2373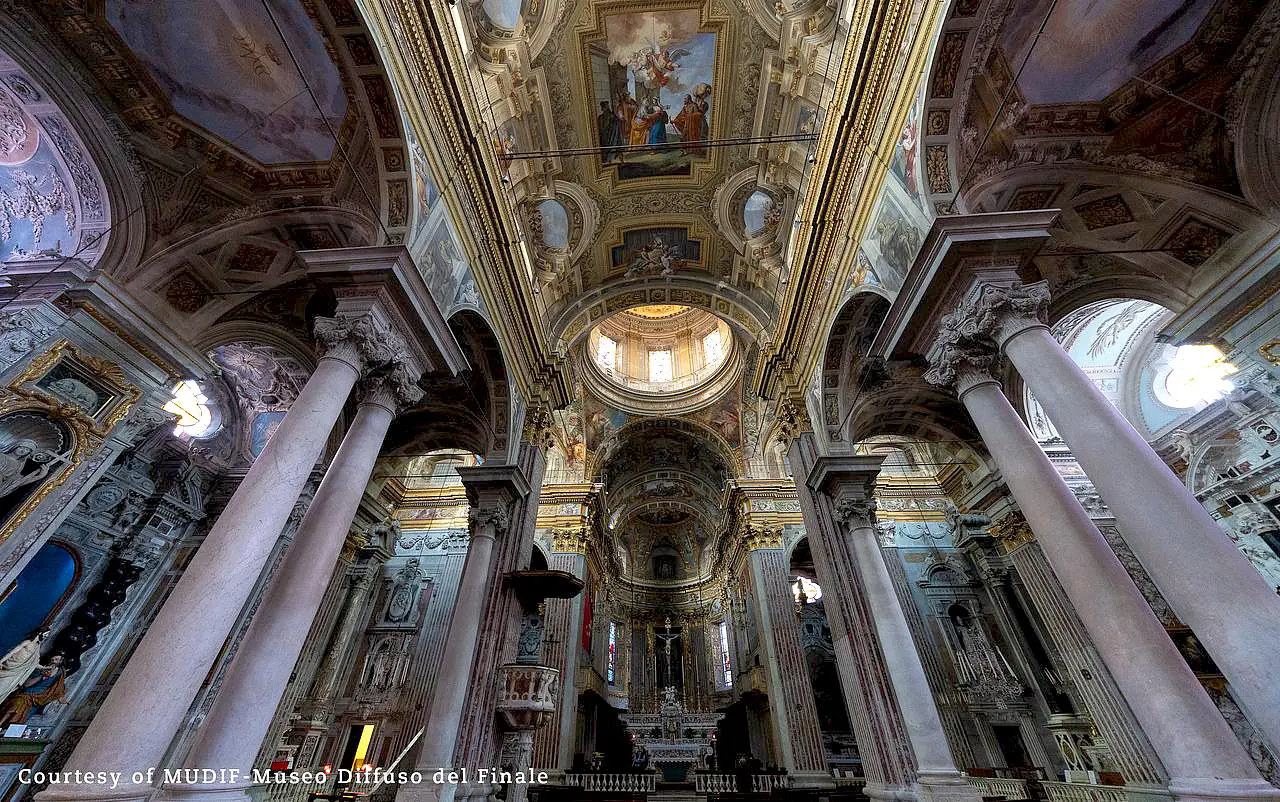 Collegiate Basilica of St. John the Baptist
Stones so beautiful they look like clouds

Automatically translated page.
What it is and where it is
In the heart of Finale Ligure, in a small square bordered by elegant 17th-century buildings in earthy colors, the facade of the Collegiate Basilica of St. John the Baptist stands out. It is preceded by eight white marble steps that end in a plane of black and white rhombuses. From here rise the vertical lines of portals and pilasters, interrupted by the soft volutes of Baroque decorations. These white elements stand out against the pale pink background. The whole resembles a cloud, on which rest, benevolent, the statues of St. John, the apostles Peter and Paul, and the virtues Faith and Hope.
Why it is special
It is when you enter that you sense the grandeur of the place: the Latin-cross basilica is over 65 meters long, topped by a 24-meter-high dome. Divided into three naves by paired columns, it maintains the lightness of the facade. The decoration is extremely rich: a riot of canvases, stuccoes and statues make this basilica one of the most beautiful churches in all of Liguria, a temple as well as religious, of art and of the 1600s with elements from later centuries as well.
Not to be missed
Those who enter the church are greeted, to their left, by the beautiful Baptistery, a white marble urn inlaid with fine agate. The statue of the Baptist that adorns it is the work of Salvatore Revelli, executed in 1853. This is the starting point for the series of 12 chapels on either side of the basilica. One of the most striking is that of the Immaculate Conception, which houses a wooden statue of the Madonna, dressed in splendid Spanish-style clothing. This very statue is beloved by the Finalese, who venerate it as the patron saint of the town.
A bit of history
Construction began in 1619 and lasted a full 55 years. The Temple was inaugurated in 1674. Tradition attributes its construction to Bernini but it was actually the work of local architects educated in his school. The facade, by architect Nicola Barella of Finalmarina, was completed in 1762, while the dome was completed in 1780. A clear unified plan and the love of the citizens who contributed some economically, some by lending their labor, ensured an excellent result, although it took almost 160 years to achieve it.
Trivia
In the sacristy, it is possible to step back in time and admire of the Marina and the territory of Finale Ligure as they appeared in the 1600s. This is possible thanks to a view in the canvas of St. Erasmus and St. Nicholas, kept here with other canvases from the 17th and 18th centuries and recently restored.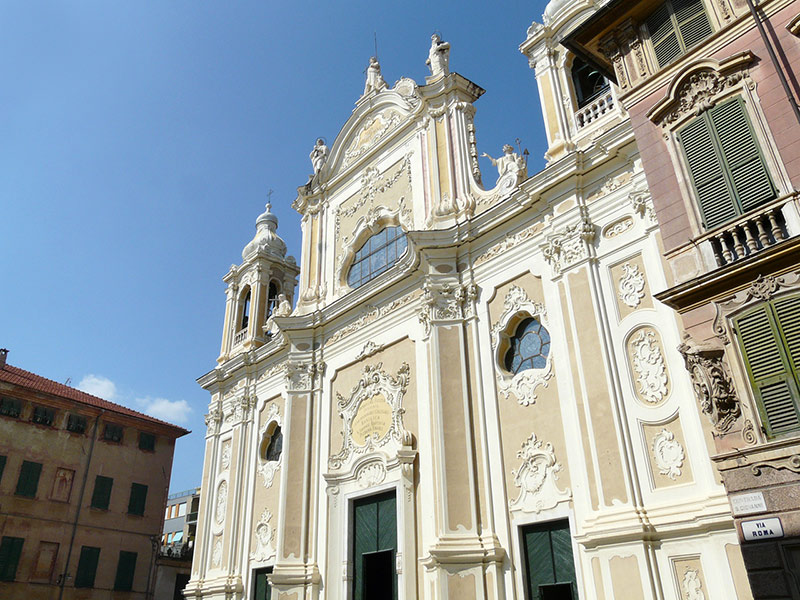 A look at the facade and a few hints at the surrounding buildings
To make travel arrangements
Collections
Discover places and related research
The Map thanks:
Collections
Discover places and related research