6446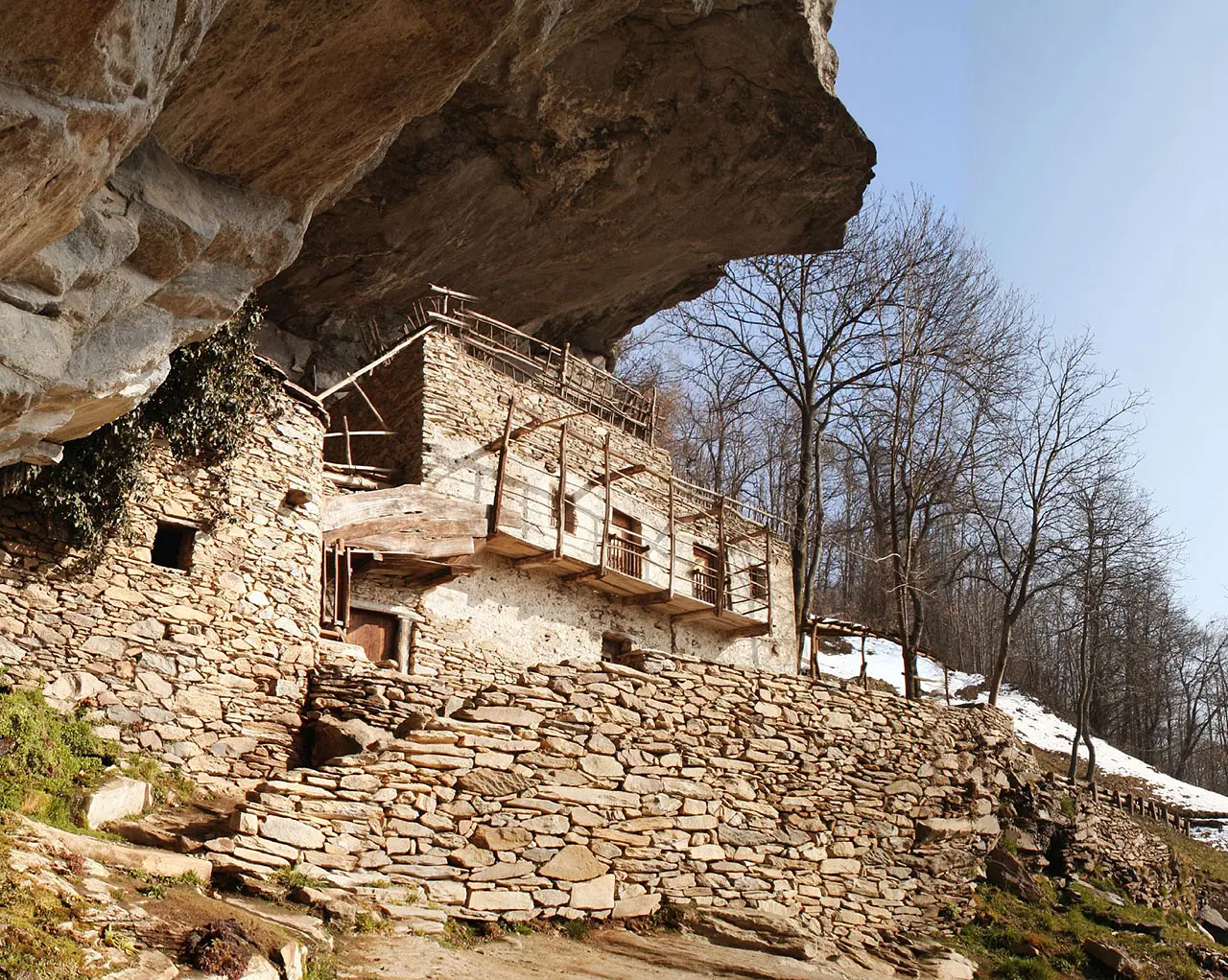 Balma Boves, the sustainable museum township
Among ancient chestnut trees, mule tracks and waterfalls, a perfectly preserved site

Automatically translated page.
What it is and where it is
In the territory of the delightful village of Sanfront, in the province of Cuneo, with a short detour from the path of the Po River, you will have the chance to take a real plunge into the past: on Mount Bracco, between the hamlets of Rocchetta and Robella, there is a characteristic settlement carved out of the ravine of the rock, inhabited until the 1950s located 652 meters above sea level. In the valley below flows the Po River, whose sources are located not far away at Pian del Re. Here then, the settlement was not only a place sheltered from the floods of the river and the attacks of rival populations, but also a place immersed in the beauty of nature.
Why it is special
It is the evocative village of Balma Boves, built under a large rocky ledge, the balma: in this space suspended in time, it is easy to immerse oneself in what was, and to imagine how man lived in perfect symbiosis with nature, in the sign of self-sufficiency and respect for resources and sustainable cycles. Balma Boves is easily reached on foot from the hamlet of Rocchetta with about a half-hour walk. Access is in an environment characterized by centuries-old chestnut trees that, like old lords, silently observe the paved mule tracks bordered by a fence made of stone slabs driven into the ground.
Not to be missed
What is striking, in addition to the state of preservation of the site, is the special attention to the environment: all designed and planned wisely and sustainably, with care and love of the land that makes this a wonder not to be missed. It is a journey through time to discover a past that teaches us so much without going too far: today Balma Boves is to be considered one of Piedmont's open-air museums, but it was, in times long gone by, a real community of women and men who lived in the shelter of the rock, gathering food from the mountains and raising livestock respecting the seasons.
A bit of history
In the case of Balma Boves, it is estimated that the main core of stone dwellings dates back to the 1700s, but the rock carvings at Rocca da Casna testify that the area was in truth known from a much earlier period.
Curiosities
The entire area of Balma Boves, now restored and remodeled into an interesting ecomuseum, is open to the public and is intended to introduce visitors to the secrets of its inhabitants: a tour guide will take you inside the rural village to admire the ancient dwellings, the bakery oven, barns, stables, and chestnut dryers.
To make travel arrangements
The Map thanks: