1108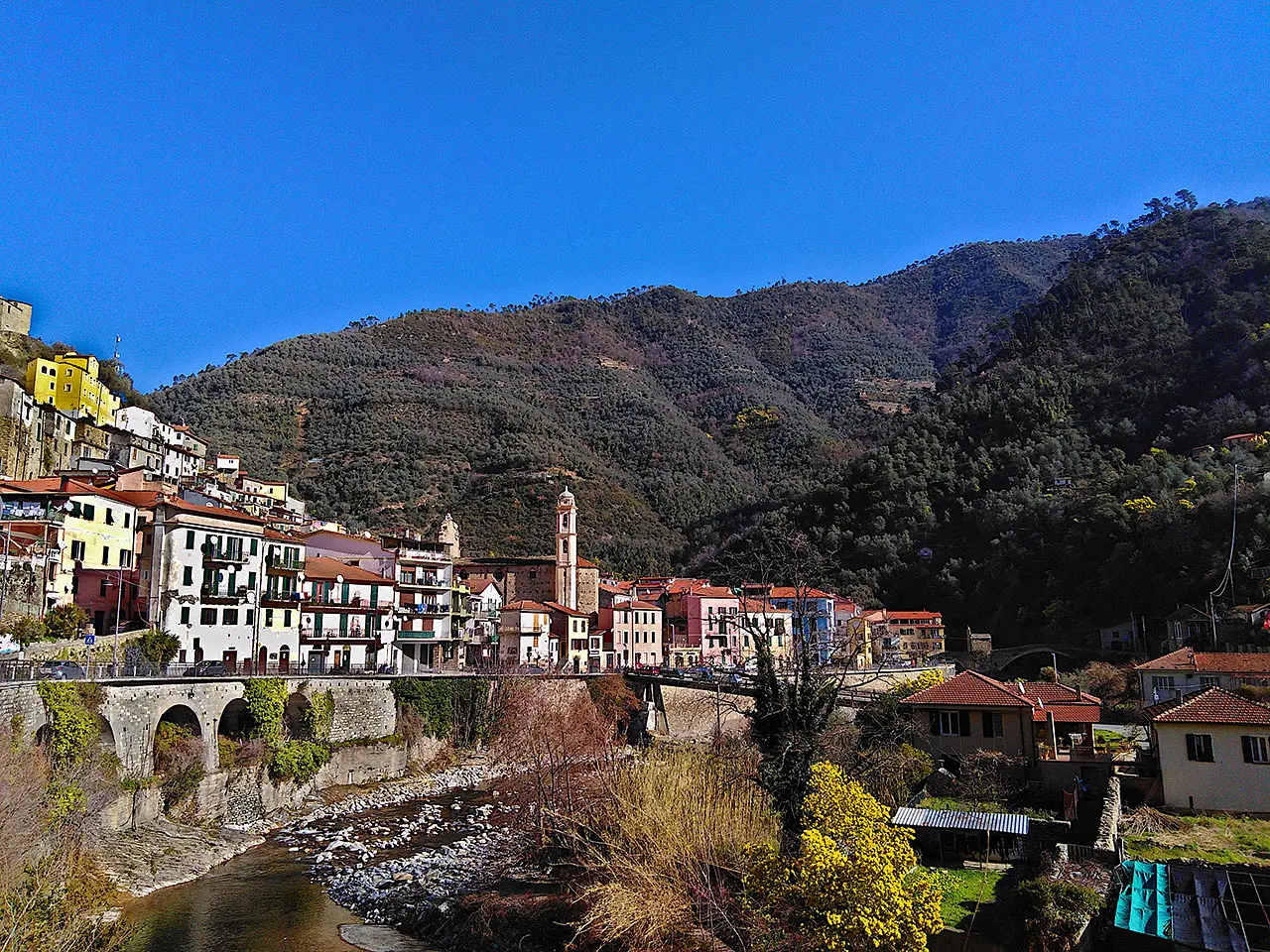 Automatically translated page.
What it is and where it is
A man-made settlement at the foot of Monte Carmo consisting of many buildings, very colorful and in full medieval style, embraced by the passage of the Forra di Taggia, a river with a torrential character, crossed by two late medieval stone bridges with the traditional humpback shape. Today's blue sky enhances the colors of the flowers and mimosa plants that, with their unmistakable scent, accompany us on our climb to the small church of San Nicolò that towers above the village and is the best vantage point in the middle Argentina Valley.
Why it is special
Badalucco, despite being a small town with an even smaller historic center, offers an incredible variety of landscapes. After walking the entire promenade that runs along the river in the lower part of the town and seeing the two characteristic bridges, we enter the historic center. Refined frescoes, ancient legends written on the walls, mysterious carruggi, and a great historical-artistic heritage, at the foot of a mountain from which a thousand possible paths for as many extraordinary hikes in the Ligurian Alps start.
Not to be missed
In addition to the classic Taggiasca olive and the more particular production of white beans called "rundin" there is an event here that is fundamental and linked to the tradition of this medieval village: "Stucafì' àa Baücȍgna, " or the "Festival of Stockfish." It takes place on the third September weekend of each year. It is not, however, a simple food and wine event-it all stems from an ancient legend.
A bit of history
The history of Badalucco is a history of agriculture, with numerous terraces carved out of Mount Faudo and used in particular for olive groves, but not only. In some of the carruggi we observe chestnut baskets and other objects made from olive tree logs. "These are our local handicrafts," says a gentleman who is engaged in wood carving outside the door of his house. We remain fascinated watching his skillful movements as he tells us his story.
Curiosity
Another element that emerges in Badalucco concerns the Saracen invasions that throughout the early Middle Ages and into the sixteenth century insisted on the coast and the immediate Ligurian hinterland. The very invaders are to thank for the September festival. Legend has it that the town's population was able to withstand a siege by Saracen pirates in the 16th century thanks to the substantial supply of cod in the village, which enabled a strenuous defense and effective counterattack.
To make travel arrangements
Collections
Discover places and related research
The Map thanks:
Collections
Discover places and related research