1886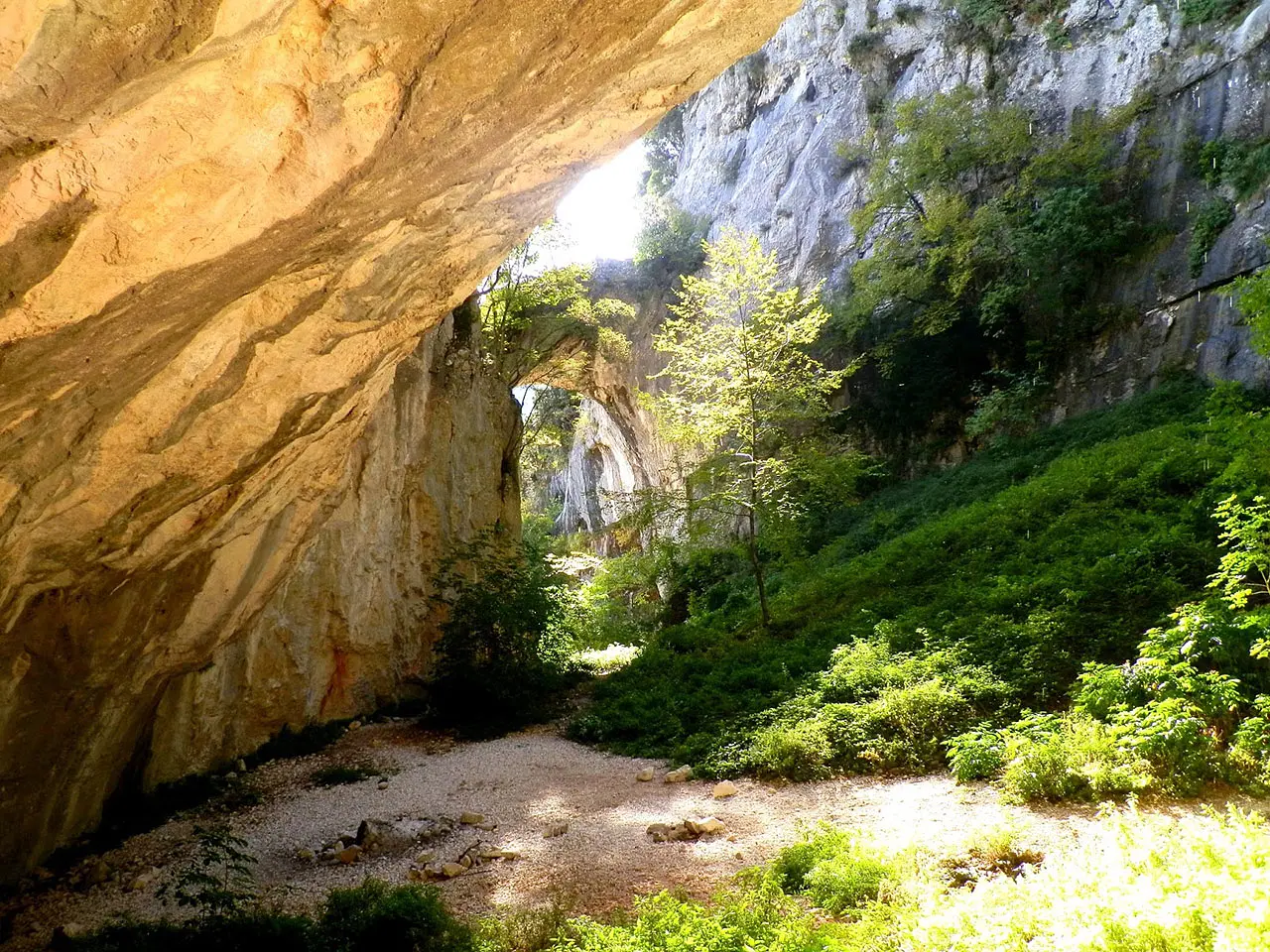 Arch of Fondarca
The surprises of Mount Nero

Automatically translated page.
What it is and where it is
The Natural Arch of Fondarca is located at an altitude of about 800m on the southern slope of Monte Nerone. Once in Cagli, it is necessary to head in the direction of Pianello and from here climb up to the small village of Pieia. To reach the Natural Arch of Fondarca, take path No. 20 (Sentiero Italia) at the entrance to the village, right in front of a small church. After about a quarter of an hour's walk you arrive at the foot of a spectacular stone arch that gives access to a kind of natural amphitheater.
Why it is special
The arch is so perfect that it appears to be man-made, but it is not. This striking rock vault is a natural phenomenon, created by erosion on the karst rocks that make up the Monte Nerone massif. If you fear that this description corresponds to a place that is difficult to reach, rest assured: getting here is quite simple: it is a walk among small villages and unexpected natural beauty.
Don't miss
Above or below? Both! Going up and crossing the Arch you will find yourself inside a beautiful rock amphitheater with high and steep walls from where you can enjoy a magnificent view. However, it is also possible to cross it from below, finding what is probably the best spot for a photo and total view of what was presumably a few thousand years ago a large cave whose roof has collapsed.
A bit of history
Caves, it is known, have often been chosen as shelter by animals, but also by humans. And in fact, artifacts dating back to the Bronze Age have recently been found that suggest that this place has been inhabited since ancient times, artifacts that are now on display at the Cagli Museum. Other traces date from more recent times, for example, the ruins of an old dwelling that are encountered along the way. Even today these places are inhabited, though not really by humans: the Grotta delle Nottole (Cave of the Nottles ) located nearby is so named in honor of the animals that often take refuge here.
Trivia
As you walk along the trail, you pass within a dense forest, then encounter views such as ridges and karst phenomena that characterize the area, all surrounded by unspoiled wilderness. The icing on the cake is found a few steps beyond the Grotta delle Nottole, where a small waterfall opens to view. Its waters with a beautiful leap plummet over a verdant layer of moss into the scree below, helping to create an enchanting atmosphere.
To make travel arrangements
The Map thanks: