1100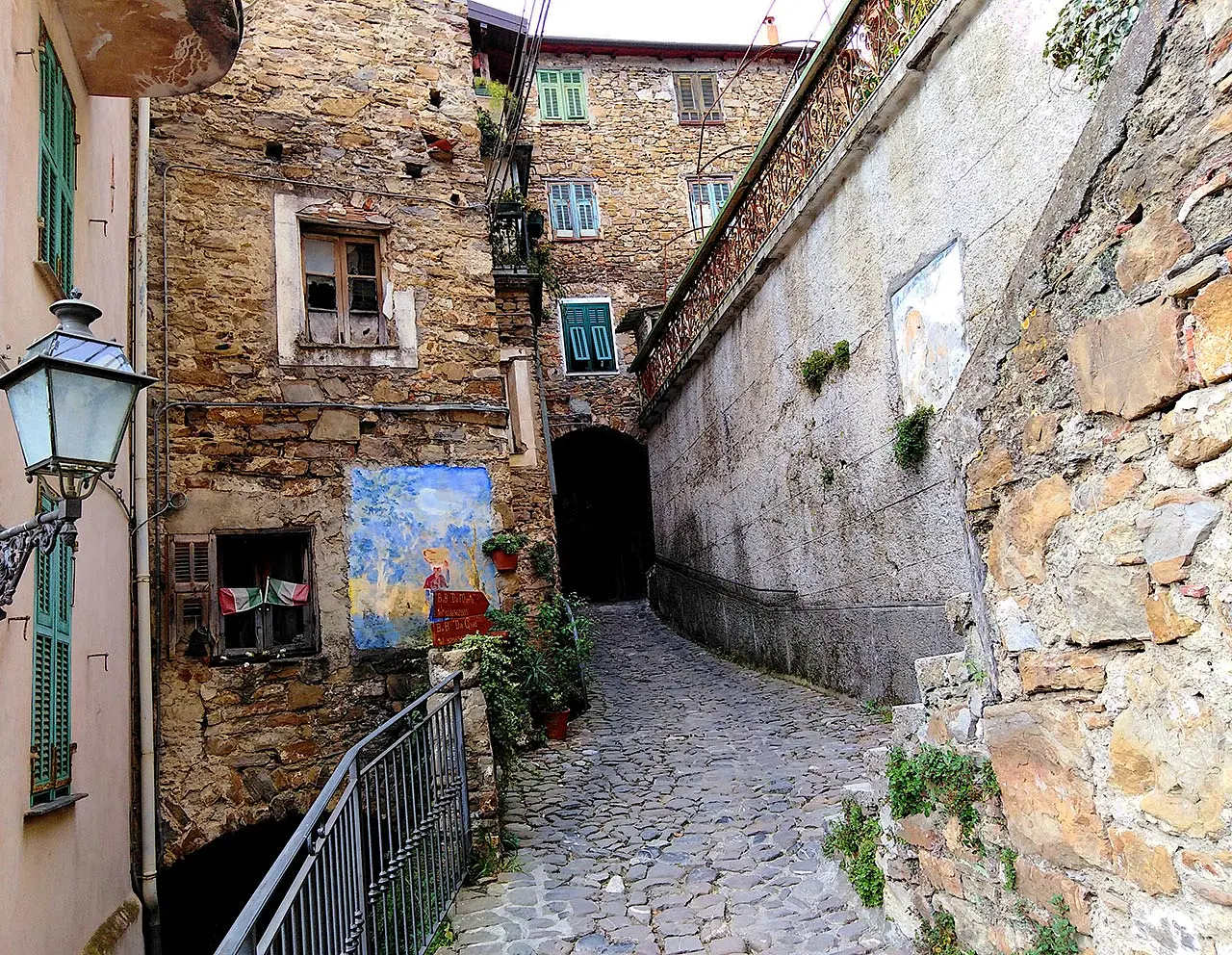 Automatically translated page.
What it is and where it is
We have been traveling from the Vallecrosia coastline inland for about 15 minutes and see nothing but wooded peaks. Finally, around a sharp bend, the village appears in all its glory. She has the appearance of a noble Lizard of ancient origins lying sinuously on the hills: her paws firmly anchored to the rock, her head gliding into the damp valley of the Merdanzo stream, and a long tail ascending the sunny hillside. How can you blame her? After all, the name "Apricale" comes precisely from the Latin apricus, exposed to the sun. And it is always the sun that enhances its many colors, making it look like a painting.
Why it is special
In addition to its spectacular shape, in its squares and in the ravines hidden almost jealously within the carruggi, the village manifests an unwavering artistic faith. This combination of the historic-landscape nature of the medieval village and art dates back to the 1960s, when Italian and foreign artists, drawn here by the particular brightness and richness of color, frescoed most of the alleys. Many of them claim to have merely pulled from the walls what already lay underneath among the silent stones.
Not to be missed
We came at the end of a winter that more than others appears gray and invites you to stay home, but during the summer season the village lights up and this is, perhaps, the best time to fully enjoy the liveliness of the place. There is something for everyone: historical-religious re-enactments such as the Feast of St. Louis on July 10, theater evenings with the famous "Teatro della Tosse" that comes to perform in August, and there is no shortage of food and wine events such as the "Sagra della Pansarola" in early September.
A bit of history
It was art here that made history in recent decades, so it goes without saying. The painter Mario Agrifoglio, together with some young people from the village, was the creator of the first pottery workshop that became, during the 1970s, a real School attended by all the schools of the Nervia Valley. And again, the illustrator and set designer Emanuele Luzzati, with his creativity, tightened the relationship between Apricale and the "Teatro della Tosse," to which he brought, with his creativity, added value, towards the end of the 1980s. To this day, the company still enlivens the village's summer.
Curiosities
The "Lizard" Castle Museum unveils, within its Theater Gallery, this inextricable relationship between art and the medieval village. Here, between the ancient and more recent walls - dating back to works in the early twentieth century - posters, photographs and playbills from the many editions of the "Rassegna Teatrale della Tosse" are still preserved.
To make travel arrangements
Collections
Discover places and related research
The Map thanks:
Collections
Discover places and related research