133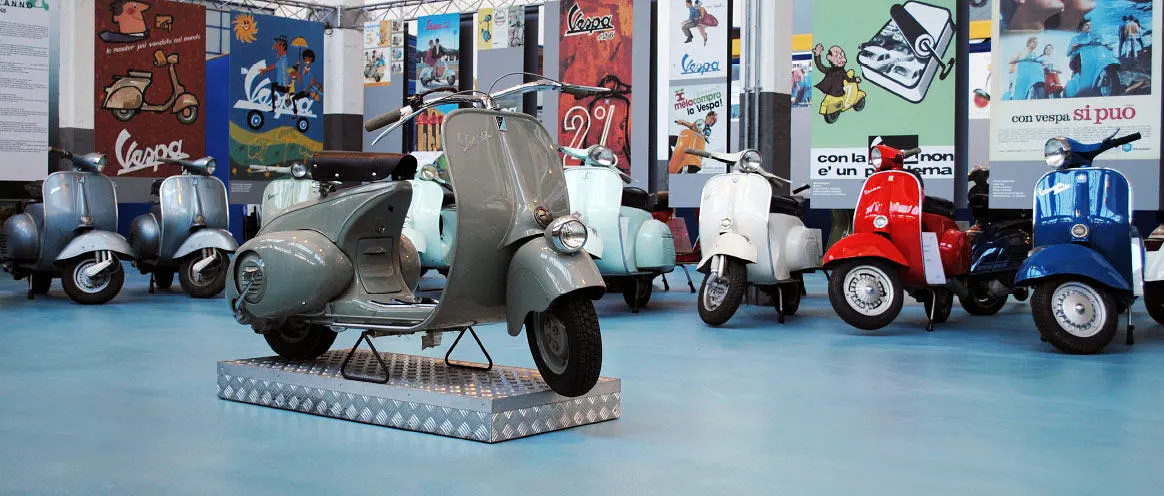 At the Piaggio Museum, history and myth of the Vespa
In Pontedera, the motorcycle collection that tells an ageless passion


Automatically translated page.
What it is and where it is
Pontedera is located along the route of the ancient Via Pisana, which connected Florence to the sea by descending the course of the Arno. The town's name anticipates its location astride the mouth of the Era, which springs from the Colline Metallifere, behind Volterra, fifty kilometers to the south. In the twentieth century Pontedera became the town of Piaggio: first an aeronautical industry and since the last post-war period an emblem of mobility on two wheels with the Vespa, the scooter that has toured the world.
Why it is special
Pontedera is the destination of a sort of secular pilgrimage that takes place at the Piaggio Museum, set up in a section of today's industrial complex: the absolute protagonist is, of course, the Vespa, in its historical evolution and in the most varied interpretations; then there is its closest relative, the Ape, a commercial tricycle of similar multifarious and ubiquitous fortune. Framing the picture are the group's other brands - Aprilia, Gilera, Moto Guzzi - with all they represent in the history of motorcycling.
A bit of history
Piaggio's history has a turning point in the last postwar period: heavily damaged by bombing, in fact, it resumed operations look to the two-wheeled mobility sector. By virtue of necessity: the company's aeronautical know-how is adapted to the production of a small motorcycle, or rather a 'scooter,' to put it in the American way. Even the name is apt: Vespa, because of its impertinent buzz. In addition to worldwide success will come the honor of permanent exhibition at the Museum of Modern Art in New York.
Trivia
The history of the Vespa has a surprising cinematic chapter, starting with one of the biggest Hollywood comedy hits, "Roman Holiday," from 1953, starring Audrey Hepburn and Gregory Peck. Memorable is the long sequence with the incognito princess and the journalist in disguise wreaking havoc in Capitoline traffic riding a Vespa. And, forty years later, in 1993, the Vespa will still make headlines around Rome with the refined Nanni Moretti in his "Dear Diary."
To make travel arrangements
Collections
Discover places and related research
The Map thanks:
Collections
Discover places and related research