38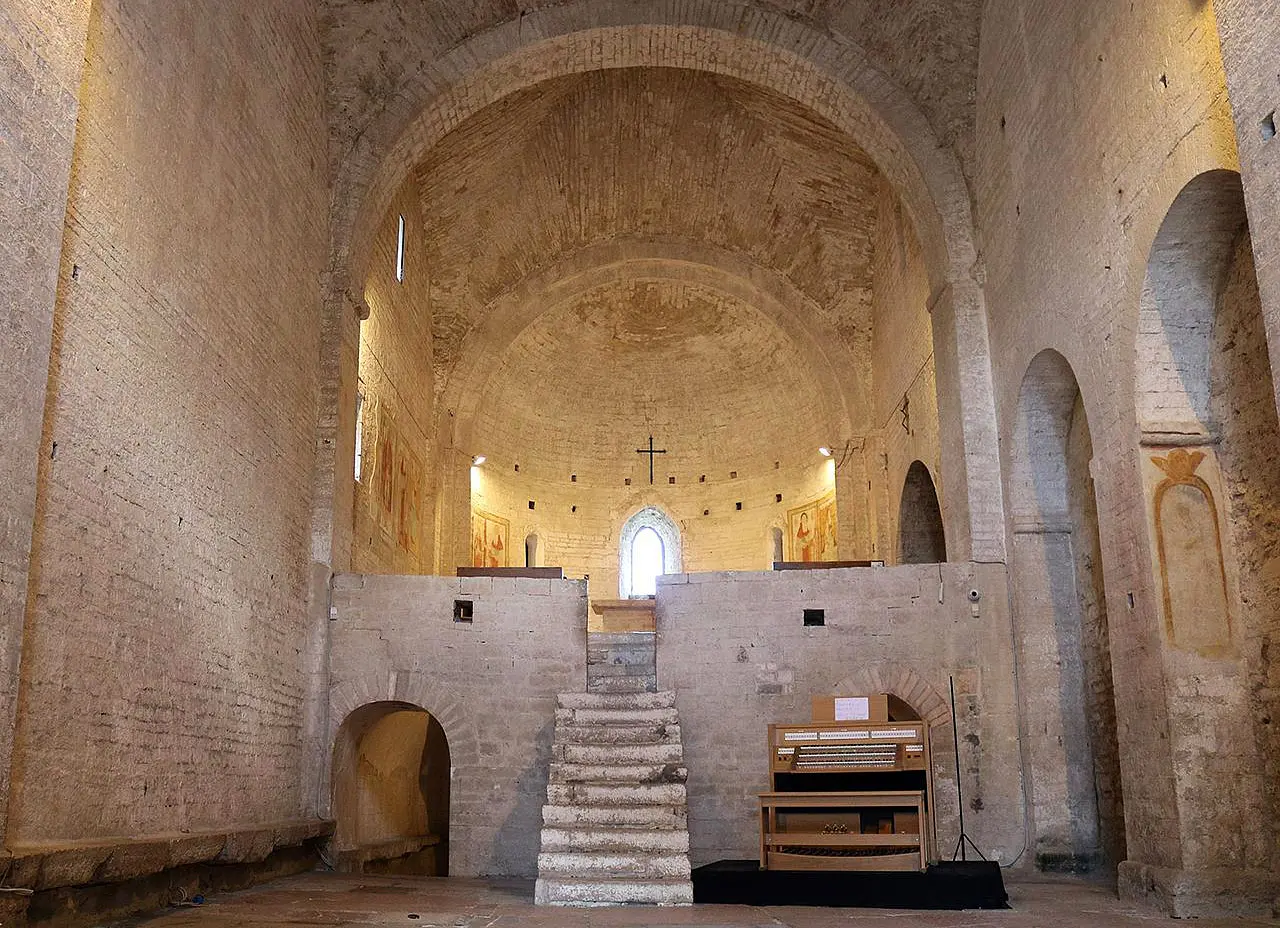 Abbey of San Vincenzo al Furlo
A place where spirituality exudes from the nakedness of stone


Automatically translated page.
What it is and where it is
Nestled in the lap of the Furlo, St. Vincent Abbey is an ancient Benedictine abbey of uncertain origin (between the 6th and 10th centuries). In the center of the nave, with light-colored slabs from the Roman period, fifteen narrow, irregular steps lead to the chancel with walls frescoed with paintings from the 15th and 16th centuries. Next to the staircase, two doorways provide access to the crypt, a place of great beauty. Here is the altar-sarcophagus that once housed the remains of St. Vincent.
Why it is special
At first it is the color contrast that astounds. Framed by a florid natural landscape, the Abbey looks like a vase of milky tempera turned upside down on a green canvas. Inside, absolute sobriety reigns: ascending lines from the floor lead the eye to the narrow staircase, the raised chancel to the characteristic ceiling made of cross and truss vaults. Light enters discreetly through small windows and invites meditation.
A bit of history
The abbey complex, which in addition to the church included the monastery and the cloister overlooking the right aisle, owed its fortune precisely to its location. The Furlo Gorge, in fact, was once a crossroads of raids by bandits and gangsters. Those who managed to cross the pass while remaining unharmed went to the Abbey and rewarded the monks with cash offerings for the grace received.
Trivia
The remains of St. Vincent, bishop of Bevagna, were brought to the Abbey by the inhabitants of the town of the same name to save them from invasion by the Lombards. They were then sold for a substantial sum of money by the monks themselves who, after years of mismanagement of finances, needed to replenish their coffers.
To make travel arrangements
Collections
Discover places and related research
The Map thanks:
Collections
Discover places and related research