2582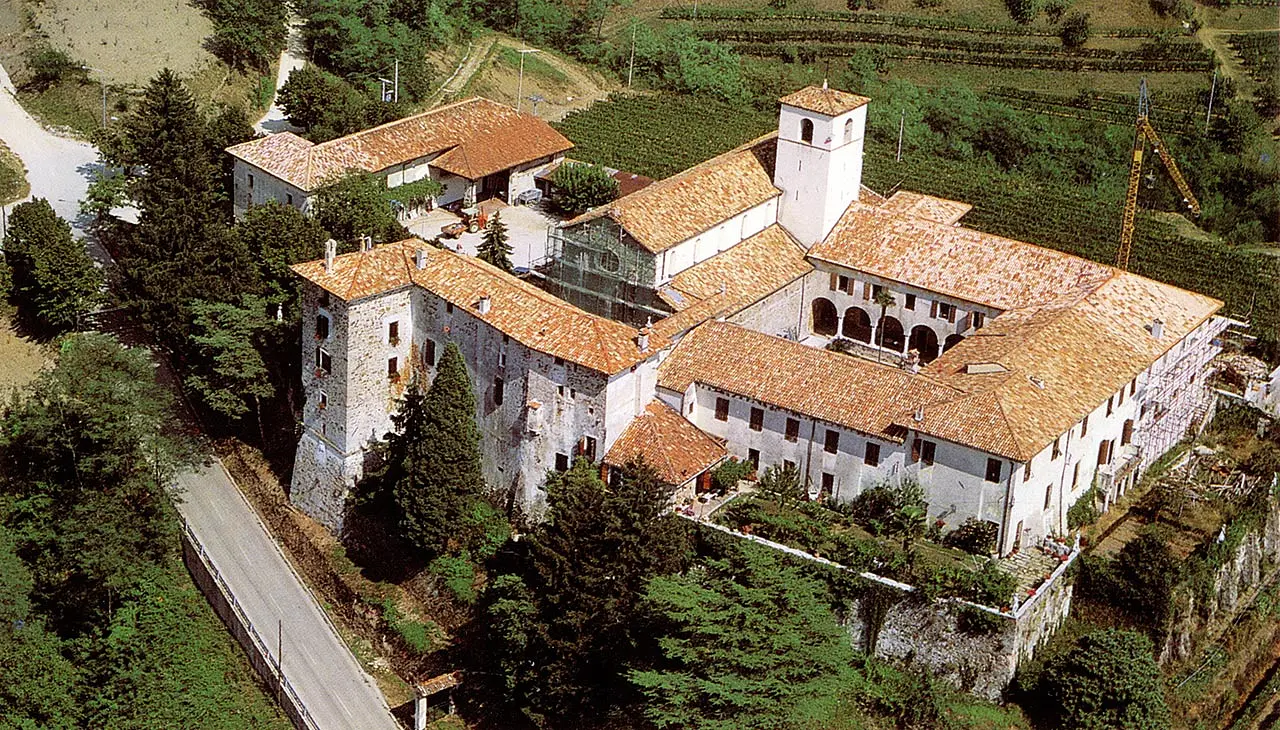 Abbey of Rosazzo
A millennium of history overlooking the eastern hills of Friuli
Automatically translated page.
What it is and where it is
A millennium of history snuggled on a hill. Quiet white walls for those seeking silence. A panoramic terrace for those seeking a new perspective. An ancient church for those who need to rediscover themselves and their spirituality. All this is Rosazzo Abbey, an oasis of peace and serenity in the hills with an evocative panorama stretching to the sea, a privileged place for those who wish to pray and contemplate in a welcoming and relaxing environment.
Why it is special
Rosazzo Abbey brings together and harmonizes spiritual and sensory pleasures. To fully understand what we are talking about, one must look out onto the panoramic terrace. The view first and foremost will be enraptured by the vastness of the landscape but, even if reluctantly, it is time to close your eyes. Can you perceive them now? Scent of vines and grapes, foreshadowing the flavor of Collio's fine wines, but also the sweet scents of roses that grow abundantly here, so much so that they can boast a path and event dedicated to them.
Not to be missed
The Rose Trail runs around the perimeter of the Abbey and consists of both old and modern roses. The year of planting was 1998, and all the most important families of old roses (gallica, alba, damask, centifoglia, noisette, bourbon, Chinese, whicuraiana, etc.) as well as several modern rose bushes are present. The spectacle that is possible to admire during spring is unparalleled. Dedicated to this beautiful flower is the annual "Rosazzo da Rosa" event held every year in May for an entire weekend with various events including guided tours of the Abbey and lectures on the subject.
A bit of history
The fortified abbey is one of Friuli's main fortified monasteries that once controlled the important road from Cividale to Gorizia. Its origins are steeped in legend. More certain news dates roughly to 1080 with the construction of the monastery. The first monks also cared for the adjoining hospital of St. Eligius that took in the poor and lepers. In the 14th century the abbey was fortified as a castle with walls of which some sections and watchtowers remain, some of which are still visible.
Curiosities
The area in which we are located is also known as the Industrial Chair District. It was precisely the Development Agency of this district that supported the creation in 2010 of a Papal Chair on the occasion of the Solemn Ostension of the Shroud. The chair, called the "Throne of the Transfiguration," was designed by Udine architect Ivan Vergendo and was used by Pope Benedict XVI during the May 2 Mass.
To make travel arrangements
Collections
Discover places and related research
The Map thanks:
Collections
Discover places and related research